BACKGROUND:
Starting almost moments after the format war ended in early 2008, people began eagerly waiting to see what sort of Blu-ray player OPPO Digital might produce. While the company was (and to a great degree still is) unknown to most consumers, it has built a loyal following in some circles and has a reputation for combining excellent performance, top-notch customer support, and impressive "bang for the buck" in their players. Anticipation grew after a prototype of the BDP-83 appeared at CEDIA in September 2008, and by the time the company shipped a first small batch of players to 50 customers as part of an "early adopter program" in March 2009 that anticipation had over 7,900 posts and 829,000 views in just three threads at AVS Forum. Once the player arrived, interest actually grew as the player accummulated a storm of positive reviews. As of mid-January 2010, the BDP-83 owner's thread alone had over 28,000 posts and almost 2.3 million views without counting those earlier threads and the thread dedicated to the BDP-83 Special Edition. The combination of speed, performance, universal disc support (everything except the abandoned HD-DVD format), potent video processing (using an ABT 2010 chip), and a robust analog section (including separate 7.1 and stereo analog DAC's) have made the $500 BDP-83 the player of choice for many people.
But what about the people for whom investing $500 in a disc player is not practical? What about the applications where such a robust player isn't needed? There are plenty of smaller, modestly-priced HDTV's in bedrooms, and there are quite a few people using powerful standalone video processors and HDMI-capable surround processors. None of those need the ABT chip or beefy analog section. That's where the BDP-80 comes in, of course. The BDP-80 omits the ABT chip and trades the BDP-83's analog section for a more modest multichannel analog section. It also trades out the aluminum faceplate for a plastic front end, and it gets a remote control that lacks the BDP-83's backlight. What's left? Profile 2.0 Blu-ray (including 1GB of built-in memory), DVD, CD, DVD-Audio, SACD (including DSD bitstream output), two USB inputs, and a full assortment of outputs (HDMI v1.3, component, composite, s-video, coaxial digital, optical digital, and 7.1 analog). These changes yield a price tag of $289, which puts it close to other players from Sony, Panasonic, and Samsung. This presents all sorts of interesting possibilities. Needless to say, when OPPO Digital invited me and the other BDP-83 testers to help with testing this "little brother" player, I didn't hesitate to accept. As in my previous equipment reviews, you can find an equipment list at the end.
---
FIRST IMPRESSIONS:
My prior experience with the BDP-83 provided me with some expectations, but I also knew that the BDP-80 differed from the BDP-83 in some outward characteristics. I expected the cloth bag with handles that protects the player itself and the separate box for accessories; others will likely be surprised by the re-usable cotton bag. Mine was a beta sample, of course, the remote was clearly borrowed from the BDP-83. The BDP-80's remote is very similar to the BDP-83's. It omits the BDP-83's backlight, which allows it to be a bit thinner, but the two use the same button layout. The BDP-80 is a bit shorter than its big brother, and it trades the aluminum faceplate for plastic. That plastic faceplate was the first place I stopped when unpacking my beta sample. Much like the old DV-980H, the BDP-80's plastic faceplate looks convincingly like aluminum until you really study it closely. Unlike the plastic faceplates on units from Panasonic or Samsung (to name a couple examples), it attempts to look a bit more upscale by mimicking a brushed metal finish – and it does a pretty good job of it, too. My Panasonic DMP-BD30 took a different approach, going for a clearly plastic faceplate made from two hinged panels. Of the two, I definitely prefer the BDP-80.

The BDP-80's face


The BDP-80's rear panel

The rear panel is outfitted very similarly to the BDP-83, with a few changes in layout. There's HDMI, component video, coaxial and optical digital audio outputs, and a 7.1 analog audio output. The composite video output is still there, and it's accompanied by an s-video output now as well. The BDP-83's Ethernet port and rear panel USB port also carry over to the BDP-80, as does the front panel USB port. The IR remote control input and output are gone, as is the optional RS232 serial port. Also missing is a fan. Yes, the BDP-80 is a fan-less design, so there is going to be absolutely no chance of fan noise. I'd suggest allowing the top panel (especially over on the right side when looking at the player from the front) a little room to breathe, as the unit still has some heat to reject and the top panel will be radiating away some of that heat.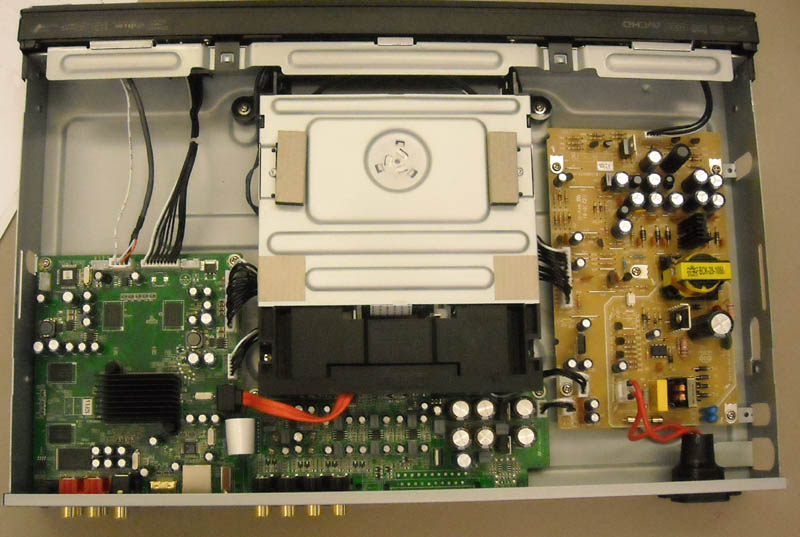 Interior of BDP-80 beta sample
The analog section of the BDP-80 is clearly not as robust as that found in the BDP-83, as you'd expect considering the price difference. For one thing, the dedicated stereo analog output is gone. The BDP-80 is instead borrowing some from the last two of OPPO Digital's standard DVD players: the DV-983H and DV-980H. The 980H included a revised analog section that offered 7.1 output and employed a better DAC than previous OPPO players had used. The 983H, as their flagship product at the time, refined this analog design with some upgrades. The BDP-80 uses the same DAC that was found in the 980H and 983H: the Cirrus Logic CS4361. I'm told that the analog section itself is derived from the 983H's design, although my background is in mechanical rather than electrical engineering so all I can say is that the two players do seem to dedicate similar space to their analog sections.
You don't expect a lot of heft from a $290 Blu-ray player, but I was pleasantly surprised to find that the player felt heavier and sturdier than I expected it to. By the time I was done poking and prodding the unit and had it actually hooked up, I already felt good about its potential.
---
SETUP:
The rear panel is thoroughly stocked with connections. There are so many that it can be daunting for some users. OPPO Digital provides a very good manual that can be downloaded from this link (found on the BDP-80 support page and written in California specifically to help people set up and use the player). It has several sections that describe exactly how to manage all of the available options. During beta testing, I used the HDMI output, the multichannel analog output, and the coaxial digital audio output as well as the Ethernet connection. You may not need all of those. If you have both a newer receiver that offers HDMI inputs with audio support (at least HDMI v1.1 to get multichannel PCM) and an HDTV with an HDMI input, then you just need to connect the BDP-80's HDMI cable to an input on your receiver. Even if you have to evict some other device from an HDMI input, you'll want to use HDMI with the BDP-80. If your receiver doesn't support HDMI audio, then I'd recommend using a combination of the multichannel analog output (either the full 7.1 or just 5.1 if your receiver only has a 5.1 analog input or you only have a 5.1 speaker setup) and a coaxial or optical digital audio cable. The multichannel analog will be the preferred connection for Blu-ray, SACD, and DVD-Audio, while the coaxial or optical will work fine for CD's, DVD's, and assorted media files. In this scenario, use HDMI for video if your HDTV supports it or component video if you don't have an HDMI or DVI-HDCP input on the TV. If you don't have a surround system and are connecting directly to an HDTV, then HDMI remains the preferred connection. If your TV doesn't have HDMI or DVI, you can use component video and the left and right channels of the analog audio output. For readers who are unfamiliar with HDMI's version numbers, I have an HDMI FAQ on my site that may be a useful reference. The BDP-80 is an HDMI v1.3 product that supports all of v1.3's capabilities (bitstreaming the new audio formats, CEC for control of other devices, and deep color), but as with all HDMI devices it is also backward compatible with earlier versions of HDMI and even (for video only) DVI-HDCP.
Anyone who has used a BDP-83 will feel right at home setting up the BDP-80. If you haven't used a BDP-83, for that matter, you will still feel right at home. The player starts out with a quick setup wizard just like its big brother, and in six screens (four of which require user input) the player asked a series of basic questions that it uses to establish a very good baseline configuration. It addresses the video output being used (HDMI or component), the desired output resolution, the desired aspect ratio, and the preferred audio output configuration. I detail these options in my BDP-83 review, and the same comments apply here as well. The "Source Direct" output resolution mode is likely to be more popular for BDP-80 owners than BDP-83 owners, as it is the recommended mode for pairing the less expensive player with high-end video scalers that match or even exceed the capabilities of the BDP-83's ABT2010 processor. The Mediatek chip is a competent processor by itself, though, so many owners will be well-served to set their resolution to most closely match the native resolution of their display. The manual includes some good tips on determining what setting to use, particular for the sometimes confusing choices such as aspect ratio control, analog audio output settings, and video resolution. Most users could go directly from this quick setup wizard to using the player.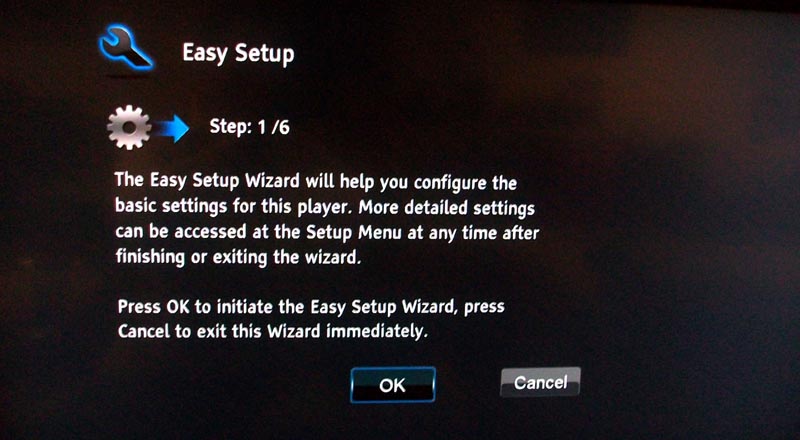 BDP-80 Quick Setup Wizard: first screen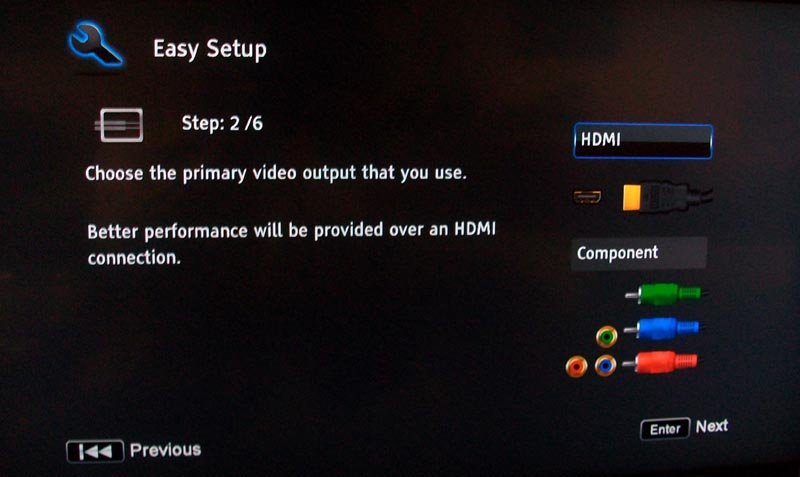 BDP-80 Quick Setup Wizard: primary video output screen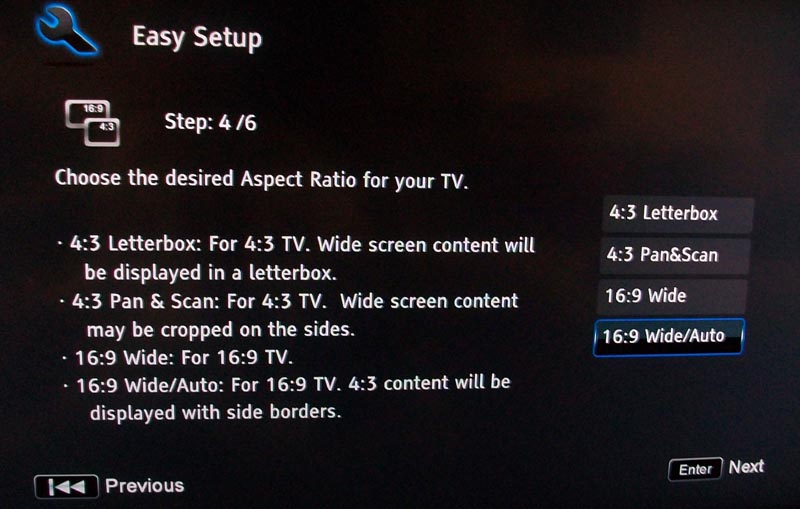 BDP-80 Quick Setup Wizard: aspect ratio screen

After the wizard is done, users may want to poke around in the player's setup menus. The menus are divided into six sections: Playback Setup, Video Setup, Audio Format Setup, Audio Processing, Device Setup, and Network Setup. The manual's "Setup Menu Options" section discusses each menu screen and its settings in detail. For most of these settings, my comments in my
Anyone who owns an Outlaw Audio receiver or processor might be interested in my BDP-83 setup guides, which apply equally well to the BDP-80 and provide some specific tips on settings for both the player and the receiver. Note that because many of Outlaw's products provide some form of bass management for multichannel analog input, the recommendations for audio settings in the player will not apply to most other receivers (which frequently lack bass management at the multichannel analog input). Now that we've looked at what is involved in setting up the player, it is probably appropriate to take a minute and talk about firmware updates prior to diving into actually using the player.
FIRMWARE UPDATES:
Perhaps moreso than any previous class of consumer electronics products, Blu-ray players all have and likely will continue to require the occasional firmware update. This is not a new concept to OPPO Digital, as they have employed the user-installed firmware update as a method for bug fixing and product improvement ever since their original OPDV971H appeared back in late 2004. With Blu-ray, however, the need for it is greater. We seem to see a new disc released every month or two that has some problem with numerous players. In some cases, it's related to BD-Live and a simple workaround is to disable BD-Live or clear the player's built-in memory. In other cases, it is more complex. Either way, player manufacturers have to find the problem, fix it, and release new player firmware each time this happens. The BDP-80 is not immune to this. Fortunately, the BDP-80 carries over two ways to update firmware from earlier DVD players (CD-R and USB) and adds a third way (Ethernet). Users can burn a firmware update to CD and load it from the disc, or they can copy a firmware update onto a FAT-formatted USB thumb drive and load it from there. In addition to the CD-R and USB firmware update options, the Ethernet port can often be used to install firmware updates via a network connection to the Internet. These firmware updates can be provided to address problems discovered with the player, coordinate with new Blu-ray releases that may not behave quite as anticipated, or to provide improvements in the player (either performance refinements or even additional features). OPPO also often releases "beta firmware" on their site, and these firmware versions are ones that have been evaluated and found to be stable enough for general use while offering some new feature or bug fix before the final "official" firmware is signed off on and made available.
The firmware update process is pretty painless. It can be done via CD-R, USB, or Ethernet connection. My preference is Ethernet, but I have done the USB update plenty of times and still use it from time to time. (That last statement may suggest that I've done a lot of firmware updates on the BDP-80, but I'm also considering the BDP-83 which I spent around eight months beta testing. Between the two players, I have installed new firmware a bunch of times.) Ethernet updates are also not always available. For example, if you are changing from a production version of firmware to a public beta (often released more quickly and with less extensive testing than production firmware to let users have access to a bug fix), you will need to use CD-R or USB to shift from the production firmware to the beta. For the USB update, you just need to copy one or two data files onto a FAT16 or FAT32 formatted USB stick (being sure to put them in a folder named "UPG") and then connect the USB stick to the BDP-83. I recommend having playback stopped before doing this (so you are looking at either the Home menu or the OPPO splash screen). The player will see the USB device, scan it's contents, and locate the files in the UPG folder. Then it will report that it has found an update and ask for permission to install it. A CD-R update works much the same way, with the only difference being that you copy the files into the UPG folder on a disc and finalize the disc. The network update is initiated by entering the player's setup menu, selecting "Device Setup" on the left side, selecting "Firmware Upgrade" on the right, and then picking "Via Network" to start the update process. The player will then check with the OPPO Digital server to determine if new firmware is available. Note that earlier advise about stopping all playback still applies, as the player will not allow you to select "Firmware Upgrade" if something is playing.
BDP-80 setup menus: Device Setup menu
The firmware update itself is quick and simple (especially compared to the 40+ minute network update for my old HD-A2 or some of the quirks I saw when updating my BD30). There are three files that can be updated, although two of them will rarely require updates now that the player is in production. If all three files are being updated at once, the 1MB file "dvd430.bin" would be the first one installed. This one takes probably 20 or 30 seconds to load from USB. After that file loads (if it is present), the player moves on to the main firmware file "bdp-80.bin" (roughly 17MB) and loads it. This one takes just a few seconds to load. In a couple cases, we also had a third file to load ("MCU.bin", roughly 12KB), and in those cases it was loaded last in just a few seconds. After all of the firmware loads, the player will re-start. If the firmware required the player to reset to factory defaults, you will be greeted by the Quick Setup Wizard. Typically, the firmware will not force a reset, but it is still good practice.
New production firmware was released on June 1, 2010 that made some assorted improvements (disc compatibility updates, SACD popping in some systems, MKV playback tweaks) and two new network features. The network features include support for network file sharing with DLNA-compliant servers, and is discussed in detail in the new Network Support section of this review. Check back here for updates to this review as additional firmware updates are released.
---
VIDEO PLAYBACK:
This may prove to be one of the most important subjects for people comparing the BDP-80 and the BDP-83. I still am extremely fond of what OPPO has achieved with their implementation of the ABT2010, both in the 983H and the BDP-83, and I still have retained the BDP-83 as my primary player. Having said that, though, I must add that I think the BDP-80 offers a significant amount of the BDP-83's performance for about 60% of the price. How good is it? I don't feel as qualified to closely dissect every aspect of video performance as some reviewers or beta testers are, but I can offer some thoughts on the subject that I hope will help.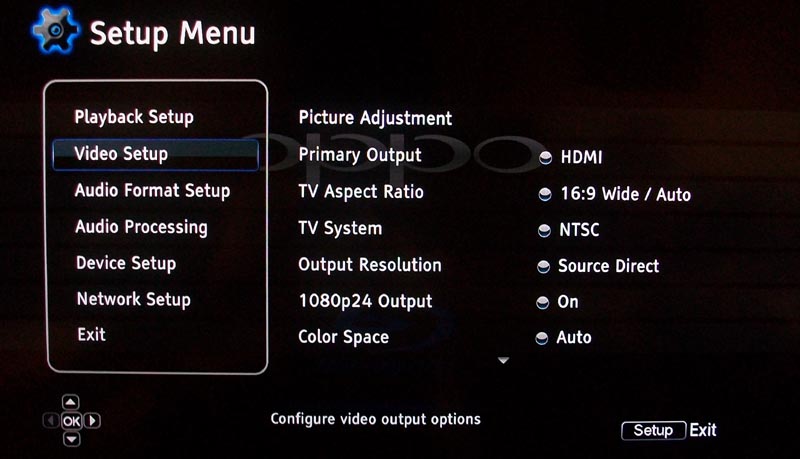 BDP-80 setup menus: Video Setup menu
Ever since shortly after the beta test for the 980H ended, I've had a 320GB USB hard drive sitting in my equipment rack with its USB cable connected to an OPPO Digital player. Initially, I had it connected to the 980H, then the 983H, and then the BDP-83. During the BDP-80's beta testing, this drive was passed on to the BDP-80. I keep an assortment of video files, audio files, and picture files on the drive for testing purposes, but I also have a library of .VOB files taken from DVD's. Most of these are children's shows that my daughter watches regularly, since having all of those discs sitting on the hard drive allows me to queue them up quickly and easily. The BDP-80 is able to identify the correct aspect ratio for these files (something that the 980H couldn't do). File sorting is still based on file creation date when accessing content stored on a USB device, which can be inconvenient at times.
It has been at least a year and a half since the 980H was in my primary system and a fair bit has changed since I had it there, so it is hard for me to compare the BDP-80 to the 980H. Instead, I've used some other points of comparison. One was to alternate between source direct mode and 1080p output while the player was connected to my Onkyo PR-SC885 processor. In source direct mode, the player fed a straight 480i signal from DVD's into the 885's Reon video processor, which converted it to 1080p for display on my Sony LCD. In 1080p output mode, the BDP-80 did the conversion and the 885 just passed the signal through to the display. The Reon is no slouch when it comes to video processing, certainly more capable than the 980H had been. While making these comparisons, I watched (among other things) some children's animation stored on the USB hard drive as well as on DVD. When I looked for it, I could find examples in which the Reon provided a better picture, but the results were not as pronounced as I was able to find when comparing the 980H to the 983H a year and a half ago. In quite a few cases, I really had to search for differences. In none of my tests were there glaring differences. If you have a component in the signal path (surround processor, video processor, or HDTV) that employs a really good video processing solution such as the Reon or ABT2010, I'd recommend using the BDP-80's source direct mode and letting that component handle the deinterlacing and scaling. If you don't have anything like that, though, the BDP-80's Mediatek chip can still do a quite respectable job in its own right. In addition, the BDP-80 retains the BDP-83's quick DVD layer changes.
I've talked a lot about DVD and other formats so far, but haven't touched on Blu-ray. Since this is a Blu-ray player, I should probably address that before I move on. Blu-ray performance is a combination of disc support (a byproduct of the company's ability to react quickly to the foibles of new releases that incorporate changes in copy protection or strange programming quirks) and proper decoding. The BDP-80 has fared very well for me when it comes to disc support. My wife has been looking forward to the end of beta testing because it means that the BDP-80 will move to the bedroom, replacing the Panasonic BD30 that still has problems playing her Twilight Blu-ray. That disc has played flawlessly on both the BDP-83 and the BDP-80. There have been some new releases that caused problems for the BDP-83, but so far OPPO Digital has been quick to respond with workarounds and updated firmware to address such titles. The BDP-80 has also done well with proper playback and decoding, and since both players use the same core hardware it is possible to quickly address disc compatibility issues for both players in tandem. The benefits of the ABT2010 are going to be most apparent when watching lower-resolution video sources such as DVD. When we move over to Blu-ray, the BDP-80 gets the essentials right, which leaves us with less work for the video processor to do and thus reduces the impact of technology like the ABT2010. During the time I've spent with the BDP-80, I've found the differences in video performance between it and the BDP-83 to be very subtle on my 40" display. The BDP-80 is a thoroughly capable Blu-ray player.
---
AUDIO PLAYBACK:
The BDP-80 offers several different audio outputs. The one that gets the most attention on Blu-ray players is HDMI, of course, but there are also a coaxial digital output, an optical digital output, and a 7.1 channel analog output scattered across the rear panel. The HDMI output can handle any audio output demands you might want to place on it: bitstreaming the new Blu-ray audio formats, multichannel LPCM output of the new Blu-ray formats, multichannel LPCM or DSD output of SACD, multichannel LPCM output of DVD-Audio, and bitstream or multichannel LPCM output of Dolby Digital and DTS. The coaxial and optical will handle the lossy core tracks from Dolby Digital Plus, Dolby TrueHD, and DTS-HD (both High Resolution and Master Audio) as well as standard Dolby Digital, DTS, and stereo PCM. Those all match what the BDP-83 can do, both in capabilities and performance. The 7.1 channel analog output is one of the areas where the BDP-80 deviates from its predecessor: the BDP-80's analog section is related to the 983H and 980H designs, not the BDP-83 design (or the more robust ESS-based design found in the BDP-83 Special Edition). As such, it is smaller, less costly, and not as remarkably capable sonically as the BDP-83's. It's still a heck of a good analog section for the price range, mind you. I still have a hard time determining where to draw the line between who will want the BDP-83's extra analog refinement. In some cases, the choice is simple: people with a strong desire to get the best audio quality in a system that lacks HDMI audio support will want the BDP-83, and people who simply want a reliable and fast Blu-ray player at a good price will most likely be very happy with the BDP-80. For the rest of us, any decision between the BDP-83 and the BDP-80 will be a juggling act between price, video performance with DVD's, and analog audio performance.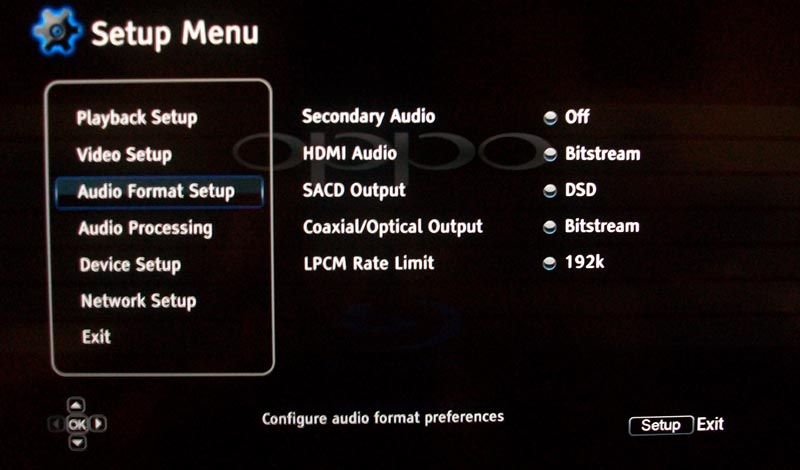 BDP-80 setup menus: Audio Format Setup menu
For a system with HDMI audio support, the BDP-80 will probably be set up with nothing more than an HDMI cable connecting the player to the receiver. In this configuration, the BDP-80's audio performance will compare favorably with basically anything out there. If you need it to do the decoding of the new audio formats, it can handle that without error and give you convenient multichannel LPCM over HDMI. It can also handle DVD-Audio's MLP (unpacked into LPCM, of course) and SACD as either a DSD bitstream or PCM. It really is this arrangement that I suspect will lead the BDP-80 to be particularly popular, considering the growing proliferation of HDMI-equipped surround receivers.
The USB capabilities that I mentioned in the video section of this review also apply to audio playback. We still haven't seen support for a lossless audio format, but the fact that the BDP-80 (like the BDP-83) no longer has a limit on the number of files that can be accessed from a single USB device makes it a bit more useful as a simple media client.
Every now and then, I will see someone suggest that OPPO Digital release a less expensive player that omits DVD-Audio and SACD. I've just finished talking about these two formats and their support, so clearly the BDP-80 retained support for them. There is a perfectly sensible reason for their inclusion: it doesn't add any to their cost to include them, nor does it reduce any cost to remove them. They are using the same drive either way, and they are using the same chipset. In both cases, changing to something else would increase their costs. That means they already have everything they need on the hardware side. They also have the firmware already written and ready to port over from the BDP-83. OPPO Digital could have elected to skip DVD-Audio and SACD support, just as other manufacturers have done, but they made the effort on the BDP-83 to retain these legacy audio formats. That effort pays off for all of us because the BDP-80 inherits the ability right off the bat.
---
NETWORK SUPPORT:
Last fall (shortly before the BDP-80 was released), OPPO Digital added two new, experimental features to the BDP-83. These were network file suaring support and BluTV. Neither feature was initially included on the BDP-80, but in a firmware update released on June 1, 2010 they were both added. They are currently classified as "experimental," but they warrant some discussion. The most notable feature is support for network file sharing, which has been based on the DLNA standard. DLNA stands for Digital Living Network Alliance, and it is a standard for audio and video fire sharing on a home network. This network support allows the BDP-83 to access audio, video, and picture files stored on a home network if the storage device (either a computer or a network appliance) is running a compatible file server.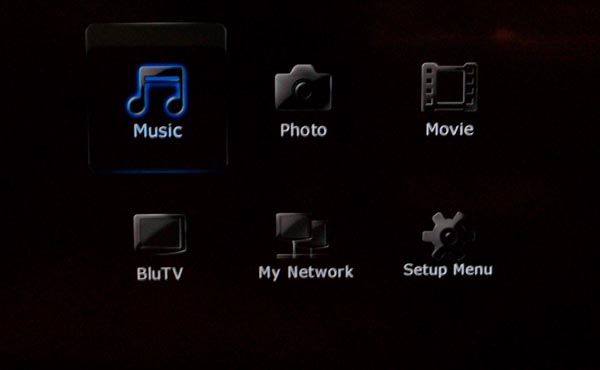 Expanded Home Menu: Music, Photos, Movies, BluTV, My Network, and Setup

Network Browser
Network support is handled separately from the existing Movie, Music, and Photo sections of the Home Menu, and the Network screen provides a browser for available servers. There are many different DLNA-compliant server solutions available. I used two different server programs during beta testing: TVersity and Nero MediaHome. If the two, I found that TVersity was as easy to set up as MediaHome and offered more reliable file playback. The result is similar to what you get when using a USB stick or hard drive, with a couple of differences: file sorting is alphabetical by file name, and file system limitations are removed. The first of these is a simple thing, but still very nice. The second is more significant: if your DLNA server is using a drive formatted with NTFS, you can have files larger than 4GB. This is something that many people have been interested in. Aside from these two changes, the DLNA support is almost indistinguishable from the USB mass storage support. The BDP-83 searches for available servers when you enter the My Network section of the Home Menu. It lists any such servers along with an option to initiate a new search of the network. You pick the server you want, and it gives you the list of folders that the server provides. The DLNA servers I used both generated several "summary" types of folders along with a folder that provided direct access to the original folders on the server's hard drive. The summary folders were generated by the server through various means, with most of them offering sorted listings of all images, all audio files, or all video files. For my purposes, I generally went straight to the server's actual folders, but the other options can be useful for created some automatic organization of your media files.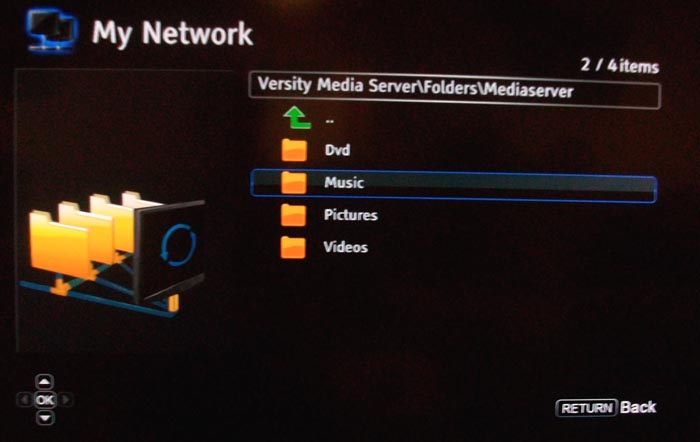 Browsing a TVersity server: server drive view
I found that the free version of TVersity proved to be an effective tool for quickly creating a server, at least for a Windows user. I was able to play back large video files (including VOB files taken from DVD's) and view large image files with just a little initial delay to start file playback across the network. My server uses an external 750GB USB hard drive (formatted to NTFS) as the main data source, so when the player first accesses the server there is a delay while the drive spins up. There is also a brief delay (indicated by a spinning indicator on-screen) as large files are initially opened. As an example, a 1GB VOB file may take about two or three seconds to start playing. After that, though, TVersity served up every file I threw at it without a glitch. MediaHome generated some "hiccups" in playback of VOB files, but was otherwise very similar in use to TVersity. The file type support via network appears to be the same as the file type support via USB.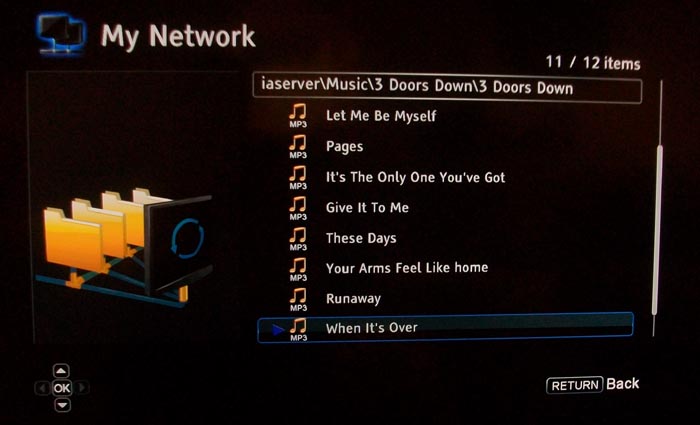 Music playback via Network
The network capabilities also apply to audio playback. We still haven't seen support for a lossless audio format, but the ability to access data stored remotely (and on an NTFS-formatted drive with alphabetical file/folder sorting) makes it much more practical to use the player as a basic network media client. Not everyone will have the means or desire to set up a DLNA server, but for those who do chose to go that route it really is a great ability. Because the three media file types are merged into a single interface for network connections, the "Now Playing" interface is not available.
As the network support matures, we may see some really interesting possibilities. One other DLNA server app that I experimented with during beta testing of this feature was PlayOn, a $40 software application that was developed to allow support for internet streaming of sources such as Netflix, Hulu, and YouTube to the XBox360 and Playstation3. So far, the BDP-80's DLNA support has not worked with PlayOn's re-encoding. The presence of network support combined with the support for an assortment of widely-used audio and video formats would suggest that there are untapped opportunities still available to BDP-80 owners.
---
CLOSING THOUGHTS:
The BDP-80 owes a lot to its older big brother, the BDP-83, and that's an excellent starting point for any Blu-ray player. The removal of the BDP-83's ABT2010 video processor, the less robust analog section, and the plastic faceplate are the most obvious concessions that the BDP-80 makes relative to the BDP-83, which may be the most frequently reviewed and praised Blu-ray player on the market today. The core of the player is essentially identical, though, so you still have the great speed, decoding for all the new audio formats, support for DVD-Audio and SACD, Profile 2.0 with 1GB of built-in memory, and the well-implemented user interface. It's likely that we will also see network media support (DLNA-based) and BluTV support added to the BDP-80 in the near future, as well, since these two features are currently in an "experimental" form in BDP-83 public beta firmware. On paper, this makes for a pretty compelling product, especially when you consider the price tag. In use, it is at least as compelling as the written words would suggest. Even without the ABT2010 video processor, picture quality is extremely good. The analog section is still every bit as good as you can hope to get in this price range. The feature set, effective user interface, speed, and customer support (both from the company and from the ever-growing user base that appears in numerous forums) are all just as appealing on the BDP-80 as they have been on the BDP-83.
Can you find a cheaper Blu-ray player than the BDP-80? Yes. Will it offer the same combination of features and performance as the BDP-80? No. It may have one or two items the BDP-80 lacks, but it will also lack several from the BDP-80's impressive inventory of skills. It is also not likely to be backed by the sort of customer service that OPPO Digital consistently provides. I concluded very early in the beta test process that the BDP-83 would remain my recommendation for people in the market for a reference-grade Blu-ray player, but that the BDP-80 would become my go-to recommendation for people who want a really good Blu-ray player at a reasonable price. When the time comes to put a Blu-ray player in my parents' den, it will be a BDP-80. They'll have to buy their own, though, because I'm hanging onto mine.
---