BACKGROUND:
When I bought an HDTV last year, I planned to add a progressive scan DVD player to get the full benefit of my new display when watching DVD's. Eventually, I added a universal DVD player (the Yamaha DVD-S1500), which provided good support for DVD-Audio and SACD as well as decent progressive scan playback, although as indicated by a middle-of-the-road score of 63 in the Secrets of Home Theater DVD shootout tests it is not necessarily an exceptional progressive scan player. Unfortunately, the Yamaha user interface leaves a lot to be desired, but I accepted the interface problems since the overall value of the unit was good.
At the same time I was pursuing an affordable universal DVD player, several manufacturers began offering players that upsampled DVD's 480i video to true HD resolutions. Instead of the deinterlaced 480p output of progressive scan players, these players used DVI or HDMI digital video outputs to provide resolutions such as 720p or 1080i. A few even offered these resolutions over component video, but those have been and continue to be pretty scarce. Many of these players (such as the higher end Denon units) are expensive, but several appeared in 2004 that were under $300. These players typically were purely video players, with no support for SACD and rarely support for DVD-Audio. Players like the Bravo D1 and Samsung DVD-HD931 became very popular, although they suffered from some emerging technology "growing pains." The major manufacturers even started to get in the game with players like the Panasonic DVD-S97 and its newly-released sibling, the DVD-S77 (which omits the S97's DVD-Audio support). This small array of upsampling players was joined in the closing days of 2004 by a player from a new brand, OPPO Digital. OPPO Digital is a brand developed and manufactured by the much larger BBK Electronics. OPPO Digital's first product was the OPDV971H, a player capable of providing 720p or 1080i video output from its DVI port. The unit got a fair bit of attention on a few forums such as AVS, but it wasn't until it appeared in the Secrets of Home Theater DVD shootout in April 2005 that it really achieved center stage in the online home theater market. The $200 player's score of 94 was the second highest ever, with only Denon's $3500 DVD-5910 doing better; revised firmware led Secrets to re-test the unit in December 2005 and raise its score to 98, one point higher than the DVD-5910. Interest in the player immediately skyrocketed, and it happened just as I was preparing to replace my venerable Outlaw Model 950 surround processor with a new Model 990. The Model 990 gave me one extra component video input as well as DVI switching for two inputs, allowing me to easily integrate an upsampling DVD player alongside my HD cable box, DVD recorder, and universal DVD player.
As in my previous equipment reviews, you can find an equipment list at the end of this review.
---
FIRST IMPRESSIONS:
My first impression of the OPPO came from some e-mail correspondence with OPPO Digital technical support. I had a couple questions about the current firmware and about plans to update the firmware based on a truly massive thread at AVS Forum about the player, so I e-mailed the company and asked. The resulting exchange made it clear that the small team responsible for the OPPO product line here in North America is sincerely interested in supporting their customers and making sure the player reaches its full potential – rather than the automated generic response I would have likely received from Panasonic or Sony or Yamaha (or the many other consumer electronics giants), I received a personal reply and was able to carry on a dialogue with tech support about my questions. Sadly, this sort of direct interaction and feedback is rare these days, but the companies that are striving to provide it tend to develop a very appreciative and loyal customer base. It is this sort of support that has led me to make purchases from smaller companies such as Outlaw Audio, Axiom Audio, and SV Subwoofers over the last few years. When I placed my order for an OPPO OPDV971H, I knew there was one issue that may not have been resolved yet (automatic selection of a secondary subtitle track on certain discs that use the track for the occasional foreign language dialogue), but I also felt comfortable that the company was aware of it and willing to find a solution to it (something that can be readily done, as the player's firmware can be updated by burning new software to a CD-R and "playing" the disc).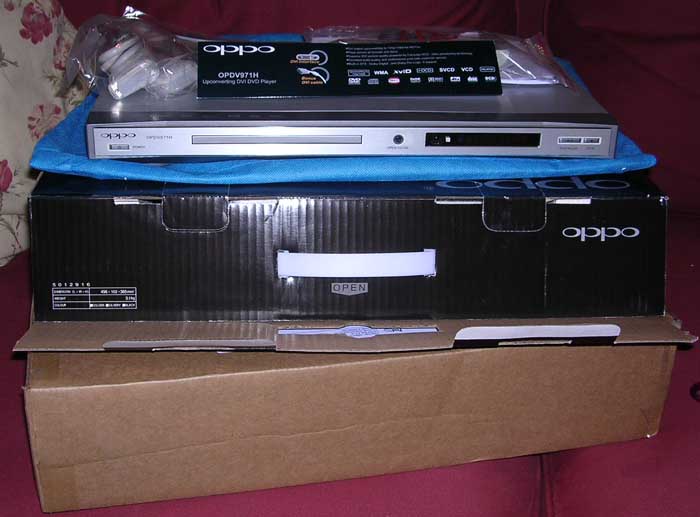 OPPO Digital OPDV971H unboxed and ready to go into the equipment rack
A week after I ordered my player (I selected ground shipping, and it shipped from the west coast), it arrived on my doorstep. It shipped double-boxed, which I liked, and the player itself was in a blue woven bag instead of plastic – a surprisingly classy touch, although I don't know how much better the bag is than a normal plastic bag would be. There was a heavy paper display sign stuck to the top of the unit, which I don't care for, but it came off with a little coaxing. As you can see in the picture above, the OPPO shares a trait now common to many DVD players: it is very thin. In our old entertainment center, I struggled constantly to fit all of the components onto the shelves – CD changer, digital cable box, amplifiers, surround processor, and at least one DVD player. Eventually, the CD changer was banished entirely from the cabinet by a DVD recorder. After we replaced that fairly bland equipment rack with a much nicer piece of furniture, which gave me plenty of shelf space, I found myself with DVD players that are shorter and shorter. (Of course, I also now have a surround processor that is nearly eight inches tall, so the extra cabinet space is certainly getting used by something!) At a little over 1.6 inches tall, the OPPO is nearly a full inch shorter than my S1500, but its weight of 5.5 pounds is only a pound and a half or so lighter than the S1500 – and over twice as heavy as Samsung's DVD-HD931 upconverting player. Bottom line: the OPPO is as small as they come, but for its size it seems reasonably solid. Front panel controls are noticeably minimal, with only power, eject, play/pause and stop controls available. I prefer to have a decent array of front panel buttons, but the super-low-profile players have all begun moving to this sort of minimalist approach. Since I've got everything in a closed cabinet these days, I guess it really shouldn't matter to me, but I still would have liked to at least have a full set of transport controls on the face. Also, the power cord is a captive type, which is unusual these days – the only other components I have currently with captive power cords are my Model 750 amp, TV, and VCR. I would have preferred a detachable power cord, as it can make re-arranging the equipment rack easier.
As with most any DVD player, the remote is fairly basic. There is no backlight to aid in using the remote in the dark, but the buttons do glow for a short while after the lights are turned down. The button layout is fairly typical, with navigation and transport controls grouped near the center of the remote (convenient to the thumb), number pad at the top, and some assorted commands at the bottom. I didn't use the remote long, as I quickly transferred everything to my universal remote (an MX-700, which just recently replaced my MX-500) and added the OPPO's remote to the drawer with all the other remotes. During its brief stay out in the open, I found it to suffer from some of the same issues seen on some recent Panasonic DVD player remotes (including both the DMR-E80 and DVD-S35): buttons are very small and relatively close together. The remote weighs almost nothing, even with batteries in it. The faceplate is brushed metal, which is a nice touch, but it is still only a moderately passable remote. For anyone using an MX-700 or similar remote, I have an MX-700 device file for the OPPO OPDV971H available here. Also, the white remote that can with my player was replaced in the summer of 2005 with a slightly different black remote, which was in turn replaced around November 2005 with a third remote (available for cost of shipping for owners of players that came with the older remotes).
---
SETUP:
Unlike my Yamaha DVD-S1500 (which is connected to the Model 990 with component video cables, a digital audio cable, stereo analog cables, six analog cables for DVD-Audio and SACD, and an s-video cable for the 990's 7.1 Direct input), the OPPO OPDV971H is connected very simply. I hooked the included DVI cable from the 971 to a DVI input on the Model 990 (leaving me able to add a second DVI device to the system if necessary) and connected the coaxial digital audio output to coaxial1 on the 990, assigned both connections to Video3 (which was then re-labeled OPPO), and I was done. If course, I still had to go through the 971's menus and make sure everything there was in order, check the calibration of the HDTV with Digital Video Essentials, and make sure I had all of the remote's commands set up on my universal remote.

Rear panel of unit
The 971's menus were my first stop. The setup menu is separate from any playback controls (unlike my DVD-S1500, which blends the two together in a way that I don't care for), and it is accessible at any time. Unlike some players, you do not need to have disc playback stopped completely or the tray empty to get into setup. The first menu screen covers general settings: display type (which offers four settings, including one not listed in the manual), OSD language, screen saver, and light control. The display option I selected was the "WIDE - SQUEEZE" mode, which pillarboxes 4:3 material for proper viewing on widescreen monitors. I use this and my TV's zoom function to easily differentiate between anamorphic widescreen and 4:3 material; my HD cable box is configured exactly the same way, so my wife is familiar with it and doesn't get tripped up. Next is speaker setup, which would relate solely to the analog audio output. Here you can set speakers to large, small, or off. You can also access a separate channel delay menu to set speaker distances. The third menu is audio setup, and the first thing I noticed was that the SPDIF output defaults to RAW (another way of saying "bitstream") rather than PCM for all signal types. This is unlike many players (especially older ones) that had a separate entry for DTS that typically defaulted to PCM, making it impossible to pass a DTS signal without finding and changing the setting. Other audio options are LPCM, Pro Logic II settings, Dolby Digital settings, and channel trim settings. A video setup menu provides control of sharpness, brightness, and contrast. Lastly, initial setup covers TV type (NTSC, PAL, or auto), PBC (for Video CD's), preferred audio language, preferred subtitle setting, disc menu language, parental control, and a password for the parental controls. While I think some of the menu items could have been distributed differently and been more logical to use, the menu is pretty simple to get around in.
One of the biggest complaints I have had with my Yamaha DVD-S1500 is the interface. The front display is too small (it can only show the elapsed time), there are no dedicated fast forward and rewind buttons, and the "back" button response time is so slow that it is nearly impossible to skip back to previous tracks on a CD or tracks on a DVD. Overall, the Yamaha's controls have been a headache from day one, and my frustration with them has only grown over time. The OPPO uses a more traditional approach, which I was pleased to see. The front panel display will show both track and time. Title is left off, but that's not something that I miss. The remote has separate fast forward and rewind buttons, which is invaluable on those (admittedly somewhat rare) occasions when you need them. I would have liked a larger display to make it easier to read from a distance, but the included display is as tall as the faceplate will allow.
Update 7/5/2005: OPPO Digital released a software update on June 29, 2005 (available here; ISO file is mirrored here). My OPDV971H shipped with the version OP971-2-0412 firmware and the silver remote; newer units now ship with a black remote that uses a different code set. I burned the update image file to a CD on June 30 and installed it per these instructions that night. Afterward, I had to go back through my settings (some of which - screen format and DVI resolution primarily - were lost when the update went in). They added a feature or two suggested by the Secrets' shootout, but nothing that affected the video quality on my 32" set - which is hardly a bad thing, considering the already excellent image quality. I had not experienced the AV sync problems reported by others with the older firmware, so I can't comment on that fix except to say that it is still not present on my unit (although the sync control option that was added is a nice touch). There is still a bug with the subtitles for foreign languages (which is rarely seen), but that's the only thing that I can see that still needs any attention.
Update 12/8/2005: OPPO released another software update in October 2005, which I never reported on but did apply to my unit at the time. As before, I had to adjust a few settings back to my preference (screen format and DVI resolution). Then in November they released another firmware update (available here; ISO file is mirrored here). Owners of early players that came with the white remote (such as myself) may need to pick up a new remote, since the instructions for the firmware update tell you not to install it unless you have the black remote; I've sent Oppo an e-mail asking about this, but will probably go ahead and request one of the new remotes (free except for shipping if you have a player) and update my MX-700 configuration. This newest firmware update led Secrets of Home Theater to re-test the unit, and they gave the new firmware's Video2 mode a score of 98. The revised Video2 mode can properly handle 2-2 cadence, which was the only test that the original unit failed. That's the highest score ever recorded on their benchmarks, one point higher than the $3500 Denon DVD-5910.
Update 3/3/2006: There's another firmware update out. The update and instructions for installing it can be downloaded here, and I've mirrored the update ISO file here. Unlike the previous firmware update, this one will work with the original white remote control, so if you skipped the last update because you didn't have a black remote you can safely install this update. The update made several changes: improved DVI output timing; improved audio/video synchronization; added a longer audio delay option; applied picture settings to PAL mode; added longer file name display in file browsing mode; provided proper "Skip Prev" function for CD playback; and added support for DivX Video-On-Demand activation. There is a known issue with the new firmware that relates to choppy playback of some DivX/MPEG-2 files. A preliminary firmware update is available to address that, and I suspect we'll see an official update in the next few weeks to resolve that.
Update 3/22/2006: The February firmware update was superceded by a March 15 release that rolled back the audio/video synchronization due to some issues with DivX/MPEG-2 playback. There is also an updated user's manual that reflects all of the changes they've made to the firmware over the last year or so. The firmware and manual can be found here, and I've mirrored both the firmware ISO and the manual here on my site. For now, I'm leaving the February firmware on my unit, although I plan to burn the new firmware to a disc and set it on the shelf in case I run into the DivX/MPEG-2 playback difficulties.
Update 7/31/2006: OPPO released a new firmware update on July 28, 2006, that addressed a number of issues (some of which were resolved on the OPDV-970HD during that player's development earlier in the year and then ported over to the 971H). The firmware update (available here) includes a number of fixes. The list includes improved handling of "forced subtitle" for DVD discs (a bug that affects a fairly small number of discs but that I've been looking forward to for over a year); improved disc compatibility; improved audio/video synchronization (previously included in the F-0316 beta firmware); eliminated Chroma Up-sampling Error (CUE) for component output (the DVI output never suffered from CUE); improved resume play function (pressing "eject" on the menu will identify a resume point on the disc); improved DivX video playback functions; output resolution display (pressing the DVI button will display the current output resolution on screen and on the front panel, although you still need to stop disc playback to change the resolution); enhanced front panel dimmer control; and a skip function for digital music files. The user's manual has been updated to reflect the changes made in this firmware, and I've updated my mirrored copy of the manual here on my site.
---
VIDEO PLAYBACK:
The OPPO OPDV971H differs from its competitors in that the component video output is limited purely to a interlaced 480i signal. If your HDTV lacks a digital input (either DVI or HDMI), the 971 is basically just an interlaced player. Only if you have an HDTV with a digital video input will you be likely to have an interest in this player. Since my HDTV does have a DVI input and I was interested in a good DVD player to tide me over while the HD optical disc format war is waged, I was interested. Since my TV's native mode is 1080i, I set the 971 to output 1080i from the DVI port – this setting is easy to change on the fly by pressing the "DVI" button on the remote to scroll through 1080i, 720p, and either 480p (if the unit is set to NTSC) or 576p (if it's set to PAL). Those of you with fixed pixel displays that have native resolutions different from 1080 or 720 will not be able to specify your native resolution, so you will still have to rely on the display's internal scalers for the final step of the way.
The idea of an upsampling DVD player is to more closely approximate the "three-dimensionality" and clarity afforded by HD resolutions. How well does it work? Well, it appears to be somewhat dependent on the quality of the disc in question. When using discs such as home videos transferred from VHS or S-VHS to DVD-R on my DMR-E80, the change was very slight. Picture quality was very good, but there's only so much you can squeeze out of a source like that. Likewise, DVD's with video transfers that are unremarkable to begin with seem to benefit only marginally – you will get as good a picture as you are likely to get from that disc, but it will not be anything that you will mistake for a good quality HD broadcast. Animation is generally limited in how much it can benefit from upsampling, especially traditional cel animation. When you get into some really good DVD transfers, however, the 971H can really do some amazing stuff. Not only was the layer change on Attack of the Clones imperceptible (go to the start of chapter 28 and wait a few seconds, the layer change will occur just before Obi-Wan's ship drops out of hyperspace), but the picture quality was fabulous. Likewise, Pirates of the Caribbean looked better than I've seen it on my display. Computer animation from the likes of Pixar also fare well. Basically, the better the transfer, the better the results of the upsampling will be, and it is readily apparent why the 971H earned such a high score on the Secrets shootout. A sampling of a few discs from my library convinced me that the 971H is an excellent player, particularly for the relatively meager price of $200. You can't expect HD image quality from every disc you try, but the 971H seems capable of getting the most possible out of any particular disc's transfer.
There are a few bugs rattling around in the 971H, although I understand that OPPO is pursuing firmware updates to address them. The only significant one that I have experienced relates to DVD's that use a subtitle track to provide captions for brief bits of foreign dialog. Examples of this would include alien dialog in the Star Wars movies or some of the Indian dialog in Hidalgo. The 971H does not know to select the relevent subtitle track automatically, and so you must toggle through the subtitle tracks using the "Subtitle" button on the remote. Typically, the track in question is track 2. Hopefully, a fix for this will be forthcoming soon.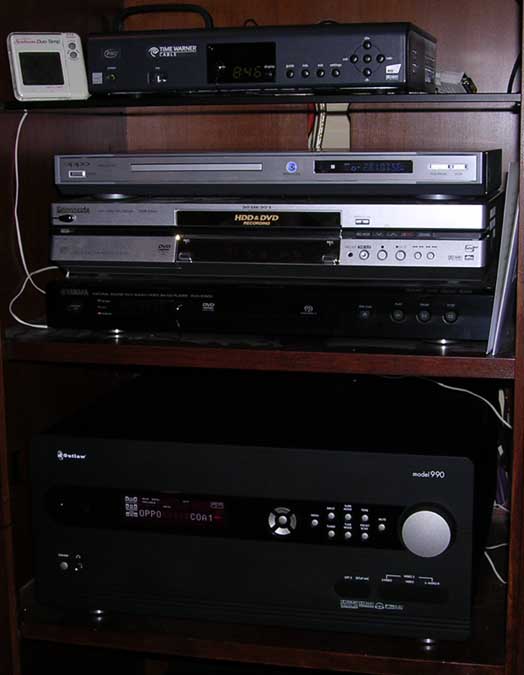 OPPO OPDV971H in its home in the equipment rack
You can barely see the front panel's nifty blue front panel lighting in the picture above. When the unit is powered up, the buttons glow blue, particularly the large eject button at the center, and the display's blue text is small but bright and somewhat readable from nine feet away. It's a cool look, but one that may irritate folks who are serious about their ambient light control. There is an option on the General page of the setup menu for light control that allows an "OFF" option to help tame the front panel display. Setting light control to "off" will turn off the bright blue backlights on the four buttons, leaving only the blue front panel display illuminated.
One complaint I have with my S1500 is how difficult it is to directly access a specific track or time on a disc – you can't necessarily just type in "1-1-5-0-2" to jump to 1:15:02 in a movie, for example. The 971 offers a button on the remote labeled "GOTO" that when pressed repeatedly toggles through a series of options for direct access. Depending on the type of disc in use, you can go directly to a specific title, chapter, elapsed time position, or track. Other typically basic features that are included are repeat (allowing you to repeat a disc, title, chapter, track, or between points A and B), direct selection of the active audio track or subtitle track, variable speed slow motion, and video zoom.
If you find yourself using the 971's included remote rather than a universal remote and can't find the transport controls in the dark, try to learn where the "Keyboard" button on the remote is. This will bring up a graphical transport control "keyboard" that can be controlled using the directional buttons. Pressing "Keyboard" again will cause it to go away. I don't expect to need this, but I can see the potential for some people to appreciate it from time to time, and my older Panasonic players had something similar. The keyboard is only available when playing video discs (DVD, Video CD or Super Video CD), but I guess they assume you'll at least have a lamp on when listening to CD's.
---
AUDIO PLAYBACK:
Since my main interest in the OPDV971H was in its ability to play back DVD-Video discs, my concerns about audio performance were limited to how well it would serve as a digital transport – all the 971 needed to do was pass the audio out to my Model 990 so that it could take care of things from there. For now, the S1500 will remain my audio transport, handling DVD-Audio and SACD discs as well as being a digital transport for CD's, but I did want to try a CD or two in the 971 to see how it worked as a CD transport as well. With the current firmware, the 971 will play DVD-Audio discs through the six-channel analog outputs, but since I did not have an analog audio connection (stereo or multichannel) from the 971 I was not able to listen to it.
The OPPO 971's main role in my system is a DVD player, so while testing out the video performance I used an assortment of discs that offered Dolby Digital 2.0, Dolby Digital 5.1, Dolby Digital EX, DTS 5.1, and DTS ES-Discrete soundtracks. The actual audio work involved here falls on the excellent Model 990, as the 971 simply has to pass a digital bitstream from the disc to the surround processor without screwing anything up. Did the 971 pass? Thankfully, yes, it did. Dolby Digital, DTS, and PCM audio all pass without any problems to the Model 990. Nothing fancy here, but it is doing what it is supposed to.
While I was shuffling through discs, I also tried a couple CD's. The 971H makes a perfectly serviceable CD transport, but there is no onscreen interface for CD playback – all you get is the front panel display. This is comparable to a normal CD player, which since it has no video output is restricted to the front panel, but in general newer DVD players have elected to offer at least a rudimentary onscreen interface of some sort to make use of their video output. The extra effort required to develop some form of onscreen display should not be too significant, and its absence struck me as a bit odd.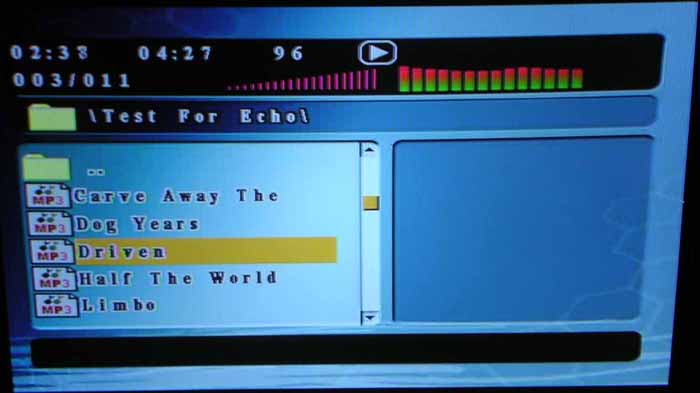 MP3 interface
The 971H will also support MP3 playback, using the simple and somewhat rudimentary interface shown above. This is one place where Yamaha's implementation remains above average in my experience – the 971H's MP3 interface is little better than that found on some of my older Panasonic players, none of which ever quite satisfied me. It's serviceable, but I expect to continue to use my S1500 as a transport for all audio formats.
The 971's remote has a few unusual buttons that relate to the audio section, and I felt compelled to experiment with them a bit. In an odd sort of homage to the weird surround modes such as "Stadium" and "Jazz Club" that were found on older surround sound receivers (newer receivers and particularly surround processors are moving away from these), the 971 includes a button labeled "SF." This button lets the user toggle through a series of truly unusual sound fields. These include CONCERT, LIVING ROOM, HALL, BATHROOM, CAVE, ARENA, CHURCH, and most importantly OFF. Upon seeing these listed in the manual, I was very curious to know what some of these modes might sound like. After all, what would happen if you were to simulate a living room while actually in a living room? And what sorts of changes take place when trying to simulate the sound field of a bathroom? Closely related to the "SF" button is the "EQ" button, which offers a series of equalization modes for ROCK, POP, LIVE, DANCE, TECHNO, CLASSIC, SOFT, and of course OFF once you realize that you probably don't want any of these. Both of these features are only applicable when using the analog audio outputs, which means that most folks will never be in a position to use them (and that I remain uninformed as to what a "bathroom" sound field would involve).
---
CLOSING THOUGHTS:
By the end of 2004, there were changes visible on the horizon for DVD. The proliferation of HDTV's was creating a growing interest in players capable of upscaling video from DVD's to HD resolution, and the impending HD optical disc format war (Blu-Ray vs. HD-DVD) was little more than a year away. The OPPO Digital OPDV971H rolled out in that environment at a price lower than most other upsampling players. By the time it achieved significant attention in April 2005 (when it initially received a score of 94 in the Secrets shootout), there were rumors of a possible unification of Blu-Ray and HD-DVD, but little else had changed – and the market interest in a good upsampling player was still growing steadily. The OPPO Digital OPDV971H is well positioned to fit that market.
The high Secrets scores (both the original 94 and the 98 received with the November 2005 firmware) and growing praise online for the OPPO may make it an appealing choice for folks shopping for a new DVD player, but there are some definite caveats to keep in mind. First, if your HDTV lacks a DVI or HDMI input, the 971 is not going to provide you with much benefit: the component video outputs are limited to 480i, just like the largely-defunct interlaced players of old. If you have a standard definition TV and have no plans to upgrade the display for a while, it may be possible to find a player that will offer nearly the same s-video or composite video performance on your existing display for less money. The target audience for this player is the owner of a DVI or HDMI-equipped HDTV or someone planning to upgrade to such a display in the near future. For that audience, the OPDV971H is an excellent value.
---