Update 6/5/2008: It took me several weeks to find time to finish the stands (such as it were – their final form re-confirmed my intent to pursue getting some better-made stands at a later date) and get them into the den. These stands were sort of an experiment, testing an idea for a stand design that I figured could be recreated in nicer material or finished better later. Finally, over the Memorial Day weekend, I got the stands in the house and pulled the speakers down onto them.

As soon as I had the Bookshelves down on the stands, I fired the system up for some initial listening. The effects were readily apparent as a widening of the soundstage and improved imaging. Some of the soundstage improvement is likely due to the speakers being spread out a bit more, but I really think the imaging is due to the speakers being at the listener's level now. It is very pronounced when listening to music, but it is also beneficial with movies and TV. When I was settling in to write these notes down, I was startled to note how clear and wide the soundstage was on a TV show (hardly the greatest source material) when I wasn't even paying attention to it. Even though I'm not terribly impressed with my workmanship on the stands, I will definitely be leaving the Bookshelves on them until I can find something better to use as supports for them. They deserve to be at their optimal mounting height.
---
SURROUND LOUDSPEAKERS:
Added 11/20/2009: Earlier this fall, Outlaw announced a new addition to their speaker line: the Surround Loudspeaker, or SL. Shortly after the announcement, I ordered a pair for my side surrounds to replace some Axiom M3ti's. The M3ti's were installed after we moved in January 2004 due to space restrictions that prevented me from using my Paradigm Studio ADP's. The M3ti's did a fair job, but they were never the equal of the other speakers in the system. They also were not dipole surrounds. I'd been contemplating some BLS's as replacements, but the SL's provided me with a better alternative.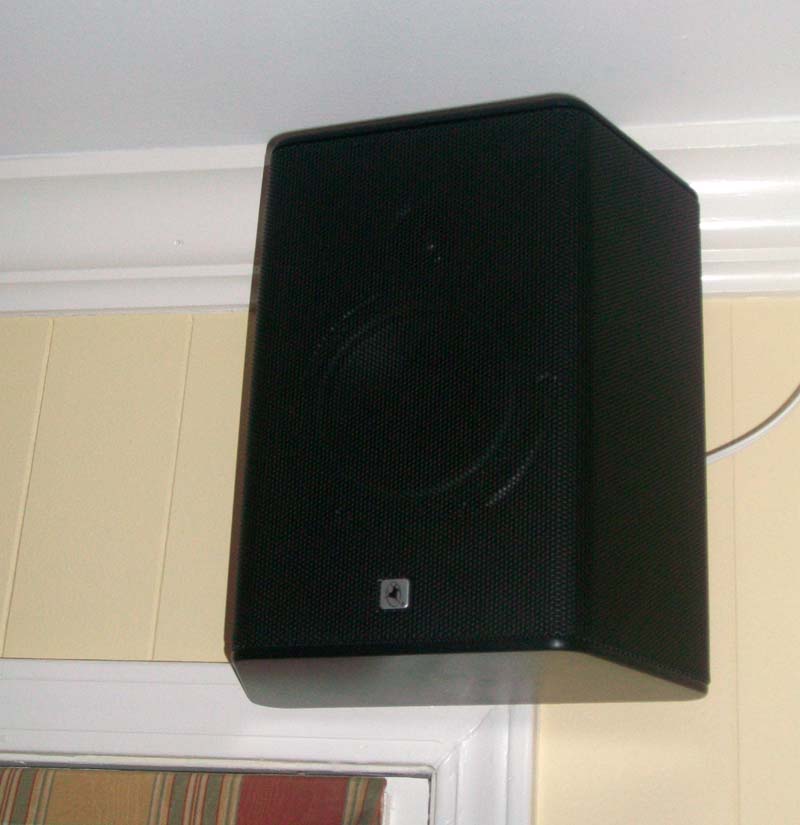 Right Surround

My SL's are mounted in the only available locations on my side walls. They are not exactly optimal positions, but with the wall brackets I had from the M3's they have a reasonable chance of doing the job. They are smaller than the M3's in depth and height, although the sloped sides result in a wider face. The metal grilles give them what I consider to be a more handsome appearance, as well, and the aluminum top and bottom plates are a really nice aesthetic touch that I hadn't expected. I've had them installed for several weeks now, but our busy schedules had limited opportunities to really crank the system up and listen loud. Without that true test, my initial feelings were very positive, though. The surrounds seemed more natural and integrated when watching 5.1 sources, which is likely a combination of the dipole design (mine are set for "diffuse" operation rather than "direct") and the performance of the speakers themselves.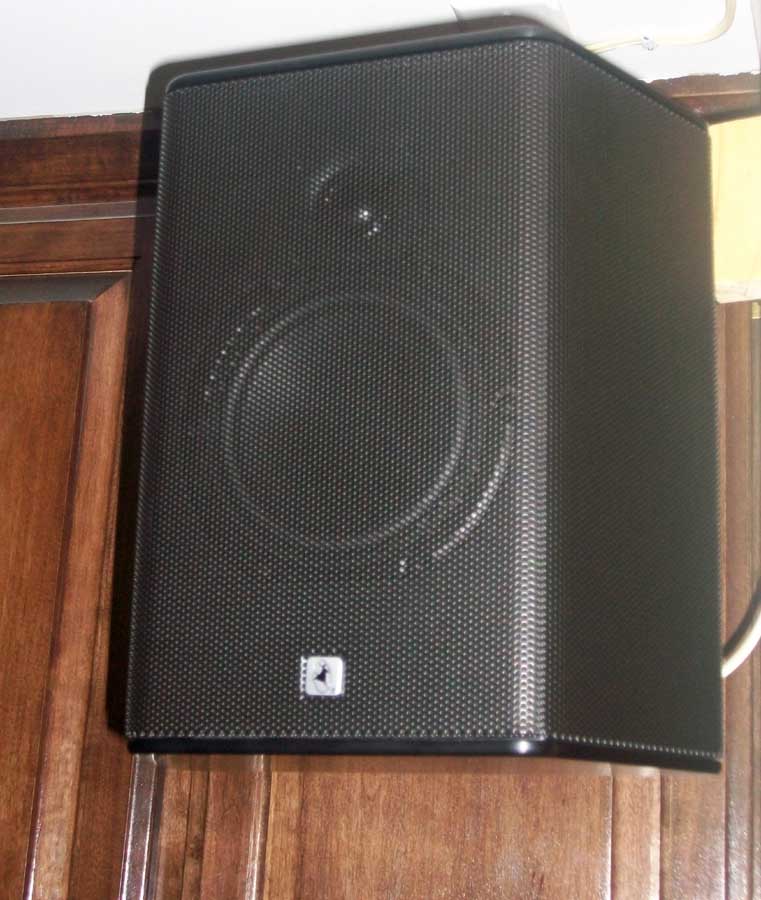 Left Surround

Then last week I had some work done on my right hip. The three large screws that were installed in May 2008 came out, and some other work was done to the head of my femur in hopes of slowing or halting the signs of necrosis likely caused by my fall last year. I was left to sit at home for a few days, and on Monday (the first day that I really had the place to myself) I queued up two Blu-rays to give the system a good workout: Transformers 2 and The Dark Knight. I had my BDP-83 set to bitstream over HDMI (a setting that fluctuates from time to time and is actually set to LPCM more often than not), and my Onkyo 885 defaulted to straight decoding of the lossless 5.1 tracks from both discs. I decided not to overlay Pro Logic IIx (which is my usual choice) in order to evaluate just the 5.1 performance without any additional contribution from the Studio ADP back surrounds.

My original expectations for the first Transformers movie were very, very low, and I rented it from Netflix simply out of curiosity. As such, I really was pleasantly surprised to get a somewhat silly, slightly over-long, generally fun summer action movie. That wasn't enough to cause me to actually try to see the sequel in theaters, though, so this was my first viewing of Transformers 2. The soundtrack was as lively and theater-testing as one would expect, and several times I found myself noticing that the surround effects were more open and non-localized (for lack of a better term) with the SL's. Never did I find myself thinking, "there is the speaker" and being able to pinpoint either of the surrounds. They did the job of creating an enveloping mix admirably. In that regard, they were a definite upgrade. The Dark Knight (the only movie of 2008 that I actually succeeded in seeing in theaters while encumbered by my broken hip) just reinforced that assessment. They did a great job handling the back of the room. The inactive rear surrounds really weren't missed.

On Tuesday, I lost almost half of the day to a conference call for work, but I was still at home. That gave me a chance to try out the new Up Blu-ray. This allowed me to get some idea of the effectiveness of the SL's at blending with the Outlaw speakers that provide the front trio (BLS fronts and LCR in the center). Little things like the knocks on Carl's front door were stretched into the right surround, and they were so well voiced that twice I wondered why someone was knocking on my deck door.

With the arrival of the SL's, I finally have side surrounds that are the equal of the other speakers in the room. At some point, I will replace my Paradigm ADP's with a second pair of SL's that I will most likely operate in "direct" mode as rear surrounds.
---
CLOSING THOUGHTS:
I initially was reluctant to upgrade my front speakers, as the Paradigm Studios are still very good speakers. Eventually, I decided to give the Outlaw speakers a try, see how they compared to my familiar old Paradigms. There was some uncertainty involved in this process, as the Paradigms were both good speakers and much larger speakers (particular the Studio 60 towers). Happily, it took very little time to convince me that my reluctance was unfounded. The Bookshelves and their LCR sibling have been a rousing success for both me and my wife. I am contemplating the idea of looking into a set of black B-stock Bookshelves for side surround duty, as a replacement for my Axiom M3ti's, but at this point it is mostly a matter of collecting the funds and waiting on B-stock availability (feel bad about the very idea of drillig holes in A-stock to mount them in my side surround positions). Hopefully before 2008 comes to an end, I'll have switched to a pair of Outlaw Bookshelves for my side surrounds.
Even without delving into the world of ultra-high dollar speakers, there are a lot of good speakers available today. I dare say there are more than a few really great speakers, for that matter, and we could devote a whole paragraph just to naming some of the well-regarded companies that have been building high quality speakers for years and even decades. More recently, the internet direct business model has been well suited to the speaker and subwoofer business, perhaps even moreso than to the electronics business. Outlaw is a bit unusual in this regard, as they started out with internet-direct electronics (still a somewhat rare approach) before eventually adding subwoofers and only recently trying their hand at speakers. At $1,000/pair ($1,100 in the cherry finish) for the Bookshelves and $650 each ($700 in the cherry) for the LCR, Outlaw's speakers are competing in a market that includes no shortage of great offerings, so trying to carve out a presence there is no modest undertaking. It may come as no surprise, then, that in spite of their relatively small size these Outlaws are no modest speakers, either. With a construction and appearance that satisfies the spouse and the sound quality that I demanded, I expect these to remain in the system for many years to come.
---