BACKGROUND:
Like many people, I watched the HD-DVD/Blu-ray format war with interest. The idea of a 5" optical disc with HD content on it was hugely appealing, but the battle over which format to buy into was just as hugely frustrating. In the end, I was unable to get out of 2007 without owning hardware for both new formats: a Toshiba HD-A2 for HD-DVD and a Panasonic DMP-BD30 for Blu-ray. And yet, through all of it, the format that I found myself pulling off the shelf most often was DVD, and neither of those players could provide as satisfactory an experience with DVD as my dedicated DVD players (first an OPPO Digital DV-980H, then later a DV-983H). And because I'd come out of the previous format war with a modest library of both DVD-Audio and SACD titles, one of those dedicated DVD players was always tied to my surround processor's 7.1 analog input so that I could listen to those two formats. It was not exactly an ideal scenario.
With this background in place, it will come as no surprise that I was as intrigued and excited as anyone to hear about the prototype Blu-ray player – the BDP-83 – that OPPO Digital sent to CEDIA in early September 2008. Here was a player whose then-still-evolving feature set would offer more complete Blu-ray support than my BD30 (Profile 2.0 instead of Profile 1.1 plus onboard decoding of all of the new audio codecs), the DVD playback performance of my much-loved 983H (thanks to the ABT2010 chipset that offered all of the same capabilities of the ABT102/ABT 1018 combo in my 983H plus a few new tricks), SACD support, and DVD-Audio support (although that one wasn't guaranteed yet at CEDIA). Sure, the HD-A2 would need to stick around if I decided to hang on to the small number of HD-DVD titles I owned, but otherwise I'd be in a position to consolidate into a single player while sacrificing nothing in format support or player performance. When OPPO Digital asked if I'd be available to help beta test the BDP-83, I waved my crutches around emphatically (since I was still recovering from a broken hip at the time) and assured them that it would be no problem at all. Beta testing something this complex is serious business, of course (try to list all of the different disc formats, audio formats, file types, and output options that are included and you'll start to see the challenges involved), but it's also an opportunity to have some fun along the way. It helps that past experience with OPPO Digital (specifically three previous player beta tests that I've been involved with) had shown me that they take their beta testing seriously. As part of that journey, I started compiling this user review during the beta test in hopes of offering some insight into the final product. There's a lot of ground to cover when trying to describe the BDP-83, but hopefully you'll find that I've offered a reasonable overview. This review was initially published in late February 2009, as the first round of the early adopter program (EAP) was being launched, but I've updated it in a number of places to represent the player's final production form. The final price is also now known, and it will remain at $499 as seen during the EAP. Any text you see in maroon has been added recently. As in my previous equipment reviews, you can find an equipment list at the end.
---
FIRST IMPRESSIONS:
The beta sample that I used during my testing arrived at work one Monday and I eagerly unboxed it. As with previous OPPO players, it is single-boxed for shipping. In spite of being taller and heavier than previous players, this approach still yielded a package with no visible damage after spending several days in FedEx's possession. Inside the box, I found that the BDP-83 was tucked safely inside a fabric pouch. Where previous OPPO players did something similar, the BDP-83 takes this one step further: the pouch is actually a roomy fabric bag with sturdy handles (early beta samples came in a green bag, replaced by a black bag when a hardware change was made and new samples shipped out mid-way through testing). OPPO invites users to keep the bag and use it as a shopping bag to help the environment. I was impressed by this, both from the perspective of a company thinking outside the box to be "green" and because I was still on crutches at the time and could carry the player home by leaving it in the bag and slipping it over my shoulder. The box also contained a small box of accessories: backlit remote control, batteries, heavy power cord, HDMI cable, stereo analog cables, and a composite video cable.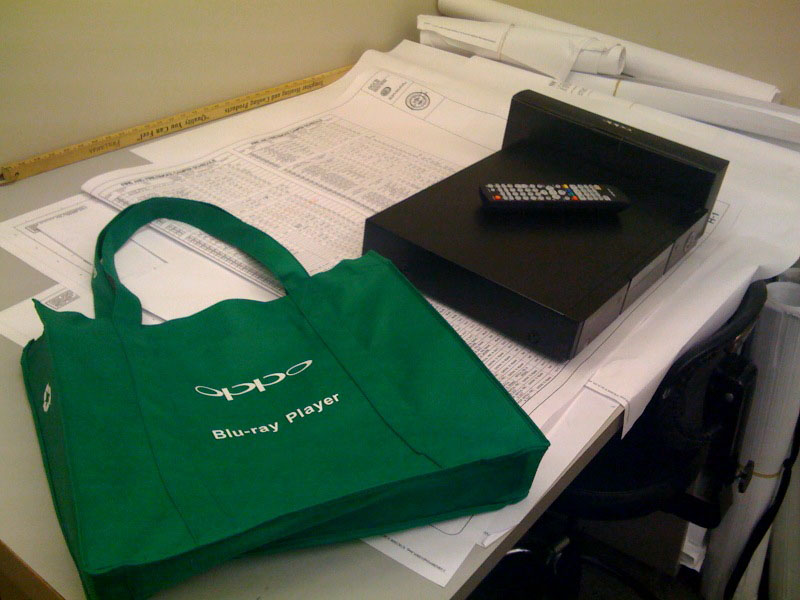 BDP-83 and inner packaging (before the bag changed to black)
Once I got inside the green bag to the player itself, I found a player that was even more robust looking than their flagship DV-983H. The front faceplate is a fairly heavy piece of aluminum that turns back at the top to give the impression of being an inches-deep slab of metal. The controls on the front are minimal, but there's a USB port tucked in there conveniently. The front panel display is larger than on previous OPPO players, which was a welcome discovery as it made reading the display from a distance easier. On the rear panel, you've got a tremendous array of options spread out with comfortable port spacing. There's the 7.1 analog output, the stereo analog output, the optical and coaxial digital audio outputs, the composite and component video outputs, an Ethernet port, a second USB port, an HDMI port, 3.5mm IR input/outputs, and an IEC power connection. About the only things missing are s-video (hardly a loss on a player that should realistically only be connected to an HDTV) and RS-232 (which is available as an upgrade for $89 if you have a control system that can benefit from it). It's certainly not a gaudy design, and it presents a clean, understated, and very "weighty" outward appearance. At least for my own personal tastes, the BDP-83's industrial design seems to be a successful evolution of the design principles they've been refining ever since the DV-980H, and I am pleased with the direction they've taken.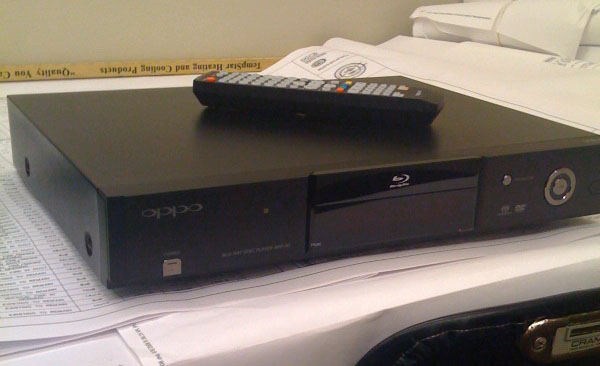 BDP-83 on the drafting board
Before we move on to the process of getting this thing set up, I want to comment briefly on the remote control. The BDP-83 is the first player we've seen from OPPO since the 971H to do something new with the remote control (the 971H changed remotes mid-way through its production life to use the same basic remote control that all subsequent OPPO DVD players have used). It is backlit, which is a first for OPPO. It also offers a key layout that I found comfortable and easy to learn, and I kept the remote around a fair bit at first while re-programming my MX-900. Lastly, it offers three different sets of remote codes, with a switch under the battery cover that allows you to select which code set you want to use. The first code set is basically the same as that used by OPPO's other players, and it will work fine unless you happen to have another OPPO product in your equipment rack and want to be able to control them separately. By changing a setting in the player's menu and moving the switch under the battery cover, you can have as many as three BDP-83's together (or two BDP-83's and one OPPO DVD player) and be able to control each one independently. If you change the remote code on the remote without setting the player to that code, you can very easily resolve that by opening the disc tray and holding down the "SELECT" button on the remote for five seconds. The player will respond by setting itself to that code set. The "open disc tray" step is important, and OPPO included that because there was a small but real potential for users with multiple OPPO players in one system to accidently change the player's code while controlling some other player. This is a very handy feature that avoids the need to pop the battery cover off and toggle the switch if the player has to be reset for any reason. It is also particularly handy for those of us with universal remotes, as it allows us to select the player's remote code after a reset without tracking down the original remote. (It's this sort of attention to detail that tends to produce a great deal of brand loyalty from OPPO owners, and something that you will find time and again as you use the BDP-83.) I used code 2 while testing because I had my 983H still sitting in the equipment rack during most of the beta testing.
---
SETUP:
While testing, I connected the BDP-83 in almost every way possible: HDMI out, 7.1 analog out, coaxial digital out, component video out, composite video out, USB hard drive into the rear USB port, and network cable into the Ethernet port. Most users will just use the HDMI out, but one strength of the BDP-83 is the ability to work with an older surround receiver or processor and provide access to the new audio codecs available on Blu-ray. For those setups, you can expect to use either HDMI or component for video, 7.1 analog for Blu-ray and any other discs where internal decoding is desirable (SACD, DVD-Audio), and maybe even coaxial or optical for standard DVD's and CD's. The pair of USB ports are handy, but it's worth noting that you do not need to connect anything to them for the player to operate properly. Profile 1.1 support (BD-Java) requires 256MB and Profile 2.0 (BD-Live) requires 1GB, and the BDP-83 has 1GB of built-in memory for use with discs using those features.

BDP-83 rear panel
There are a lot of connections on the rear panel, but the BDP-83's manual does a very good job of explaining which of these connections are right for you. Here's the basic advise I've given to friends about what to do, although I strongly recommend downloading the BDP-83's manual from OPPO Digital's web site and flipping through it. If you have both a newer receiver that offers HDMI inputs with audio support (at least HDMI v1.1 to get multichannel PCM) and an HDTV with an HDMI input, then you just need to connect the BDP-83's HDMI cable to an input on your receiver. Even if you have to evict some other device from an HDMI input, you'll want to do so. If your receiver doesn't support HDMI audio, then I'd recommend using a combination of the multichannel analog output (either the full 7.1 or just 5.1 if your receiver only has a 5.1 analog input or you only have a 5.1 speaker setup) and a coaxial or optical digital audio cable. The multichannel analog will be the preferred connection for Blu-ray, SACD, and DVD-Audio, while the coaxial or optical will work fine for CD's, DVD's, and assorted media files. In this scenario, use HDMI for video if your HDTV supports it or component video if you don't have an HDMI or DVI-HDCP input on the TV. If you don't have a surround system and are connecting directly to an HDTV, then HDMI remains the preferred connection. If your TV doesn't have HDMI or DVI, you can use component video and the stereo analog audio output. For readers who are unfamiliar with HDMI's many faces, I have an HDMI FAQ on my site that may be a useful reference. The BDP-83 is an HDMI v1.3 product that supports all of v1.3's capabilities (bitstreaming the new audio formats, CEC for control of other devices, and deep color), but as with all HDMI devices it is also backward compatible with earlier versions of HDMI and even (for video only) DVI-HDCP.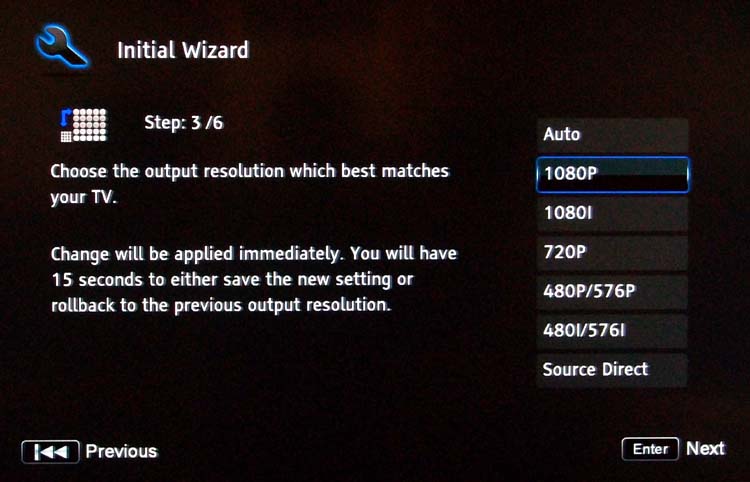 Quick Setup Wizard
The BDP-83's interface can be said to revolve around the "Home" menu, as we'll talk about further in later sections. This menu allows ready access to different audio and video formats stored on either disc or USB, and it also offers a way to enter the player's setup menu. Before you ever see the Home Menu for the first time, though, you will encounter the Quick Setup Wizard. The first time the player is turned on (and any time that the player is turned on after being reset to factory defaults), the Quick Setup Wizard comes up and presents you with a series of screens asking basic questions about your setup. The first screen gives you the option to use the wizard or skip it, followed by a screen that lets you set which video connection you are using as your primary output (component or HDMI, with some nice on-screen graphics to help remind you which is which). The third screen sets resolution, with the options of Auto, 1080p, 1080i, 720p, 480p/576p, 480i/576i, and Source Direct. These are the same options available in the player's setup menu or by using the "Resolution" button on the remote, and the manual includes a good discussion of how to determine which resolution is best. Auto will negotiate with the TV (using the EDID information provided by the TV) to select the best resolution and Source Direct causes the player to serve as a video transport. This last option is a great feature for people with separate video processors or surround sound processors with very high-end video processors built into them (such as the Anthem Statement D2 with its Gennum processing), as it outputs the native resolution of the disc being played with no processing beyond the basic decoding required to produce the signal. For SACD and DVD-Audio discs, the player uses 1080i to assure that the audio bandwidth allocated for the HDMI connection is sufficient for a multichannel PCM or DSD signal. Once a selection is made, the player asks you to verify that the selected resolution works. If you can see that dialog box, you can select "OK" and be on your way. After that, you select your aspect ratio from the same assortment of options that have been offered by OPPO's players since the old 971H: 4:3 Letterbox, 4:3 Pan & Scan, 16:9 Wide, and 16:9 Wide/Auto. In addition to the tips provided on the wizard screen, the manual offers a detaile explanation of these options. The fifth screen provides two options for audio support: Compatible and Advanced. Compatible engages on-board decoding of the new audio formats, and is the option to select if you are using a receiver that lacks HDMI audio support or one that only offers HDMI v1.1 or v1.2 support. Advanced enables bitstream output of the new formats and disables secondary audio, so it is only appropriate when pairing the BDP-83 with a receiver that is HDMI v1.3 and can decode those formats. The sixth and final screen of the wizard is just a completion screen – you just say "OK" to finish and the player closes out the wizard. It doesn't address every single setting available on the player (since to do so would be impossible without changing the wizard's name to "Extremely Long Setup Wizard"), but it does a very good job of touching on the most important ones and gives users a great jumping-off point.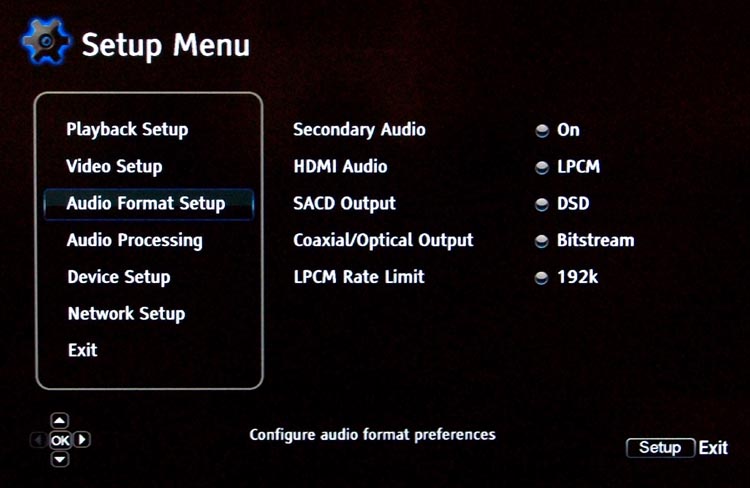 Player Setup Menu
The basic layout of the player's setup menus will be familiar to anyone who has used an OPPO Digital DVD player. The main menu options are Playback Setup, Video Setup, Audio Format Setup, Audio Processing, Device Setup, and Network Setup (plus "Exit" at the bottom to close the menu). The manual (available for download here) covers these in great detail, so I'll spare us all a recap of the options available there. One item worth noting is the ability to set output resolution from the menu without stopping playback (an adjustment that required stopping playback and using a button on the remote to cycle through the available resolutions on OPPO's previous players). There is still a "Resolution" button on the remote, by the way. I'll also say that the menu itself is quite slick looking.
I'll pause here to toss out a little beta testing anecdote. It was after a firmware update mid-way through the beta testing that I finally noticed something in the speaker setup menu that I felt summed up the overall "fit and finish" of the player's menus nicely: the image used for the speakers changes depending on whether they are set to "large" or "small". You can glance at the Speaker Configuration screen and tell immediately what the bass management settings are just from this visual cue.
Before moving on, I'll reiterate that there is a lot of control built into the player's setup menu, far more than I have touched on here. OPPO's manual is quite well written, which is why I've skipped over those details. I recommend that anyone considering the BDP-83 download a copy of the manual and flip through it. Updated 6/24/2009: Owners of any Outlaw Audio surround processors or receivers may also want to peruse my setup guides for Outlaw Audio processors and the OPPO Digital BDP-83, which has separate entries for the Model 990 processor, Model 970 processor (which also works for the Model 1070 receiver), Model 950 processor, and Model 1050 receiver. I also have a remote control file from my MX-900 available for download here. It uses code set 2, which allowed me to keep the 983H in the system. Lastly, the beta testers (particularly AVS Forum member wmcclain) assembled a FAQ during the beta test that is a quite useful reference. That FAQ can be found here.
---
FIRMWARE UPDATES:
Perhaps moreso than any previous class of consumer electronics products, Blu-ray players all have and likely will continue to require the occasional firmware update. This is not a new concept to OPPO Digital, as they have employed the user-installed firmware update as a method for bug fixing and product improvement ever since their original OPDV971H appeared back in late 2004. The BDP-83 carries over two ways to update firmware from the DV-980H and DV-983H: CD-R and USB. Users can burn a firmware update to CD and load it from the disc, or they can copy a firmware update onto a FAT-formatted USB thumb drive and load it from there. In addition to the CD-R and USB firmware update options, the Ethernet port can be used to install firmware updates via a network connection to the Internet. These firmware updates can be provided to address problems discovered with the player, coordinate with new Blu-ray releases that may not behave quite as anticipated, or to provide improvements in the player (either performance refinements or even additional features). OPPO also often releases "beta firmware" on their site, and these firmware versions are ones that have been evaluated and found to be stable enough for general use while offering some new feature or bug fix before the final "official" firmware is signed off on and made available.
The firmware update process is relatively painless. It can be done via CD-R, USB, or Ethernet connection. My preference is USB, although Ethernet has also worked very well. For the USB update, you just need to copy one or two data files onto a FAT16 or FAT32 formatted USB stick (being sure to put them in a folder named "UPG") and then connect the USB stick to the BDP-83. I recommend having playback stopped before doing this (so you are looking at either the Home menu or the OPPO splash screen). The player will see the USB device, scan it's contents, and locate the files in the UPG folder. Then it will report that it has found an update and ask for permission to install it. A CD-R update works much the same way, with the only difference being that you copy the files into the UPG folder on a disc and finalize the disc. The network update is initiated by entering the player's setup menu, selecting "Device Setup" on the left side, selecting "Firmware Upgrade" on the right, and then picking "Via Network" to start the update process. The player will then check with the OPPO Digital server to determine if new firmware is available. Note that earlier advise about stopping all playback still applies, as the player will not allow you to select "Firmware Upgrade" if something is playing.
The firmware update itself is surprisingly quick and painless (especially compared to the 40+ minute network update for my old HD-A2 or some of the quirks I saw when updating my BD30). At times during the beta process, updates to the loader firmware were relatively common, so that 1MB file "dvd.bin" would be the first one installed. This one takes probably 20 or 30 seconds to load from USB. After that file loads (if it is present), the player moves on to the main firmware file "bdp-83.bin" (roughly 15MB) and loads it. This one takes just a few seconds to load. In a couple cases, we also had a third file to load ("MCU.bin", roughly 12KB), and in those cases it was loaded last in just a few seconds. After all of the firmware loads, the player will re-start. If the firmware required the player to reset to factory defaults, you will be greeted by the Quick Setup Wizard. That was common early in beta testing, but became less common as the testing progressed.
The two groups of EAP participants (the initial 50 customers and the additional 300) saw several firmware updates, but May 4 saw the release of official production firmware. I will update this review as we see additional firmware update releases over the life of the player.
---
VIDEO PLAYBACK:
Let's start this out with Blu-ray, since that is the format that drove the development of this player. Blu-ray offers true HD content on the same size disc that we've had for CD and DVD. It can provide 1080p/24 content (handy for film-based movie content that started life as 24 frames per second through a camera), which the BDP-83 can in turn output straight to a TV. It can not provide the "deep color" video that HDMI v1.3 supports, but the BDP-83 can extrapolate if your TV supports that. The various extras tucked into the Blu-ray format (BD-Java, picture-in-picture, and downloadable content via BD-Live) are all supported. In addition, the player operates far faster than the glacially-lumbering early Blu-ray players, avoiding the minutes-long waits often associated with the format's early hardware (the PS3 notwithstanding). But how does it look? Quite fine, thank you. I compared Blu-ray performance from the BDP-83 and the Panasonic BD30 on my Zenith C32V37 and then moved to a Sony KDL-40W4100 to allow for testing of some additional video options (at least that's the excuse I used...), and the BDP-83's performance was consistently excellent.
No matter how good Blu-ray looks, video performance with other formats is still very important, and that's one reason for the inclusion of the ABT2010 chipset. As OPPO proved with the 983H, this architecture (whether in the form of the older duo of ABT1018 and ABT102 chips or in the newer unified ABT2010) can wring tremendous performance from DVD. With the BDP-83, OPPO was able to carry over the prodigious DVD capabilities of the DV-983H and even add a few refinements (include 24p output). As a result, you can basically look at any of the numerous reviews of the DV-983H (including my own review) and get a pretty clear picture (no pun intended) of what the BDP-83 can do for standard DVD playback. More than once, my wife commented on the excellent picture quality only to be surprised when I told her it was playing a DVD. And layer changes on the BDP-83 were quite quick. I don't have a test disc with the sort of torture-test layer change often used for benchmarking purposes, but on my typical test discs I was pleased with the BDP-83. Timing the layer change was difficult, as it was such a small fraction of a second. I felt that the BDP-83's layer changes were faster than the DV-983H's, which would put it in line with the DV-980H. On my test disc (Attack of the Clones), both the BDP-83 and 983H had layer changes that were so short as to be difficult to measure (call it 0.1 seconds plus or minus 0.05 seconds) while the Panasonic BD30 took 1.2 seconds and the Toshiba HD-A2 took 1.3 seconds.
While we're talking about time, disc load times and player responsiveness have been significant issues for Blu-ray players, especially when BD-Java is involved. The BDP-83 performs well in this regard, with good player responsiveness to remote commands and fast load times. One of several "time trials" I did during beta testing was measuring how long the player took to load the Pirates of the Carribbean: Curse of the Black Pearl Blu-ray. This is a title that was documented on AVS Forum for a number of players that I did not have available to me, so it gave me a wider sampling. Load time for the BDP-83 was under 24 seconds, while load time for my Panasonic BD30 was 53 seconds. According to AVS, the PS3 takes at least 30 seconds to load this disc, the Pioneer BDP-05 takes 80 seconds, the Samsung 1400 takes 136 seconds, and the Sony BDP300 takes 183 seconds. Newer players from all of these manufacturers have improved on load times, but even compared to the latest models from Sony, Panasonic, and others the BDP-83 should remain near the front of the pack for disc load times. There are a few areas where the BDP-83 is reportedly not as fast as the PS3, mainly relating to navigating BD-Java menus and loading BD-Live content, but otherwise the BDP-83 is at least on par with the PS3 – which puts it up among the best players on the market for speed.
The BDP-83 also supports playback of an assortment of video files such as DIVX, AVI, AVCHD, MKV, and even VOB files from DVD's. These files can be stored on data discs (CD-R or DVD-R) or on external storage devices connected via USB (either USB memory sticks, USB hard drives or USB memory card readers). I have not made significant use of those, although I have played back some different formats using DVD-R media, a large USB hard drive, and several different USB memory sticks. I even have a collection of VOB files ripped from children's DVD's that my daughter has "tested" extensively. In addition to this support, the BDP-83 can display image files (JPG and BMP) as a slideshow, including a nice assortment of controls for rotating images, varying slide show speed, zooming images, and applying transition effects between images. If you wanted to, you could set the player up to play audio files (see the next section of this review for details on playing MP3 and other such files) and then start a picture slide show. I think I only did it once just to see that it worked, but if you want to torment friends and family with your vacation pictures during the next big get-together at your place this could be just the thing to set that up.
Is the player's performance perfect? Certainly not, and there have been a few stubborn bugs. Will they still be present when the player ships to consumers (excluding beta testers and EAP participants)? Some may, but I doubt that they all will. I've had off-and-on problems with 24p DVD playback on my particular combination of equipment (Onkyo Pro PR-SC885 processor and Sony KDL-40W4100 display) which have not shown up for other beta testers, and there are times when the automatic pillarboxing provided by 16:9 Wide/Auto mode is inaccurate (pillarboxing image files in slideshows or occasionally failing to pillarbox 4:3 video content). There have also been some intermittent audio drop-outs with bitstreamed TrueHD and DTS-HD tracks (which OPPO is working to resolve) and some audio/video sync issues related to bitstreamed TrueHD and DTS-HD (which OPPO has nearly or completely resolved already), and they have been working steadily to refine HDCP handshaking. EAP participants may encounter some of these issues, but I anticipate this paragraph will end up getting edited as firmware developments proceed. I would suggest that people looking to buy the player once it is officially launched check back in to see what the situation is at the end of the EAP process.
At the end of the day, there is no substitute for using a well-transfered high-definition source, and that's why I am writing (and you are reading) about a Blu-ray player in the first place. The goal with Blu-ray discs is to be faithful to the disc content and not "get in the way." In the time I've spent with the BDP-83, I've found that it does that job with aplomb. For many (perhaps even most) of us, however, we also continue to watch DVD's and other video sources (DIVX files, etc.). As I mentioned earlier, my wife (who is largely indifferent to my tinkerings except to object when I break things) remarked more than once during testing of the BDP-83 on how good the picture looked – and in several of those cases, the disc in the tray was a DVD. The success that OPPO Digital had with the DV-983H has translated quite gracefully over to the BDP-83. It doesn't hurt that the BDP-83 is quick and responsive with such tasks as loading discs and crossing DVD layer changes.
---
AUDIO PLAYBACK:
In some ways, the BDP-83 is having to double as a surround sound processor. Sure, there's no switching required, but it is decoding every audio format that even the newest surround sound processors or receivers might ever face and a few that even they might never run into. When it comes time to look at the audio playback performance, we have to keep all of those formats in mind (including their relative strengths and weaknesses). With that in mind, I'm going to step through this section of the review in a hierarchy of descending complexity, from Blu-ray and DVD-Audio/SACD down to MP3's and the venerable audio CD.
Blu-ray (like its format war opponent, HD-DVD) was developed first and foremost as a medium for delivering HD video content, but it (also like its opponent) takes advantage of the greater disc capacity required by HD to offer a suite of new audio options. The first set of options is an evolution of the familiar Dolby Digital and DTS formats: Dolby Digital Plus and DTS-HD High Resolution, lossy compression codecs that offer reduced compression and support for up to 7.1 discrete channels. These two have actually been rarely seen on Blu-ray software so far, but the BDP-83 will dutifully decode them or output them as raw bitstreams via HDMI. The second set of options is something a bit more exciting: lossless compression solutions called Dolby TrueHD and DTS-HD Master Audio that once again allow for up to eight discrete channels. You can think of these as being comparable to DVD-Audio or SACD, and in fact TrueHD uses something very similar to DVD-Audio – both employ MLP (Meridian Lossless Packeting) as the heart of their lossless compression. In both cases, you can get audio that is effectively identical to the studio master. Again, the BDP-83 can either decode these internally or output them as bitstreams via HDMI. As a third lossless alternative, Blu-ray allows the use of raw, uncompressed linear PCM soundtracks (assuming the movie's bit budget will allow it). This was widely used on early Blu-ray releases because it was a good compromise for the fact that many early players offered absolutely no support for TrueHD or DTS-HD Master Audio. We're finally past that stage now, though, and multichannel LPCM releases are becoming somewhat more rare.
As I've mentioned, the BDP-83 can either internally decode these (allowing for either a multichannel analog output or a multichannel LPCM signal over HDMI) or bitstream them over HDMI. It can also send the core Dolby Digital or DTS tracks of any DD+, TrueHD, DTS-HD HR, or DTS-HD MA track to the coaxial and optical outputs if you need it. If you have a receiver or processor that supports HDMI v1.1, the combination of this decoding and the HDMI connection is a great solution. Even more important, however, is the large number of home theater setups that still lack HDMI audio support of any version. For those cases, you can connect the BDP-83's 7.1 analog output to the receiver or processor and be able to make use of these new formats.
This is a good point in my review to relate a story from mid-way through beta testing. My wife and I were sitting in the den, and she was reading a book while I tested audio CD playback via several different output paths. I'd used HDMI and coaxial already, but had then switched inputs on the Onkyo Profesisonal SR-PC885 processor so that I could use the multichannel analog output. My wife was largely ignoring this testing, but she was listening. Since she grew up in a household with a very high-end two-channel music system, she has a more discerning ear than average. About 30 seconds after I switched from digital output to multichannel analog output and restarted the test track, she looked up from her book and asked what I'd changed. When I told her that I'd switched to analog, she observed that it sounded better. I'd been running stereo mode with all three inputs, so the two primary changes were the omission of Audyssey MultEQ and the use of the BDP-83's DAC instead of the Onkyo 885's DAC. The quality of the BDP-83's analog section will be a source of much debate in the months and presumably years to come, but for me this one simple remark is an effective metric: the BDP-83 can hang with and even best the analog section of a well-regarded surround processor. It has also led me to decide to keep my multichannel analog cables hooked up after the beta testing is done just to have the option of using the analog outputs.
One thing to keep in mind, and the manual mentions this: the multichannel analog output can get bass management using the player's speaker settings (offering large or small for each speaker set, with an 80Hz crossover used with small speakers), but these settings do not apply to the HDMI output – even when the HDMI output is a LPCM signal from an internally-decoded track. This is actually quite handy, as most receivers and processors lack any sort of bass management on their multichannel analog input while typically treating LPCM signals carried over HDMI as a standard digital input that gets bass management, channel trim, speaker distance settings, and other DSP functions applied. You can thus set up the multichannel analog output to include bass management, channel trim, and distance settings and use that output if you want without having an HDMI output affected and thus "doubling up" on these controls at both player and receiver. Most folks will just use one or the other, anyway, but some of us will want to have the ability to flip back and forth.
The other format war that the BDP-83 touches on is the DVD-Audio/SACD debacle of earlier this decade. If you need to have a winner, it would be SACD, but I think it's a somewhat disappointing victory considering the limited market penetration it has achieved nearly a decade after its arrival in 1999. During the BDP-83's beta phase, Denon announced the impending arrival of what they called the "world's first 'universal' Blu-ray Disc player" – their DVD-A1UDCI. This player carries an MSRP of $4,500 and was originally due in January or February 2009. It was anticipated to be the first Blu-ray player to include support for DVD-Audio and SACD. At present, it is not expected to arrive before August 2009, roughly three months (or more) behind the BDP-83, which has now snatched the title of "first 'universal' Blu-ray Disc player" away from the DVD-A1UDCI. The BDP-83 supports both high-resolution audio formats, offering DVD-Audio output as multichannel PCM (simply unpacking the MLP data) over HDMI or as multichannel analog as well as SACD output as a DSD bitstream or multichannel PCM (both limited to HDMI output) or as multichannel analog. On a most basic level, DVD-Audio and SACD are similar to the new lossless audio formats available on Blu-ray, so it is not surprising that the same observations on audio quality apply. I was very pleased with the results I obtained from both SACD and DVD-Audio. SACD allows for toggling between multichannel and stereo SACD tracks using the "Audio" button, although switching between the tracks will cause the current track to start over. Changing to the CD layer of a hybrid SACD requires stopping playback and changing a setting in the player's setup menu. One additional observation to make is regarding SACD: the BDP-83 can do direct DSD-to-analog as well as DSD bitstreaming. To round out the handy new tricks, the BDP-83's "Source Direct" video resolution setting automatically selects 1080i for SACD and DVD-Audio, thereby allowing the player's HDMI output to be used for these formats even when employing an outboard video processor.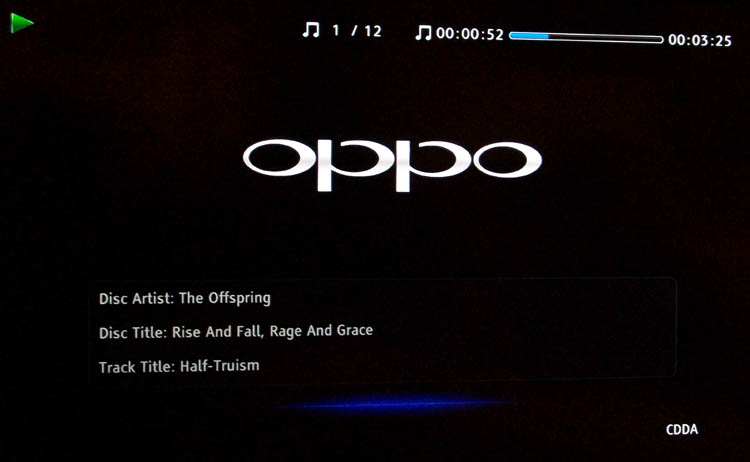 The BDP-83 playing an Audio CD

Most Blu-ray owners will have spent a fair bit of time with the DVD format, and the BDP-83 has those bases covered as well. The easy solution of course is to output all DVD audio as a digital bitstream via coaxial, optical, or HDMI. In addition to that, however, the BDP-83 can decode Dolby Digital and DTS internally and output them as multichannel PCM over HDMI or as multichannel analog audio. Since we've been talking about audio from optical discs, this also seems like a good spot to mention the trusty Audio CD. As with earlier OPPO players, the on-screen interface is pretty simple: player splash screen, some status information at the top of the screen, and CD text information at the bottom if the disc includes it. The simple interface gives you all of the basics. And of course if you don't want to turn on your TV, you can still see the track number and elapsed time on the front panel. In fact, I have found that (at least with my specific combination of hardware) I can get audio via HDMI from CD's, SACD's, DVD's, and Blu-ray discs even when my TV is turned off. This is true whether I have the TV turned off before starting the player or I turn the TV off mid-playback. Because of the quirks of HDMI compatibility, I won't say that this will be true for everyone, but it worked for me. Also, I had to disable CEC on my TV so that turning it off didn't order my surround processor and BDP-83 to shut down at the same time.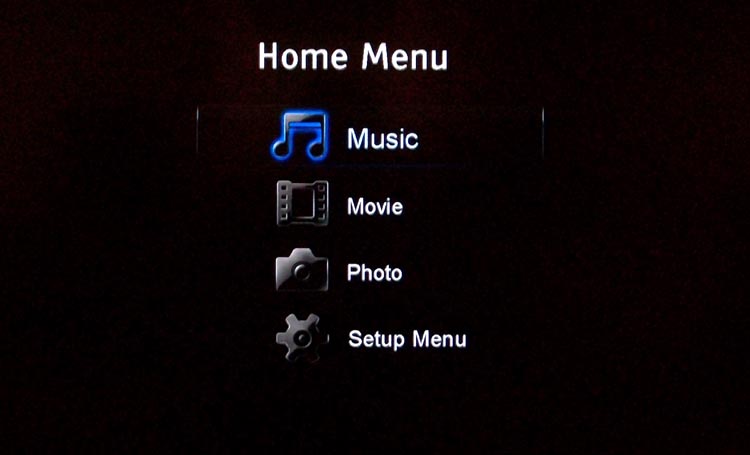 Home Menu with "Music" selected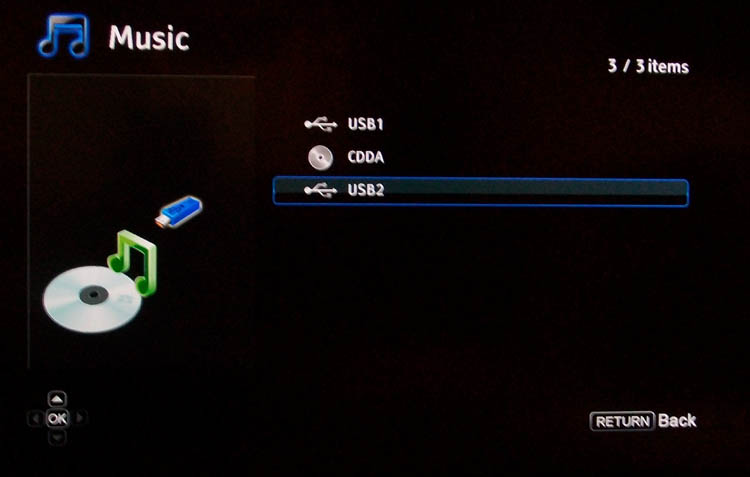 Picking a device for a Home Menu category
We've been talking about audio now for more than half a dozen paragraphs. For a video disc player, you'd think that was enough. We still have some audio file formats to touch on, though. Whether dealing with files on a CD-R or DVD-R or with files on a USB device ("thumb drive" or external hard drive), the BDP-83 can handle a number of popular audio file formats. The list of files is very similar to what we've seen from previous OPPO players, with MP3 and WMA available but lossless formats like FLAC and basic WAV missing. The same basic interface that we touched on for video files and pictures is used to access audio files as well, although it picks up a few new tricks. One is playlists (using the green button to add files), and the other is a "Now Playing" screen that replaces the file browser. The file browser that is shared by video playback, picture viewing, and audio playback (with some variations for each case) is a comfortable and clean interface that includes a good assortment of on-screen tips. The page up/down buttons let you quickly jump through file lists that can span many screens, and the return button on the remote lets up step up to a higher level without scrolling back to the top of the list. The addition of a "Now Playing" screen for audio is a nice touch that is similar to the "now playing" display found on the AppleTV. It even supports displaying cover art that can be embedded in audio files via iTunes, as seen in the screen shot below. Owners of older OPPO players will likely ask about how many files can be accessed, but I do not know a specific number because OPPO has yet to find one. They have found that file browsing speed can start to suffer when you have more than 5,000 files on a drive, but they haven't hit a cut-off point. Personally, I have a large hard drive with several hundred files on it (mostly large VOB files) and a couple USB sticks with two or three thousand files on them, and aside from an initial scan process that lasts five or ten seconds I've not had any issues with accessing files on any of these devices.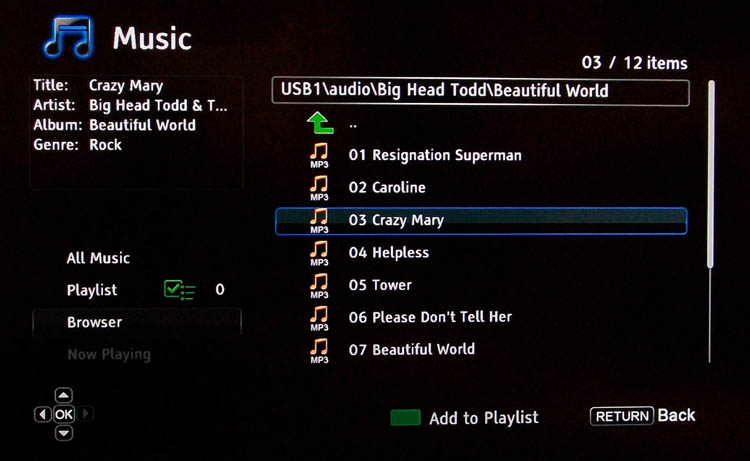 File Browser for music files (photo and video browsers similar)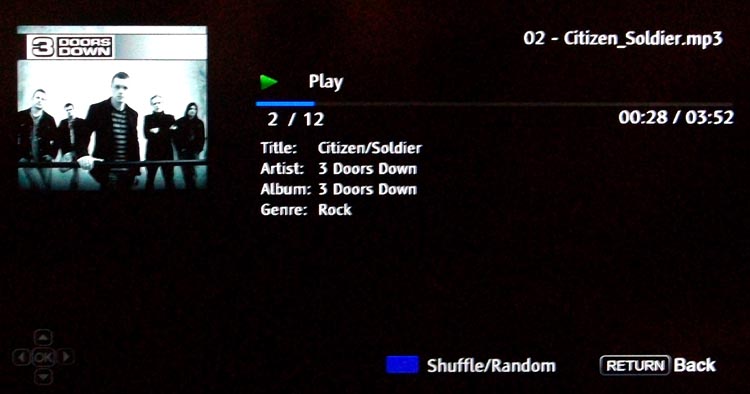 Now Playing interface, including iTunes embedded cover art
One last "audio" aspect deserves mention: cooling. The BDP-83 has some very serious processing power under the hood, and in addition to heat sinks on key chips they have provided a small fan on the rear panel along with intake perforations on the bottom. Since my day job involves designing air conditioning systems for buildings, I ended up looking rather closely at this, and I must say that I was pleased to see OPPO also putting a lot of emphasis on the fan quality and controls. In addition to a quieter fan being added during a hardware change for DSD support, OPPO spent a lot of time adjusting fan speed controls and temperature setpoints. I even outfitted my player with three temperature probes (one at the air intakes, one at the fan discharge, and one sensor inside the cabinet near the disc drive) and monitored temperatures in my cabinet – a space that is close to one of the worst environments possible for a component like this thanks to some very mediocre ventilation around the player. My findings suggest that in most installations the BDP-83's fan will see little or no use, and in those few cases when the fan does run it is very quiet. Unlike most beta testers, who almost never got the fan to run, I was able to cause the fan to run fairly readily due to my enclosed cabinet. The fan was not audible when the cabinet was closed (unless the temperature probe got jostled and stuck into the fan blades, which made for a near whirring sound), and even when I opened the door I was hard pressed to hear the fan. Other ambient noises (HD DVR cable box and even the drive noise from the Nintendo Wii) tended to drown the fan out very easily in those cases when the fan actually ran.
For anyone with a fairly new receiver that offers HDMI audio support (either the older HDMI v1.1 or the newer HDMI v1.3), the BDP-83 will do an excellent job delivering audio over the same HDMI cable that you'll be using for video. If you need it, the BDP-83 will decode anything you might stumble across, but it will still let your receiver do the additional signal processing that is so often used in a home theater (matrix surround processing where desired, bass management, channel trim, speaker delays, and room correction/equalization). The coaxial and optical outputs are also available and will do precisely what they need to: pass Dolby Digital, DTS, or stereo PCM signals without getting in the way. It's the analog outputs that, when combined with the huge array of decoding capabilities, offers a hugely desirable opportunity for many older home theaters: a single chassis that will let systems without HDMI v1.1+ capability in the receiver or surround processor still have access to the lossless opportunities afforded by Dolby TrueHD, DTS-HD Master Audio, and SACD and DVD-Audio. OPPO Digital clearly saw the need for this ability, and they put their best foot forward by giving the BDP-83 what I consider the best analog output section they've ever built. It is also possibly the best analog output section I've ever owned, and is certainly the best I've had in a source component.
---
NETWORK SUPPORT:
In an interesting twist, OPPO Digital has added some new features to the BDP-83. They are currently available only in a public beta and are classified as "experimental," but they warrant some discussion. The most notable of these features is support for network file sharing, which has been based on the DLNA standard. DLNA stands for Digital Living Network Alliance, and it is a standard for audio and video fire sharing on a home network. This network support allows the BDP-83 to access audio, video, and picture files stored on a home network if the storage device (either a computer or a network appliance) is running a compatible file server.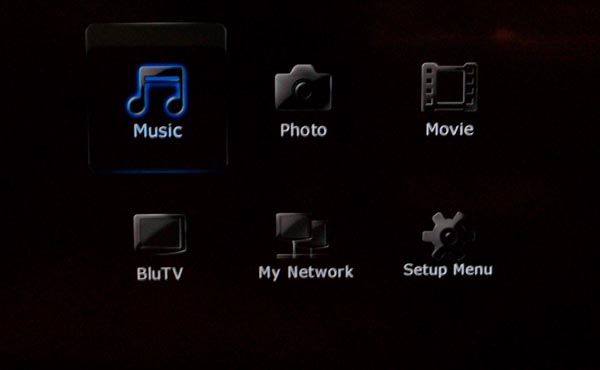 Expanded Home Menu: Music, Photos, Movies, BluTV, My Network, and Setup

Network Browser
Network support is handled separately from the existing Movie, Music, and Photo sections of the Home Menu, and the Network screen provides a browser for available servers. There are many different DLNA-compliant server solutions available. I used two different server programs during beta testing: TVersity and Nero MediaHome. If the two, I found that TVersity was as easy to set up as MediaHome and offered more reliable file playback. The result is similar to what you get when using a USB stick or hard drive, with a couple of differences: file sorting is alphabetical by file name, and file system limitations are removed. The first of these is a simple thing, but still very nice. The second is more significant: if your DLNA server is using a drive formatted with NTFS, you can have files larger than 4GB. This is something that many people have been interested in. Aside from these two changes, the DLNA support is almost indistinguishable from the USB mass storage support. The BDP-83 searches for available servers when you enter the My Network section of the Home Menu. It lists any such servers along with an option to initiate a new search of the network. You pick the server you want, and it gives you the list of folders that the server provides. The DLNA servers I used both generated several "summary" types of folders along with a folder that provided direct access to the original folders on the server's hard drive. The summary folders were generated by the server through various means, with most of them offering sorted listings of all images, all audio files, or all video files. For my purposes, I generally went straight to the server's actual folders, but the other options can be useful for created some automatic organization of your media files.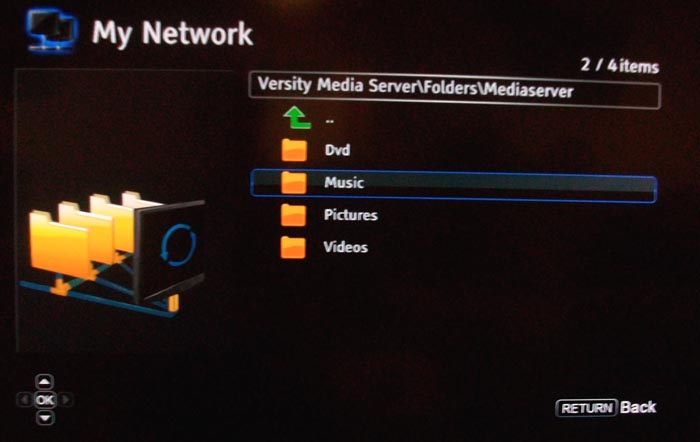 Browsing a TVersity server: server drive view
I found that the free version of TVersity proved to be an effective tool for quickly creating a server, at least for a Windows user. I was able to play back large video files (including VOB files taken from DVD's) and view large image files with just a little initial delay to start file playback across the network. My server uses an external 750GB USB hard drive (formatted to NTFS) as the main data source, so when the player first accesses the server there is a delay while the drive spins up. There is also a brief delay (indicated by a spinning indicator on-screen) as large files are initially opened. As an example, a 1GB VOB file may take about two or three seconds to start playing. After that, though, TVersity served up every file I threw at it without a glitch. MediaHome generated some "hiccups" in playback of VOB files, but was otherwise very similar in use to TVersity. The file type support via network appears to be the same as the file type support via USB.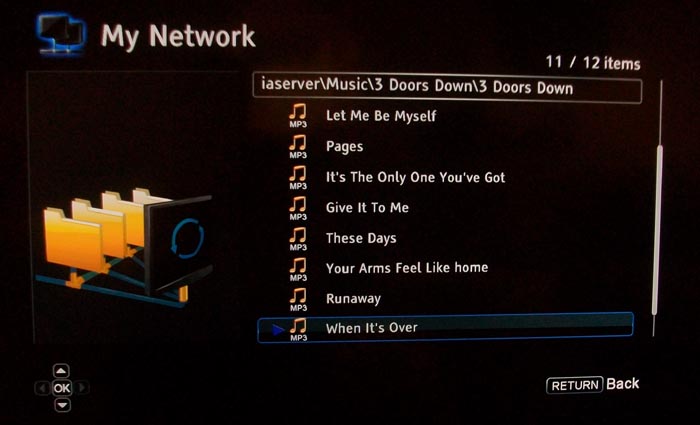 Music playback via Network
The network capabilities also apply to audio playback. We still haven't seen support for a lossless audio format, but the ability to access data stored remotely (and on an NTFS-formatted drive with alphabetical file/folder sorting) makes it much more practical to use the player as a basic network media client. Not everyone will have the means or desire to set up a DLNA server, but for those who do chose to go that route it really is a great ability. Because the three media file types are merged into a single interface for network connections, the "Now Playing" interface is not available.
As the network support matures, we may see some really interesting possibilities. One other DLNA server app that I experimented with during beta testing of this feature was PlayOn, a $40 software application that was developed to allow support for internet streaming of sources such as Netflix, Hulu, and YouTube to the XBox360 and Playstation3. So far, the BDP-83's DLNA support has not worked with PlayOn's re-encoding. The presence of network support combined with the support for an assortment of widely-used audio and video formats would suggest that there are untapped opportunities still available to BDP-83 owners.
---
CLOSING THOUGHTS:
The HD format war has been a tumultuous process in many ways. It divided early adopters into opposing parties that fought bitterly in various online forums. It also put equipment manufacturers in a curious position, especially since the arrival of HD-DVD in 2006 and the development timeframe for the PS3 combined to help push the arrival of Blu-ray a year or more ahead of where it might otherwise have been. Manufacturers were forced to choose whether to support HD-DVD (where Toshiba's aggressive player pricing made profits questionable even before the later "fire sale" prices appeared), Blu-ray (where early arrival in the marketplace and disc compatibility woes led to myriad design challenges), both (an option that required paying licensing to both formats and left neither format with much incentive to help with development), or neither (an option that left manufacturers relying on DVD player sales). The end of HD-DVD in early 2008 simplified choices to some degree, but designing Blu-ray hardware was still a daunting task – as was made clear by the fact that even the companies that developed the format were struggling to produce good quality players at the time. In that environment, OPPO Digital wisely chose to remain quiet about their plans for as long as possible. When they finally admitted that development was active and moving rapidly in early September 2008 by displaying a prototype BDP-83 in Anchor Bay's booth at CEDIA, it was only because they felt that their hardware was largely done. They readily admitted at the time that firmware development required months of additional work. Interest in the player from various online forums was swift and strong. The player was at that point still just a promise, not yet fulfilled. The questions at the time were "when?" and "would it be as good as we expect/hope?"
That brings us to now. I first published this review over two months ago, about the time that the first fifty EAP players were shipped out to their randomly-chosen owners. At that time, I'd spent almost exactly five months with a BDP-83 in my den. Today, looking back over roughly seven and a half months, I see a platform that combines very well-designed hardware with firmware that has matured through the beta and EAP process into a stable, high performance, feature-laden, and user friendly package. The hardware does so many things right: the fast layer changes on DVD, the fast disc load times for Blu-ray, the excellent picture quality for both Blu-ray and DVD, the very nice analog output section, the quiet cooling fan, the good remote control, and even the nice aluminum faceplate all contribute to the overall quality. In addition, the firmware shows care and attention to detail, including a comfortable and well thought-out user interface and a robust feature set. The customer support from OPPO Digital (as seen in the well-written user manual, for example) rounds out the overall package. The BDP-83 has met my expectations across the board and even pleasantly surprised me several times along the way. At $499, it is obviously not the cheapest Blu-ray player on the market and will not be the ideal fit for every user, but even at that price it represents an overall value that is very difficult to match – and for users who have been anxiously awaiting some of the BDP-83's more unique features, it is impossible to match.
---