VIDEO PLAYBACK: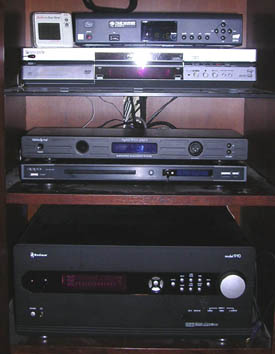 Video performance was where the old 971H was king, specifically digital video performance at the DVI output. The 971H had a component video output, but it was limited to 480i because it was not physically connected to the Faroudja section of the player. The 981HD follows in the 971H's footsteps by focusing on the digital video output and the Faroudja processing. In a move that we haven't previously seen from DVD player makers but that we may start seeing more of in the next few years, the 981HD omits component video output entirely. This will startle many people, so it's important to address that right off the bat. The 981HD is not a player that will be a good fit for every system. Specifically, it should only be used with HD displays that include a DVI or HDMI input. Also, because of the architecture of the Faroudja chip, the 981HD cannot output raw 480i video through the HDMI connection. If you have a system with a high-end external video processor (which will perform best with a 480i digital signal carried straight from the DVD with little or no manipulation by the player) or if you have a display with component video inputs, the 981HD is probably not the player for your needs – both cases may be better served by OPPO's DV-970HD, which has component video outputs that can do 480p (or even 720p and 1080i for unencrypted discs) and an HDMI output that supports 480i. If your HDTV does have a DVI or HDMI input and you don't already own a fancy video scaler, the 981HD's capabilities could be an excellent fit for your needs.
There are composite and s-video outputs on the 981HD's rear panel. I found the results to be quite acceptable, although they were clearly not as crisp, detailed, or smooth as the HDMI output. If your current TV only offers one of these but you plan to upgrade to an HDTV in the near future and need a new DVD player today, the 981HD will do a fine job. If you don't have and don't intend to soon get an HDTV, however, you can do just as well with composite and s-video output from cheaper players – that's not the scenario for which the 981HD was designed, and it's not the best fit for the case. That does lead us to the scenario for which the 981HD was designed.
The real point of interest on video playback with the 981HD is that HDMI output, since that's the central purpose behind the player. In my case, the HDMI output goes through a DVI switcher (built into my surround processor) and on to a DVI input on my HDTV, which is why I wasn't able to test the HDMI audio capabilities. There is sometimes concern about whether HDMI to DVI connections will create problems with blacker-than-black or whiter-than-white video signals, but I was not able to see any such problems in my setup. The HDMI output offers several possible resolutions; to change the resolution from the default, you need to either have no disc in the player or have stopped playback of the disc (so that you are looking at the OPPO logo background). You can then use the "HDMI" button on the remote to scroll through the available resolutions. Your choices are 480p, 720p, 1080i, and 1080p when the player is set to the North American standard NTSC (all at 60Hz) or 576p, 720p, 1080i, and 1080p when set to PAL (all at 50Hz in that case). Many displays can't support all of these (my HDTV can't do 1080p, as is true of most HDTV's currently in people's homes – although many newer HDTV's are beginning to support 1080p input). In case you hit a resolution that your TV can't cope with, just keep scrolling through. The 981HD's front panel will tell you what resolution you've just selected, so you can keep track of where you are even if your TV isn't giving you anything. You may notice that 480i isn't a choice for NTSC. The 480i output would be preferable for high-end video scalers, as it provides them with as close to an unaltered raw signal from the DVD as possible, but as long as the Faroudja chip is running it seems to want to at least do some deinterlacing. If you have a video scaler, the DV-970HD is probably going to be a better choice since it can provide that straight 480i signal right off the DVD.
As with the 971H, the 981HD offers a button on the remote labeled "GOTO" that when pressed repeatedly toggles through a series of options for direct access to a specific track or time on the disc. This is a feature that was very difficult to use on my Yamaha DVD-S1500, but it's really quite convenient on the 981HD. Depending on the type of disc in use, you can go directly to a specific title, chapter, elapsed time position, or track. Other typically basic features that are included are repeat (allowing you to repeat a disc, title, chapter, track, or between points A and B), direct selection of the active audio track or subtitle track, variable speed slow motion, and video zoom. The 981HD also inherits the 971H's lightning-quick layer changes.
So what about the video quality itself? Almost a year and a half ago, I was shocked to see how good a job the 971H did with my HDTV, and I've found the 981HD to be more of the same. My HDTV is a direct-view CRT, so it is smaller than many but can produce a really nice, sharp, and rich image on its "little" 32" screen. The video scaling capability in the TV itself isn't particularly bad, but the Faroudja chip is definitely more capable and the macroblocking that can sometimes be "enhanced" by Faroudja's processing has not been a problem for me with either the 971H or the 981HD. As I said when I reviewed the 971H, the quality of the original transfer plays a significant part in what the final picture looks like. No amount of fancy scaling and deinterlacing can make a bad DVD transfer look like HD, but when I give the 981HD a good transfer it can do a remarkable job with it. The 981HD also benefits from all of the work put into refining the 971H's firmware, so the quirks and bugs that were still hiding in the corners of the 971H when I started using it in May 2005 are squashed on the 981HD. Foreign/alien language subtitles (such as Greedo's dialog in Star Wars) come up without a hitch on the 981HD, something that was a problem for the 971H for a long time. For video quality, the 981HD delivers.
---
AUDIO PLAYBACK:
When evaluating the 981HD's audio performance, I looked at several different things: digital audio output via SPDIF, multichannel analog output, and stereo analog output. The HDMI v1.1 output also supports audio (Dolby Digital bitstreams, DTS bitstreams, DVD-Audio MLP bitstreams, and stereo or multichannel PCM), but I have no hardware with HDMI inputs that would let me test that capability. Most of the 981HD's work will involve digital audio output of DVD's and CD's, since the 981HD's primary purpose is as a good DVD player. The stereo analog output will come into play for some systems without surround receivers (either older stereo receivers that lack digital inputs or systems in which the TV handles the audio and lacks an HDMI input), while multichannel analog output is basically there solely for DVD-Audio and SACD.
Good digital audio output basically requires that the player not do anything obtrusive. The signal is being pulled from the DVD or CD and passed directly to the output without any manipulation. Player menu settings like bass management, speaker distance, channel trim, and audio delay are irrelevent to the digital output because the player does not alter the data at all. Since the 981HD is going to replace both my 971H as a DVD player and my S1500 as an audio player (CD, DVD-Audio, and SACD), it will be asked to serve as a digital transport for CD's as well as video DVD's. As expected, I found the 981HD to do a proper job with the digital output: the bits were passed along without incident.
While on the subject of CD playback, it's worth pausing to discuss the disc playback interface for different audio formats. The on-screen interface for CD playback is very minimal: the "OPPO" wallpaper, on which CD text is displayed if available, and the option to show track or disc elapsed or remaining time at the top of the screen using the "OSD" button on the remote. That's still enough to let you know where you are even without looking at the track number and track elapsed time on the 981HD's front panel display, but it's nothing particularly fancy. MP3 playback is supported for files stored on both CD-R and DVD-R using a folder navigation interface carried over from the 971H. A window on the left shows the files and folders, and ID3v1 tags are displayed in a window on the right. During the beta test, MP3 playback did not support ID3v2 tags, but work is underway to add this in a future firmware update. Other files that can be accessed using this interface are JPEG images, Kodak Photo CD iamges, and several kinds of video files (Divx, AVI, and MPEG). Not surprisingly, Apple's AAC format and lossless formats like FLAC are not currently supported. Raw WAV files are also not supported, although (as with ID3v2 support) OPPO is investigating ways to add it, which would be a cool way to create huge CD-quality "mix tapes" on DVD-R discs. There is a quirk in navigating the interface when listening to MP3's that causes the track number listed at the top of the screen and on the front panel to always show the highlighted track rather than the track actually playing, but OPPO is working on a fix for that behavior. Lastly, this same file navigation interface is used with SACD's, which we'll talk more about in a moment.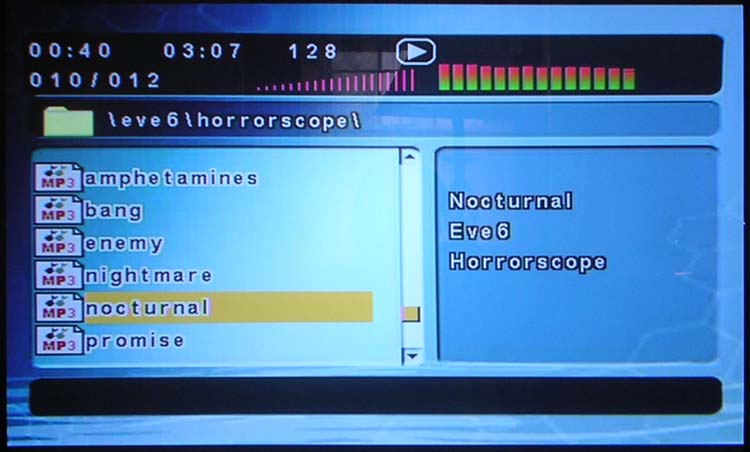 Interface for data discs (CD-R and DVD-R) and SACD's
The multichannel analog output supports Dolby Digital and DTS in addition to DVD-Audio and SACD. Since I was beta testing, I tried all of these formats. I almost always recommend that people with surround receivers use the digital output for Dolby Digital and DTS rather than using onboard decoders because receivers typically have better DAC's, more flexible bass management, and more additional surround processing modes such as Dolby Pro Logic IIx, Dolby Digital EX, DTS ES, and DTS NEO:6. I still recommend this with the 981HD for most people. Pro Logic II is included, which is a nice touch, but if you have a 6.1 or 7.1 system you'll need to use the digital output to get Pro Logic IIx, Dolby EX, DTS ES Discrete, or DTS NEO:6 so that the surround back speaker or speakers can be used. I do want to pause to give the 981HD some kudos for the Pro Logic II implementation: all of the Pro Logic II adjustments are available, including Music or Movie modes (yes, Game is missing, but the 981HD isn't a game console), Panorama, Dimension, and Center Width. There are some surround receivers that don't get that right. Also, the 981HD's bass management is limited to a single fixed crossover at 80Hz (at least that's the crossover point I observed when doing a bit of testing with my "Devious Tiny Disc"). All that having been said, I was actually pleased with the 981HD's analog section. It won't match the analog from a $1,000 Denon player, but it does a better job than I'd expect from a $230 DVD player. There is some faint hiss from my speakers when no signal is playing, but the hiss is only audible out to about six or eight inches. That's similar to the background noise in my old Model 950, and I only noticed it because I've gotten used to the dead silence of my Model 990 and because I spent some time standing in front of the rack while swapping out discs and ended up nose-to-nose with my center channel. From any actual listening position, the noise was inaudible. For movies, the difference between the 981HD's multichannel analog output and a digital output to my Model 990 was a bit of a loss of detail and soundstage with the multichannel analog out, but the test disc that best identified the differences was a DTS 4.0 CD of a live concert. The four-channel recording (made by a group of amateur music buffs in the early 1980's using four microphones located throughout the venue, then transferred from tape to DTS CD recently) is absolutely amazing when the Model 990 does the decoding and D/A conversion, but with the 981HD's analog output it lost that "sparkle" – it still sounded really good, but didn't make me think that the concert was actually in the room with me. SACD performance was at least as good as my Yamaha S1500, and I actually found myself feeling like the 981HD was doing a better job with SACD than the more expensive S1500. I had a few bugs with DVD-Audio playback early in the beta test which ended up being related to some wiring problems external to the player itself (no fault of the 981HD, just an inexplicably weird issue hidden away in my cabling that took me far too long to recognize and resolve), but the audio quality once I got things sorted out on my end was very comparable to the Yamaha S1500. For my meager collection of high-resolution audio discs (about two dozen in all, almost evenly split between the two formats), the 981HD does an excellent job. Is it as good a DVD-A/SACD player as my $400 Yamaha S1500? I'd say "yes" for SACD and "pretty close" for DVD-Audio. Currently, SACD support does not include the track information (song title, artist, album title) that is included on all SACD's, but that is a feature that OPPO is working with the chipset maker to add through a firmware update later. That text support would presumably be displayed in the right window of the display. The 981HD's SACD support does include gapless playback (no pause between the end of one track and the start of the next), something that was not true of the 970HD until a recent firmware update. As with MP3 playback, the track number listed on the front panel and on the top line of the on-screen display is the highlighted track, not necessarily the track currently playing. This behavior should be fixed for SACD at the same time it is fixed for MP3.
The stereo analog outputs are similar to the composite and s-video outputs: good for diagnostics, but not likely to be used by most 981HD owners. It uses the same DAC as the multichannel output, but simply includes some downmixing for multichannel sources. I was actually pleased with how well the stereo analog output did in light of the player's cost, as you can probably tell from my comments on the multichannel analog performance. For those cases where the 981HD ends up in a system without a surround receiver or processor (perhaps paired up with a DVI-equipped HDTV using just the TV's speakers), the stereo analog output will be more than sufficient to get the job done. (In fact, the 981HD's DAC will probably be one of the stronger links in the chain compared to the internal amps and speakers included with most TV's.) Most folks are going to be best off sticking with the digital outputs since most 981HD's are going to end up paired with surround receivers, of course, but the stereo analog output is respectable in its own right. I plan to use the digital output for any source that will support it (meaning everything except DVD-Audio and SACD) because it allows me to use more robust DAC's and surround processing modes.
---