BACKGROUND:
I have from time to time been asked why the son of two artists ended up choosing engineering as a profession. I don't have any sort of brilliant or insightful answer to that, but I will point out that my father has often shown an interest in machines and mechanisms in his sculpture. Then there's his early background in photography, which led to us being some of the first people I knew to have a video camera. It was a heavy beast of a machine, with a separate unit for the video tape recorder mechanism that just added to the bulk, but we had a lot of fun with it and there are a number of old video tapes stored away at my parents' house dating back to the very early 80's. As we learned long ago, video tapes are inherently fragile creatures (I got quite adept at one point at disassembling tapes when the clear lead-in broke and re-attaching the tape to the reel), so I have been eyeing DVD recorders for several years now in hopes of the technology becoming useable and affordable enough for us to transfer all those old home movies to a format that will not demagnetize or break. It was the Panasonic DMR-E30 and particularly the Panasonic DMR-HS2 last year that first made me think it might be just about time to find some space in the equipment rack for a recorder. With a much lower price than its predecessor the DMR-HS2, the DMR-E80 offered what I was looking for.

DVD recorders have been on the market for a few years now, but it has only been in the last year or less that they have begun seeing widespread acceptance by consumers. The two companies to first get recorders in production were Philips and Panasonic, and they remain the main players in the market, although Pioneer, Toshiba, and Sony have recorders or are preparing to release recorders. One reason for the slow adoption of and consumer uncertainty about recordable DVD is the on-going format war. There are no fewer than five different recordable DVD formats, two write-once (DVD-R and DVD+R) and three re-writeable (DVD-RAM, DVD-RW, and DVD+RW). To add to the confusion, two of those formats (DVD+R and DVD+RW) are commercially available but not licensed by the DVD Forum. Per this page, "The DVD Formats being licensed under the Format/Logo Licensing program include; DVD-Video, DVD-ROM, DVD-Audio, DVD-R (3.9 GB), DVD-R for General, DVD-R for Authoring, DVD-RW, DVD-RAM (2.6 GB and 4.7 GB) and DVD Video Recording. These Formats have been approved and authorized by the DVD Forum." Philips has chosen to back DVD+RW and DVD+R with their set-top DVD recorders, whereas Panasonic and Toshiba have gone with DVD-RAM and DVD-R, Pioneer's players support DVD-R and DVD-RW, and Sony offers support for DVD-R, DVD-RW, and DVD+RW. DVD+R/RW and DVD-R offer more widespread compability with existing DVD players than DVD-RAM, although DVD-RAM is a widely-used re-writeable format on PC's and some other specialized recording hardware (some telecomm voice record systems use them, for example). DVD-R is currently the least expensive of the numerous media formats; DVD-RAM is the most costly of the media types, with DVD+R, DVD+RW, and DVD-RW all landing somewhere in between. Most existing DVD players can recognize and play DVD-R and DVD+R discs, whereas only a handful of players support DVD-RAM discs. These DVD-RAM compatible players include Panasonic's venerable flagship DVD-RP91 (introduced in early 2001 and only just now being phased out, sadly without a comparable player available from Panasonic to replace it), DVD-RP82 (comparable to the RP91, but also discontinued), and their newest players (the entire line of players introduced by Panasonic in 2003 include DVD-RAM support). For some market insight, take a glance at this article dated June 18, 2003, which reports that DVD-RAM recorders captured 70% of the US consumer DVD market in the first quarter of 2003.
With the new recorders released in 2003 -- the DMR-E50, DMR-E60, DMR-E80, and DMR-E100 (due in fall 2003) -- Panasonic is on its fourth generation of DVD recorders. The DMR-E50 is a replacement for the DMR-E30, the third incarnation of their original recorder (the DMR-E10). The DMR-E60 adds a few features to the E50 (DV input, SD/PCMCIA card slot). The DMR-E80 and E100 are intended to replace the DMR-HS2, which was the first DVD recorder to offer a built-in hard drive but was discontinued in the spring of 2003. The HS2 included DV input and an SD/PCMCIA card slot as well as a 40GB hard drive, which could be used as a sort of rudimentary PVR -- it, and its successors, lacks the powerful program guide that is an integral part of products like Tivo -- and as a platform for editing recordings before transferring them to disc. It is a very attractive feature for me and many other consumers, as it allows the user to edit commercials out of broadcast TV before archiving to DVD-R, edit home movies, and to make multiple copies very easily. The DMR-E80 and E100 step up to larger hard drives; the E80 includes an 80GB drive and is otherwise based largely on the entry-level E50, while the E100 adds DV input and a SD/PCMCIA card slot as well as a 120GB hard drive. The DMR-E200 will be available only in Japan when it is released later this year and will include a DV input, a SD/PCMCIA slot, a 160GB hard drive, and a network interface to allow a broadband (cable or DSL) connection to the Internet. This broadband capability will allow the E200 to be the first Panasonic DVD recorder to support a program guide similar to Tivo. All of Panasonic's DVD recorders include progressive scan video playback, allowing them to potentially be used as a single DVD transport for a home theater system, but this is hindered somewhat by the video deinterlacer chipset used -- the DMR-HS2 was one of the first Panasonic players to use their new all-in-one MPEG decoder/deinterlacer chip, and as revealed by the 2002/2003 Secrets of Home Theater and High Fidelity DVD player shootout it is a step down from Panasonic's previous players such as the RP82 (which used the Genesis FLI2200 deinterlacer and appears in the same shootout as one of the best performers) and the RP91 (one of the first progressive scan players available for under $1000, which used older Genesis gmVLX1A and gmAMFC deinterlacing chipsets). As my system lacks a progressive-compatible display and I have no intention of using a DVD recorder as a primary DVD player anyway, I was not concerned with this, but it is worth noting. The new chipset used with the DMR-HS2 and newer Panasonic DVD recorders has reportedly introduced the chroma upsampling error (the "chroma bug") to Panasonic's DVD player line for the first time; I will try to verify if the DMR-E80 also demonstrates this bug.
I chose the DMR-E80 over other players (DMR-E50, DMR-HS2, the Philips players, etc.) largely because of the combination of price and hard drive -- it is available for around the $500-$600 that I was willing to spend, and it will allow me to archive the family's home videos to DVD (editing them as needed along the way and making multiple copies very readily) and archive television shows after editing out the commercials. The hard drive will also minimize my need for the more expensive DVD-RAM discs; I plan to record the vast majority of my material to the hard drive and then transfer the items I want to keep to DVD-R (available on spindles of 100 discs for $1.00 a disc or less) for playback on other DVD players. Programs that aren't worth keeping can be watched when it is convenient and then deleted. I found my DMR-E80 online at Profeel for $543 plus shipping.
I've included an equipment list for my system at the end of this review as a reference.
---
With the DMR-E80's remote, Panasonic has finally gotten rid of the sliding door over the lower buttons; they used a similar door on the DVD-A310's remote as well as all previous DVD recorder remotes, and I have never quite understood why. The decision to remove the door was a good one. The remote itself looks somewhat more respectable and substantial than other device remotes I've used; the silvery metal top and dark plastic bottom give a nice contrast, reminiscent of the Home Theater Master MX-700's color scheme, and the actual metal face is reminiscent of some early remote controls I used. The buttons are very soft rubber, and they tend to wiggle back and forth a lot. (The remote for the separate TV tuner and video recorder components of our first video camera back in the early 80's had a similar metal faceplate on a plastic body as well as similar soft rubber buttons, although the E80's remote has a much more sophisticated line to it.) There are a lot of buttons here, and I can't help but wonder if it might be possible to streamline the E80's interface some to help with the clutter, especially when combined with the size of the remote -- for the number of buttons on it, it is one of the smallest remotes I've handled. Big-fingered users may want to exercise caution to keep from pressing more than one thing at once. The battery door on the bottom of the remote is sort of novel. Instead of a removable rectangle of plastic, the door is hinged. After it slides back a centimeter or so, it swings open on the small (but hopefully durable) hinge. Batteries are included, specifically a pair of Panasonic brand AAA's which will be staying in my remote only long enough to familiarize myself with the unit and learn the remote commands to my MX-500. Overall, I was pleased with the remote's appearance and solidity, although it really does seem small. I think scaling the entire thing up by 10% or 20% might have helped, but I'll reserve final judgment until I've used it some.
SETUP:
The DMR-E80, like most of Panasonic's other DVD recorders, includes a significant selection of inputs and outputs. The RF input and built-in cable tuner allow the E80 to record basic cable and over-the-air (OTA) programming without the need for any separate equipment, although the E80's cable tuner shares the same limitation of VCR's and TV's everywhere in that it will only work with analog cable and standard-definition OTA broadcasts; any digital or premium cable stations or satellite broadcasts will need a separate decoder. Provisions for such separate decoders are present in the form of three inputs (one on the front panel that would be convenient for camcorders and two on the back panel); all three inputs include composite and s-video as well as stereo analog audio. As mentioned earlier, the E80 lacks a DV (IEEE-1394 / FireWire / i-Link) input, which may be an annoyance for users with miniDV camcorders or FireWire video boards in their computers who want to leave their video in the digital domain as long as possible. The HS2 was the first Panasonic DVD recorder to include a front DV input; the E60 also has one, and the DMR-E100 (due out in fall 2003) will include one. There is also no provision for digital audio input, which is true of the entire Panasonic DVD recorder line. The RF output is purely a pass-through for everything except the built-in tuner -- the E80 will not play back video from the hard drive or DVD's through this output, so anyone connecting the E80 to an older TV with no composite or s-video input will need an RF modulator (see my wiring diagrams for more information). The E80's real outputs are the two rear panel audio/video outputs (each with composite video, s-video, and stereo analog audio), a single component video output (progressive or interlaced video), and an optical digital audio output. This basic input/output selection has been standard for Panasonic's DVD recorders since the DMR-E10. The entry-level DMR-E50 eliminated the second audio/video output, but all other Panasonic recorders have retained it.

Rear panel of the DMR-E80H
For my system, the rear panel inputs and outputs will see heavy use. In addition to connecting OUTPUT1 and INPUT1 to the VCR input and output on my Outlaw Model 950 pre/pro (s-video and stereo analog audio) for playback from the E80 and recording of the active source from the 950 (which would most likely be the digital cable box), I connected the optical digital audio output to the Model 950. I was not initially sure if I would be able to use the optical digital output for all playback sources -- I'll comment on that later in the review. The E80's OUTPUT2 is connected to the line input of my S-VHS VCR (s-video and stereo analog output) for transferring DVD-R's to video tape if I need to give somebody a more primitive copy of something. The INPUT3 is connected to the VCR's line output (s-video and stereo analog output) to allow for transferring video tapes to the E80's hard drive without tying up the Model 950; this arrangement will allow me to copy tapes to the E80 while watching TV through the digital cable box, watching a movie with the DVD player, or even just listening to CD's. The RF input gets connected to the cable service, allowing us to record most programs without having to hassle with the cable box and pre/pro. As my display does not support component video, the component output will be left unused (and I will use my DVD-RA60 as my primary DVD transport anyway). Likewise, the front input will not see any use under normal circumstances. With fourteen cables going into or out of the E80's rear panel and connecting to three different places (cable service, Model 950, and VCR) plus a power cord, installing the E80 took a bit of time and stretching. Factor in the mass of other cables already back there, and it becomes a dangerous project. A wiring diagram for my system is shown below for reference.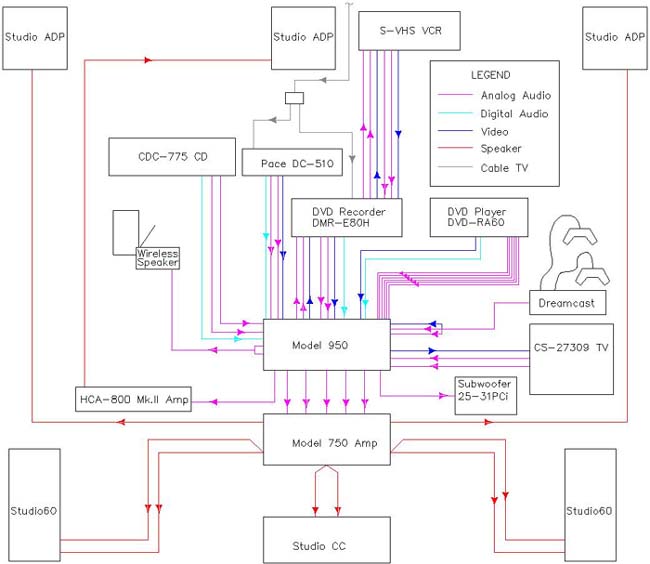 Home theater system wiring diagram, including DMR-E80H (click on image for details or here for April 2006 diagram)
A common question about DVD recorders is "can you make copies of DVD's with it?" (or the related question "can you copy VHS movies to DVD with it?"). Looking at the back of the DMR-E80 or any other DVD recorder will give some hints at the answer to this question: there are plenty of analog audio and video inputs, but no digital inputs in sight. A bit-for-bit copy of a DVD is not possible with a set-top DVD recorder -- such copies would violate copyright, except in the scenario of a consumer making a backup copy for personal use in the event of damage to the original (and even the legality of this case is hotly debated). The best that you could get with a set-top recorder like the E80 is a duplicate of the audio/video signal from the composite or s-video and stereo analog outputs (which on most systems would require a pair of stereo analog cables from the DVD player to the receiver, not shown above, because most receivers' VCR record out loops do not convert digital audio to analog -- even more cables). No 5.1 surround. No anamorphic video. And even in that scenario, you will encounter the copy protection built into most DVD's -- Macrovision and CGMS -- which will render the video signal essentially unwatchable. Video tapes will behave similarly due to the form of Macrovision included on them. Are there ways around this? Yes, but it will take some money ("hacked" DVD players to act as a source, or signal filters that will prevent the copy protection interference) and effort. Since I got my recorder for archiving home videos and recording TV programs, I haven't taken the time or effort to pursue these hacks. I will re-iterate some advice I give here and here, however: when connecting a DVD player of any sort, do not try to pass the audio/video outputs through a VCR and then on to a TV from the VCR's outputs (A/V or RF). The copy protection circuits in the VCR will cripple the video signal of any copy-protected commercial DVD as soon as the signal comes into contact with the VCR. This same advice applies to passing a VCR or DVD player signal through the DMR-E80. As can be seen above, my system actually violates this advice. Watching a commercial video tape with copy protection will lead to a very mangled video signal on my system. I could easily prevent this limitation by connecting the VCR's RF output to the TV's RF input (allowing me to watch video tapes through channel 4 on the TV), which I did add at the last minute while behind the equipment rack.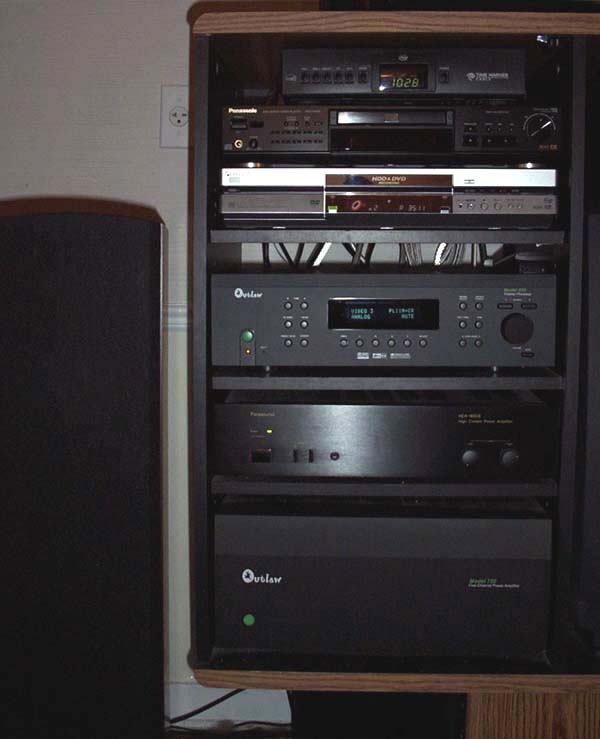 Equipment rack with the DMR-E80 in place.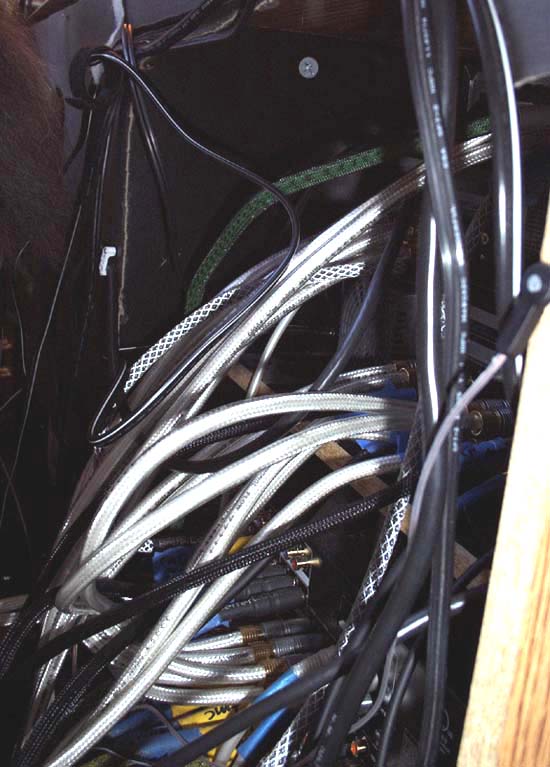 Wiring at back of entertainment center, showing the cables for the digital cable box, RA60, E80, and Model 950. Amps are not pictured.
Once the E80 was hooked up, it was time to turn it on and see how it worked. I was able to get the DMR-E80 wired up and squared away in the equipment rack over the course of a couple days during the second week of our storm-induced power outage, so when the power finally came back on Friday night (ten and a half days after the storm knocked it out), I had everything in place. I installed the DMR-E80 using (among other things) a BetterCables optical digital audio cable that I had handy. This cable costs a good bit more than the Outlaw PDO optical cables that I already had installed in the system -- I originally paid $40 for my 1.0-meter BetterCables optical back in March 2001, although the price has gone up to $60 ($80 for a 2.0-meter length); Outlaw's 1.8-meter PDO's sell for $20. I was somewhat upset to discover that the plug at the recorder end of the cable had become loose and slid down the cable sheath, leaving some of the optical fiber exposed. I pushed the plug back into place and used it anyway, and appears to be working, but I think I will replace it with a more durable PDO this fall when Outlaw releases their s-video cables. The cable was still out, however, so I was initially unable to test the channel setup or automatic clock setting. One of the first things I did after I was able to turn the E80 on was change the remote code for from the default ("code 1") to one of the two alternatives ("code 2" and "code 3"). By default, the E80 uses the same basic set of remote signals as any other Panasonic DVD player. All well and good for universal remotes, I suppose, but it's a significant problem if you happen to also have a Panasonic DVD player in your equipment rack. The E80 offers a pretty good solution to the problem by including two separate and independent sets of remote codes, but it's not perfect. With the E80 using one of the alternate remote code groups, the E80 still recognizes signals from the default group and displays "2 CHK REMOTE" (or "3 CHK REMOTE" if "code 3" is being used by the E80) any time a default-group signal is sent to the adjacent DVD player. This error message doesn't hurt anything, but I can see people getting pretty fed up with it after a while. As with previous Panasonic DVD players, the default audio output settings have DTS output disabled; it must be switched to "bitstream" to allow DTS playback. Panasonic is not the only manufacturer guilty of this, but it is something that I have seen trip up novice home theater owners many times. Considering how many receivers now support DTS, it seems to me that it may be about time to revise this default setting, especially since Dolby Digital isn't disabled. Making up for the disabled DTS playback is the E80's ability to provide an audio output through the optical digital cable at all times. Many digital cable and satellite decoders only provide a digital audio signal with sources that contain digital audio; the E80 will provide a PCM digital audio signal from analog sources, allowing you to set it up with a Dolby Digital/DTS receiver using the optical digital output. This means the stereo analog cables running from the E80 to the receiver could be left off; I am leaving mine in place to allow the E80 to be played through the second zone of my Model 950 (the second zone is an analog-only output that does not include digital-to-analog conversion).
In addition to the DTS and the remote code, there were several settings that I ended up changing. I turned DVD-R compatible recording on, which allows recordings on the hard drive to be transferred at high speed to DVD-R. I set the Hybrid VBR Resolution to fixed (required for DVD-R compatible recording). I also switched the 4:3 setting for DVD-Video from the default of pan & scan to letterbox.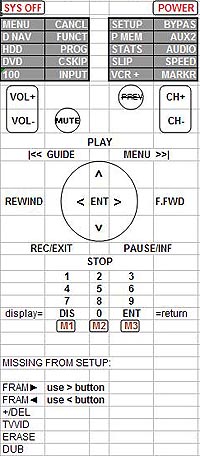 The included remote will be stored under the entertainment center once I am comfortable with the unit, and the MX-500 will handle control for the DMR-E80. The screen shot on the left shows the configuration I settled on after using the DMR-E80 for a few days. The frame advance buttons were left off along with the add/delete button (which is only necessary for configuring the channels), the TV/Video button (which would only be useful if I had something connected to the RF output), and the erase and dubbing buttons. The navigation left and right buttons provide the same function as the frame advance buttons when video playback is paused, and I found that I had little need for erase or dubbing. The "AUX2" button switches the Model 950 to an audio input, which is set up to use the same digital audio input as the recorder's regular (VCR) input. The AUX2 input, however, is set to stereo mode rather than surround processing, allowing me to easily "turn off" surround processing. The "BYPAS" button enables the Model 950's stereo bypass mode, which uses the analog input and bypasses all digital processing in the unit; I would use that mode if I ever decided to use the E80 to listen to DVD-Audio discs or audio CD's. The E80's remote lacks a "previous channel" button, which is somewhat disappointing but not really surprising since I've run into that on some of their VCR's as well. I have not searched for a pre-defined code for the E80; the standard Panasonic DVD player code(s) will work with remote code 1, but I do not know if remote codes 2 and 3 are in most universal remotes' code libraries and it's likely that some of the unique commands will be missing even with remote code 1 (record, HDD/DVD, commercial skip, erase, TV/video, etc.).
After the cable TV returned Saturday night, I tested the cable-ready tuner and the automatic clock setting function. The tuner quickly found all of the analog cable channels, and the clock set itself equally easily. The E80 includes the ability to assign up to four-character labels for each channel, and I decided to make full use of this since we normally don't use the analog cable channels and therefore have no idea what channels are where. There are a few pre-defined labels (ABC, CBS, NBC, HBO, and such), and other labels can be manually defined. The pre-defined labels are significantly more convenient than the custom labels, although it is not possible to un-define a label -- you can't scroll back to a blank state for either the pre-defined or custom labels, although you can enter an empty custom label, and if a custom label has been assigned to a channel you can't assign a pre-defined label to that channel. I ended up with a custom ABC label and a pre-defined ABC that I couldn't get rid of, until I finally assigned the pre-defined label to a empty channel and deleted the channel. The process of entering custom labels is slow and tedious, as you must scroll through the entire alphabet for each character. Once it is done, it is very useful, but get ready to develop a callous on your thumb getting everything entered and definitely use the pre-defined labels first.
Because I have a number of home videos to archive (all recorded in mono), one thing that I found myself wondering about was how the DMR-E80 handled a mono source -- if it all collapsed to the left channel or if it was spread across both channels. This is probably not a typical concern. I did take a minute to verify that the old video tapes do output audio on both the left and the right channels from my VCR, so it's not a problem.
As I spend more and more time with the manual, I find it to be a fairly useful if sometimes lacking piece of documentation. I suspect that I've been spoiled by manuals for products like the MX-500, SVS 25-31PCi, and Outlaw Model 950, which offer clear, concise language and logical organization. The DMR-E80's manual is broken down into several general subjects -- Setting up, Recording, Playing back, Timer recording, Dubbing, Editing, Advanced operation, and Reference. Advanced operation covers a lot of ground, while the other sections offer a reasonable summary of the basics for each subject. In the end, I felt like adding "advanced" sections to the end of each subject would have been more useful, and there is a sense that they've left a lot of useful details undocumented. The Setup menu, for example, contains a large array of options, but more than half of them are mentioned only once, in a two-page table that lists each item in the various screens of the Setup menu and offers brief (two or three line) descriptions of them. It is not as bad as some manuals I've used (the Sony RM-AV2100 remote comes to mind, a classic example of bad documentation), but with a device as complex as the DMR-E80 it would have been good to see something more robust. Shortly after I finished this review, Panasonic posted a PDF copy of the manual, which I have posted here for anyone who wants to see it without digging all the way through Panasonic's web site.
---
Media Brand
DVD-R Disc Notes
DVD-RAM Disc Notes
Panasonic

Rating: Very Good
4 positive reports
0 negative reports

Rating: Very Good
2 positive reports
0 negative reports

Fuji

Rating: Very Good
5 positive reports
0 negative reports
Other comments: Only qualified positive response reported one disc failure from a ten-pack; no other problems notes


Rating: Good
1 positive reports
0 negative reports

Verbatim

Rating: Very Good
9 positive reports
0 negative reports
Other comments: One user reported playback problems on a Philips 950 player; experienced similar problem with some other brands. Only other qualified positive response reported one disc failure from a 15-pack.


BeALL (Samsung)

Rating: Very Good
5 positive reports
0 negative reports
Other comments: See player compatibility thread for more information. Some recent lots have experienced higher failure rates, but it is sporadic.


ACCU

Rating: Very Good
8 positive reports
0 negative reports
Other comments: One user reported 97% success rate.


Maxell

Rating: Good to Very Good
4 positive reports
1 negative reports
Other comments: One user reported problems, but may have had a bad recorder. One user reported playback problems on a Philips 950 player; experienced similar problem with some other brands.


Rating: Good
1 positive reports
0 negative reports

Pioneer

Rating: Good
1 positive reports
0 negative reports
Other comments:


RITEK

Rating: Good
2 positive reports
1 negative reports
Other comments: One user reported some playback problems (negative report). One user reported one disc out of a large batch that would not finalize.


TDK

Rating: Good
2 positive reports
1 negative reports
Other comments: One user reported problems, but may have had a bad recorder.


Sony

Rating: Good
2 positive reports
0 negative reports

Memorex

Rating: Good
2 positive reports
1 negative reports

Rating: Fair
0 positive reports
1 negative reports
Other comments: One user reported some problems with Memorex DVD-RAM.


Emtec

Rating: Fair
1 positive reports
1 negative reports
Other comments: One user reported 10-for-10 success with Emtec. Another user reported problems.


Apple

Rating: Fair
1 positive reports
1 negative reports

Princo

Rating: Fair
1 positive reports
2 negative reports
Other comments: One user reported poor disc compatibility with players (XBox specifically).


OptoDisc

Rating: Fair to Poor
2 positive reports
5 negative reports
Other comments: One user reported playback problems on older Sony player but no other problems. Several users reported high failure rates (between 20% and 50%) and problems dubbing from hard drive to DVD-R. One user reported regular player reboots.


Datastream

Rating: Poor
0 positive reports
1 negative reports

Datasafe

Rating: Poor
0 positive reports
1 negative reports

Monarch

Rating: Poor
0 positive reports
1 negative reports

Digital Media (Circuit City)

Rating: Poor
0 positive reports
1 negative reports

Imation

Rating: Poor
0 positive reports
2 negative reports

Khypermedia

Rating: Poor
0 positive reports
1+ negative reports
Other comments: Several problem reports

CompUSA

Rating: Poor
0 positive reports
2 negative reports
TV TUNER, DVD, AND CD PLAYBACK:
The first playback source that I had a chance to test was the TV tuner with regular cable broadcasts. When switching between the DMR-E80 and my digital cable box (Time Warner, Pace Micro DC-510), I noticed very little if any difference between the two on analog cable channels (the only ones that the E80's tuner is capable of receiving). What subtle differences in shadow detail I did see may very likely be due to the different s-video cables being used (the E80 is currently using older BetterCables Ultra s-video, whereas the digital cable box is using BetterCables Silver Serpent s-video, which I have previously found to be a somewhat superior cable). When playing back SP-speed hard drive recordings of these cable broadcasts, there was no visible loss of quality. This is a definite improvement over using a VCR (even an S-VHS unit) for time shifting playback of television programs. There are also some handy navigation features available when playing recordings. One is the "commercial skip" button that I mentioned earlier. Borrowed from Panasonic's VCRs, it is even more useful here since it jumps one minute forward in just a second or so rather than fast-forwarding through a minute of tape. Skip can be a very useful tool both in editing (shortening programs and assembling play lists) and in casually flipping through recordings. Close cousin to the commercial skip command is Time Slip, which allows the user to specify a number of minutes to "slip" forward or back in a recording. It will allow you to hop forward ten minutes in just a second. Time Slip is often mentioned in descriptions of the E80 alongside Chasing Play. Chasing Play is the name for the E80's ability to be recording a program while playing back the same recording. As an example, you could start recording a one-hour show, then sit down fifteen minutes later and start watching it. The benefit? Skip through the ads and finish watching at about the same time the recording finishes, or pause the show and come back to it later. Some people will likely use this feature heavily. Others may appreciate the fact that you can play back any recorded program while recording something, allowing you to watch something you recorded last week at the same time you are recording something.
Since I don't plan to use the E80 as my primary DVD player, I have not used it much with commercial DVD's. The DMR-HS2 was reported to suffer from the "chroma bug" (also called the chroma upsampling error, or CUE); on my 27" display, using s-video cables, I was not able to discern a noticeable CUE on the DMR-E80, although I did notice what I believe may be the signs of CUE creeping in. Bigger and better displays will likely be more revealing than my direct-view Mitsubishi. Overall, the video quality via s-video is entirely serviceable, although I can not speak for the progressive scan performance. The interlaced playback on my RA60 may be somewhat richer and more vibrant, but this is a subtle difference and may even be due as much to the video interconnects used as the player itself. I'll know more later this year, as I plan to upgrade some of my s-video cables this fall. The E80 is also somewhat compatible with DVD-Audio discs, as it can provide two-channel playback of such discs. I consider this sort of support to be of marginal use, as the majority of DVD-Audio titles are mixed for surround playback. Since the DVD-RA60 that I use for DVD-Video playback also supports DVD-Audio, I wasn't interested in using the E80 to play DVD-A discs. I was pleasantly surprised, however, to find that the E80 actually sounded quite good. DVD-Audio still deserves a 5.1 capable player, but this would be a decent way to start exploring the format.
Like all DVD players, the E80 will play audio CD's. I do not intend to use the E80 as my CD transport; the Yamaha CDC-775 will be set aside for the time being due to space limitations and the RA60 will take care of CD playback (using either the RA60's DACs or the 950's DACs), but I did toss in a disc to see how it sounded and was extremely pleased. If the E80 was all I had, I would be very happy with it, even with the analog output -- presumably due to the stereo DVD-Audio DACs tucked inside.
The DMR-E80 will play back MP3 files stored on CD-R or CD-RW, much like my DVD-RA60, and it can recognize up to 999 files in 99 different groups on a single disc. Unlike the RA60, however, the E80 includes an actual interface for this function. It provides a menu listing track names, although it is still not capable of using ID3 tags so it uses the file names to determine track titles. The tracks are broken down into groups, with each folder on the disc designated as a separate group. Similarly, group titles use the associated folder names. The E80 includes a tree mode for displaying the disc folders, which can help find what you are looking for pretty quickly. For CD-R's prepared specifically with this interface in mind (they recommend adding three-digit numbers to the front of each file and folder name to determine sorting, such as "001 first folder" and "001track1" or "003 Song Three"), it would be possible to develop a fairly convenient library of music, but for anyone with an existing collection of MP3 archive CD-R's, the manual hints that there may be some odd quirks in how the E80 sorts folders and tracks. I created a disc with some of the MP3's I keep around at work, creating folder names and modifying file names to match the recommended format, then compared it to an existing MP3 archive disc with albums arranged in folders. The tree mode makes navigation straightforward and convenient. Folders and files are sorted alphabetically with long file names displayed, so the recommended method of including a three-digit number in front for sorting is not entirely necessary. My existing disc was just as easy to navigate through as the test disc that used the recommended file naming convention. Sound quality is fair, certainly no better than the RA60 did with MP3 and still not true CD quality. I found that Pro Logic II processing of MP3's from the E80 sounded collapsed and I preferred stereo playback; this may be due to the MP3 format in general, or to the E80's MP3 decoder. The DMR-E80's MP3 playback support is definitely an improvement over previous players' MP3 playback, even if it still lacks the features that are standard on computer MP3 players like WinAmp (random play, custom playlists, visualizations, etc.), and it is sufficient for convenient background music even if it is not cut out for serious listening. For providing tunes to my wireless speaker (which is connected to zone 2 of my Model 950) as background music while doing yard work or for background noise during a party, the E80's MP3 support would be pretty convenient, although the ability to create play lists and a random play mode would be welcome additions.
---