AUDIO PERFORMANCE: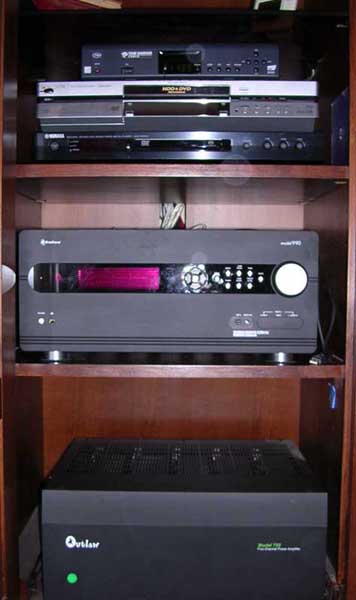 One of the first things I did when I hooked up the Model 990 was put a CD in my DVD player and hit play. It took me a minute to get an input set up for stereo mode and the DVD player's digital output, but once I did the results were very pleasing. That first night with the 990 was spent mainly just getting things set up, so I wasn't able to do any real critical listening. The second evening began as a continuation of the setup, but I was also able to take some time to sit down and listen to the unit. Once I did so, I was able to confirm the impression that had been forming during the setup period. The sonic performance is perhaps best described as "transparent." Three years ago, I remarked on how good the 950 was with CD's, but the 990 is a somewhat different case – more refined, perhaps, and even clearer. The soundstage is better, as is the imaging, most noticeably with CD playback in stereo. The noise floor on the 990 is lower than any other piece of gear I've worked with. Several times I found myself standing in front of the entertainment center while running a wire or swapping between the stock remote and my MX-500, almost directly up against the center channel or one of the main speakers, and with the 990 on an inactive input (not muted, but with everything on and no signal for the unit to reproduce) the speakers were dead quiet. There was no noise, no hiss or hum or buzz, nothing to call attention to the 990 at all. You could put your ear to the grille cloth and hear nothing. It was almost eerie at times.
There's more to a surround sound processor than just great sound and a low noise floor, although both are an essential piece of the puzzle. There is also digital-to-analog conversion, digital signal processing, bass management, time delay, and a slew of other issues to consider. As already discussed, the 990 offers a healthy array of features here, and it also includes some very good DAC's. With my 950, I had used my DVD players' digital output for CD listening until I upgraded to a Yamaha DVD-S1500 last year. The S1500 is a pretty solid audio performer, although the user interface is disappointing and the video section didn't fare particularly well on the Secrets of Home Theater and High Fidelity DVD benchmarks, and I found myself slightly preferring the S1500's DAC to the 950's DAC for CD playback. With the 990, I had to force myself to try the analog just to confirm my initial reaction, which was that I definitely preferred the 990's DAC. The 990 also offers an option for upsampling stereo sources, which is what I have found myself preferring. Upsampling converts analog and PCM stereo signals to 24 bit/192 KHz – this is now my default method of listening to CD's. Another neat option offered by the 990 is the USB port. While the port can serve as an alternative to the RS-232 port for upgrading the 990's software, it can also connect to a computer and let the 990 act as a huge USB sound card. Simply by setting up an input to use the USB port as the digital audio input (I used the AUX input), the user can easily pipe digital audio from a PC through their home theater system. In my tests, the results were quite good – certainly as good as (or better than) I could hope to get from MP3 files played through WinAmp – and the setup was painless on a three-year-old Dell WindowsME laptop. I have not been able to try passing a Dobly Digital bitstream over the USB connection since our laptop is not really equipped to produce such a signal, but based on the 990's manual the USB port is limited to PCM stereo. This means that HTPC users may still want to use a coaxial or optical digital output from a sound card. Also representing itself well was the 990's tuner: even using the old FM antenna that came with my 950 and was subsequently trimmed slightly by my cat's teeth last year, all of the usual stations we listen to came in crystal clear. I'm not an afficionado of FM tuners, but the 990's tuner was clearly better than the other tuners I've used. It is also quite easy to use, with a "Direct" input button that will allow you to enter in the station frequency you want and 30 presets that can be accessed directly by simply typing in the desired preset number on the remote's number pad.
Two input options that I didn't cover above are multichannel analog and stereo analog inputs. DVD-Audio and SACD have rolled along for several years now without quite catching on significantly (and the recent DualDisc concept has if anything undercut DVD-Audio, particularly as far as new releases are concerned). While IEEE-1394 (also called FireWire or iLink) has been approved as a digital interface for both formats, I believe that the lengthy and convoluted process of agreeing on a satisfactory encryption scheme for that digital interface has been responsible for the scarcity of hardware that supports DVD-A/SACD input over FireWire. While a handful of processors and receivers do include FireWire inputs, very few currently provide a way for that input to serve as a conduit for high resolution audio. Instead, users are usually restricted to a few proprietary digital interfaces (such as that offered by Denon) or to multichannel analog connections. The Model 990 provides a 7.1 direct analog input, something that has become more common and allows users who would prefer to use direct radiating surround back speakers for the surround channels of multichannel audio to connect the surround outputs of their player to the surround back inputs of the processor. The inclusion of surround back channels on this input also offers a promise of compatibility with HD optical disc formats (HD-DVD, Blu-Ray, or a unified standard) that will come in the next year or so and will use 7.1 formats such as Dolby Digital Plus. This input also includes its own composite and s-video inputs, which can be pretty convenient for folks with separate players for DVD-Video and high resolution audio. In my system, my main DVD player currently serves as the source for DVD-Video, DVD-Audio, SACD, and audio CD. With DVD-Audio and SACD over the 7.1 direct input, I continued to find the 990 to provide extremely transparent sound. As mentioned under Setup, the bass management is handled differently than on the Model 950. I allowed the Model 990 to convert the analog signal from my universal DVD player to digital and apply the quadruple crossovers – the process yielded no detectable loss in signal quality. While we're on the topic of analog signals, there is also an option for an analog bypass on the stereo inputs. I used it briefly while setting the unit up, but the 990's DAC's (particularly with upsampling enabled) are my preferred signal path for CD's. One thing about the analog bypass mode that I was very pleased about was the interface for selecting it. On the Model 950, the user had to select the "analog bypass" button on the remote to enable it for the active input, and the next time the input was selected (which would happen when the user pressed the device button on the remote to switch from control of the 950 to control of the source) the 950 would revert to the analog input in the default processing – the solution that I used was to create a macro that would activate the bypass mode without leaving the active device on the remote. In contrast, the Model 990 allows you to permanently specify that an input use "bypass" as the processing mode, which is a great user interface improvement. The Model 950's multichannel analog input behaved the same as the analog bypass, and as mentioned above the 990 improves on this by establishing the 7.1 analog input as a wholly separate input.
The 990 offers a broad array of surround processing modes. There is the traditional Dolby Digital along with Dolby Digital EX. There are also DTS and DTS:ES. In addition to those core processing modes, the 990 includes Dolby Pro Logic IIx (cimena and movie), DTS NEO:6, Dolby Virtual Speaker (DVS), 7 and 5 channel stereo, 2 channel downmix (or simply stereo when dealing with stereo sources), analog bypass, and the upsample mentioned above. The 990 allows you to specify what mode you want each input to default to, allowing you to automatically use Pro Logic IIx for stereo broadcasts on cable or satellite TV. When the 990 receives a Dolby Digital or DTS signal, it will switch to that mode. Surround back decoding (if surround back speakers are available) will be applied based on your default mode: Pro Logic IIx is the factory default for all inputs, although the Dolby EX flag will activate Dolby Digital EX processing instead of Dolby Digital + Pro Logic IIx if the source has that flag. I tested this successfully using Finding Nemo and while doing some testing one Monday night I was surprised to see an HD broadcast of 24 include the flag as well. When detecting and adjusting to incoming signals, acquisition time is very important, and it is something that many Model 950 owners have struggled with over the years. With the 950 in my system, we used the cable box's analog outputs at all times because the delay in locking on to new signals while channel surfing was a source of much agitation for my wife; I would switch to the digital output only on special occasions. With the Model 990, I started out with the digital output of the cable box active and didn't point this out to my wife until she'd already flipped through the channels for a few minutes – she had not noticed the acquisition delay at all. Signal acquisition was excellent from my HD cable box (Pace Micro DC-550), DVD recorder, and DVD player. In the worst cases, I would estimate the acquisition times at well under half a second, although it is difficult to measure accurately because those worst cases tend to coincide with instances where the source component also is trying to sort out the audio signal. In general, the 990 locked onto the incoming signal with transparent speed.
One new feature included in the Model 990 that is worth mention when discussing the audio performance is AV sync. AV sync is a feature that you may never need, but if you do need it you'll be very glad you have it. The sync allows the user to establish a delay in the audio signal to allow it to be sync'ed with a video signal that is delayed by any sort of signal processing (deinterlacing, upconversion to HD resolution, or anything else). Because these sorts of video delays are going to be the result of a certain source device, the sync can be adjusted independently for each video input. Also, there is a button on the remote to provide direct access to this control. The sync can be adjusted in 1ms increments, but I'd recommend starting your adjustments at no less than 10 or 20ms.
The Model 990 includes two audio features that are not always included on surround sound processors: a phono input and a headphone output. With no turntable or vinyl available with which to test the phono input, I can't comment on it, but I suspect there will be more than a few audiophiles who will be happy to see the phono input sitting on the 990's rear panel. The headphone output supports simple stereo playback as well as Dolby Headphone and Dolby Virtual Speaker. The headphone jack is normally inactive, but you can toggle the Model 990 from pre-amp outputs to headphone output or vice-versa by holding the MUTE button down for five seconds. A setting in the SURROUND CONFIG menu will let you specify a default processing mode for the headphones (stereo, Dolby Headphone 1, Dolby Headphone 2, or Dolby Headphone 3). Sadly, the only headphones I have in the house are of very poor quality, so I haven't been able to give the headphone jack a detailed listen or find out just how effective Dolby Headphone processing is.
Considering all of the features included in the Model 990 and the low price tag (for a surround sound processor), people would be excused for assuming a certain degree of compromise on the audio performance. From my experience with the 990, I have found no such compromise. The 990 has been a joy to listen to with every source I've used: CD, DVD-Audio, SACD, DVD-Video, HDTV, and digital cable. If you are shopping for a surround processor, you'll want to give the 990 a listen – particularly if you are concerned about audio quality. I think you'll be pleasantly surprised at what you hear.
---
VIDEO PERFORMANCE:
The two most notable features on the rear panel of the Model 990 are undeniably the balanced pre-amp outputs and the DVI video switching. Where the balanced outputs are unusual on a unit at or near the 990's price point, the DVI video switching is unusual on any receiver or surround processor. In addition to that DVI switching, the 990 also has a trio of component video inputs, one component video monitor output, seven s-video and composite video inputs, and three s-video and composite video outputs (one monitor output, one video record output, and a Zone 2 output). The DVI switching is purely a pass-through system, with no conversion from other sources and on on-screen display. S-video and composite video inputs are converted to component and passed to the component monitor output, and both s-video and composite video inputs are passed to the monitor outputs. The Video 1 and Zone 2 outputs are purely pass-through, so that s-video and composite video do not cross-convert. S-video and composite video monitor outputs receive an on-screen display overlay at the bottom of the screen for input and volume data (visible for about five seconds after a change in input, processing mode, or volume), which can be disabled at each input if not desired, and the on screen setup menus overlayed. The component video monitor output does not get the overlay data at the bottom of the screen, but it does get the setup menus on a black background (the menu replaces the video signal) and of course OSD data added to s-video and composite sources is still visible when those sources are sent to the component monitor output.
There are basically two main goals for the video switching in a surround sound processor: convenience and signal quality. Being able to gather multiple video sources and output one or two signals to a display makes using the overall system easier to use, but that ease of use should not be gained at the cost of picture quality. I tested the DVI switching using a single DVI source (my Pace Micro DC-550 HD cable box, with cable service provided by Time Warner) and the component video switching using the HD cable box and DVD players. All of these high resolution sources (from the progressive scan 480p DVD sources to the 1080i HD source) came through without any detectable loss. In fact, my wife preferred the HD image quality using component video outputs routed through the 990 to the DVI output connected directly to the TV, so the 990 can clearly handle HD video signals without straining. Since not every source connected to the 990 will be component video or DVI, I also experimented a bit with s-video and composite video sources. All of these inputs are available at the component video monitor output, and they arrive there with no degradation that I could find. Likewise, the composite and s-video monitor outputs are very clean.
Some people online have expressed concern about Outlaw's decision to incorporate DVI switching in lieu of HDMI – HDMI is, after all, the almost guaranteed interface of choice for Blu-Ray and HD-DVD (or for a single unified format, if the talks currently under way are successful). I've been doing a good bit of research on this issue, since it is so fiercely debated, and here's what I've come away with. First, an HDMI implementation produced today is almost certainly not going to be hardware compatible with Blu-Ray, HD-DVD, or any unified HD video disc format – the standards for the HDMI audio support under those formats remains incomplete. For that matter, SACD may not be compatible (Sony has granted permission for SACD to be transmitted across HDMI's audio path, but that will be incorporated into the next version of HDMI). Basically, HDMI as a digital audio connection is still maturing, and producing a product with the current generation of HDMI is very likely to leave consumers with an incompatible product in a year or so. So what about the video switching aspect? There has been trouble reported about losing blacker-than-black data when HDMI sources are connected to DVI displays, so can the Model 990 switch HDMI? The Model 990's DVI switching is a pure signal pass-through system (I think of it as a "mechanical" switch, a way of swapping cables for me, although that is technically somewhat inaccurate). This means that the pin-compatibility between HDMI and DVI will allow HDMI signals to pass through DVI adapters and the 990's switching without any change to the data, meaning that blacker-than-black data in an HDMI source will survive to reach a display. If that display uses a DVI input and you lose blacker-than-black data at that point, that is an issue unrelated to the Model 990. If the display has an HDMI input, the Model 990 would be a purely transparent portion of the signal path leading to the display and no data would be lost. For switching of digital video sources, the Model 990's DVI inputs (which can be assigned to any video inputs) and output are a great solution.
The SSP has evolved from purely audio gear – pre-amplifiers and audio processors – into a product that must not only provide preamp duties and very complex audio processing, but also must be able to provide video signal switching in a world of very comfusing video signal options. Component video's range of signals (from the 480i that component first carried to 480p, 720p, and 1080i) places a far greater load on video switching circuitry than the old composite and s-video signals ever did. New digital video formats such as DVI and its audio/video cousin HDMI go a step further still. The Model 990 can handle any analog video signal you might need to throw at it without compromising that signal, and it can even help you out with those digital video sources as well thanks to the DVI switching.
---