BACKGROUND:
I bought my first good TV, a 27" Mitsubishi set with s-video input, in the fall of 1997. It replaced my original TV from college, a 19" Panasonic TV that my parents still use today. At the time, DVD had been on the market for just over six months, Dolby Digital was still reserved for the very high end home theater gear, and HDTV was a promised dream that had yet to actually materialize. My first DVD player (a Panasonic DVD-A310) was connected to that TV a year later, in November 1998, just before the one millionth DVD player shipped to US stores. The Pro Logic home theater system that I had at that time remained largely unchanged from then until the fall of 2000, when an Outlaw Audio Model 1050 receiver heralded the arrival of Dolby Digital in the system and the beginning of a major upgrade cycle that is only now winding down. Throughout the addition of much better speakers (Paradigm Reference replaced Bose Acoustimass), separates (an Outlaw Model 750 amp and used Parasound HCA-800, followed by an Outlaw Model 950 pre/pro), high resolution audio (DVD-Audio from the Panasonic DVD-RA60, which should make way for both DVD-Audio and SACD from a Yamaha DVD-S1500 this summer), subwoofers (an SVS 25-31PCi, recently replaced by an Outlaw LFM-1), DVD recorder, and universal remotes, the one prominent fixture in the system was the TV. The 27" Mitsubishi just sat there, happily drawing pictures every 1/30th of a second. With a new house and a better room for the home theater in early 2004, it was time to step up to high definition television. Our viewing habits made it clear that a 4:3 aspect ratio was still the preferred approach, even though it appears at first glance to be a dubious choice in the era of HDTV. Our room, entertainment center, and budget made a 32" direct view set preferable. The result was a search for a good 32" 4:3 HD-capable set with DVI-HDCP input, a search that eventually produced three leading candidates: Toshiba 32HF73, Panasonic CT-32HL43, and Zenith C32V37. The 20" Toshiba 20AF41 in our bedroom had been a very good TV, offering a vote in favor of the HF73, but the Panasonic seemed to be equally good. The Zenith was the surprise contender, priced lower than the Toshiba and Panasonic and offering all of their input options plus onboard tuners for digital cable and over-the-air (OTA) and cable-provided HD. With an impending tax return capable of covering the cost of any one of the three sets, it became time to get serious about which to go with.
---
FIRST IMPRESSIONS:
All three sets were available locally, but they were all sitting on showroom floors at superstores like Best Buy and Circuit City – a poor place to judge video quality. Nonetheless, we all do what we can in life, and so I made the rounds. The Toshiba and Zenith were conveniently located side-by-side at one Best Buy, both connected via component inputs to a sample HD feed. The Toshiba's color balance looked better, but some tinkering with the Zenith's video settings suggested that a little time with a calibration disc like Video Essentials (which would be necessary no matter what set I chose) should cancel out any such imperfections. After about ten minutes of casual tinkering, I was able to get the Zenith's color settings to within perhaps 90% of the other sets around it, which seemed pretty good without the proper tools. Mis-calibrated flesh tones aside, the picture quality on the two appeared nearly indistinguishable, and I found myself preferring the Zenith's interface. The built-in HD tuner also loomed large in my mind, drawing me heavily toward the Zenith. With sale prices for both bringing the price down to $900 for either of them, I had to determine if I would be using the Zenith's internal HD tuner or not, if the Zenith's interface would be easier for my wife to use, and if I felt that the two were really equally matched on video quality. A few days later, we stopped into a different Best Buy, and in that store the Zenith actually looked better than the Toshiba – which reinforced my suspicion that with proper calibration the two sets were very closely matched on video quality. The extra features offered by the Zenith and the ability to acquire discrete input remote codes for the Zenith (as discussed later in the review) convinced us. The stores were offering 10% off all TV's, making the in-store price and online price the same ($899), but the store had a $40 delivery change while the online store was offering free delivery, so I ordered online. Delivery was scheduled for the following Saturday. The day before the scheduled delivery, I decided to call and check on the order, and ran into the midst of one of the most apalling examples of shoddy customer service I've seen in a long, long time. Best Buy was aware that they had a software problem that was causing their system to reject any order in the eastern US that had to be delivered (it apparently didn't affect orders shipped from the warehouse via commercial carrier). Best Buy chose not to admit this problem with processing large orders on their web site, they made no effort to notify customers whose orders were trapped in limbo indefinitely, they did not attempt to manually process those orders and keep the order process moving that way, and when contacted by customers affected by this problem they had no solutions available to the customer. In my case, by the time I had discovered the problem, the sale had ended and both the store and the web site were once again charging $1000 for the set. Customer service was unable to offer me store credit to allow me to drive to the store and buy one of the half-dozen sets that were available locally at the sale price, they were unable to change the order to an in-store pickup, and the call center supervisor was unwilling to directly escalate my complaint to any sort of management (although they would gladly put me in the "supervisor queue" so I could want until the middle of the next week to get a call from someone). It was an infuriating demonstration of the sort of poor customer service that has become all too common in corporate America, and it served as a reminder of how rare and valuable those companies are that make a determined effort to provide first rate customer service – companies like Outlaw Audio, Axiom Audio, and others that are far less well known but so much more conscientious. When my TV finally arrived – 36 days after I ordered it, 29 days after it was originally scheduled to be delivered, and after at least ten calls to customer service totalling more than four hours of my time and their time – I had already concluded that I would not darken Best Buy's door again any time soon. I recommend others at very least steer clear of their online store, which the company clearly considers a low priority based on their complete disinterest in providing it with the resources necessary to provide any sort of reliable positive experience for its customers.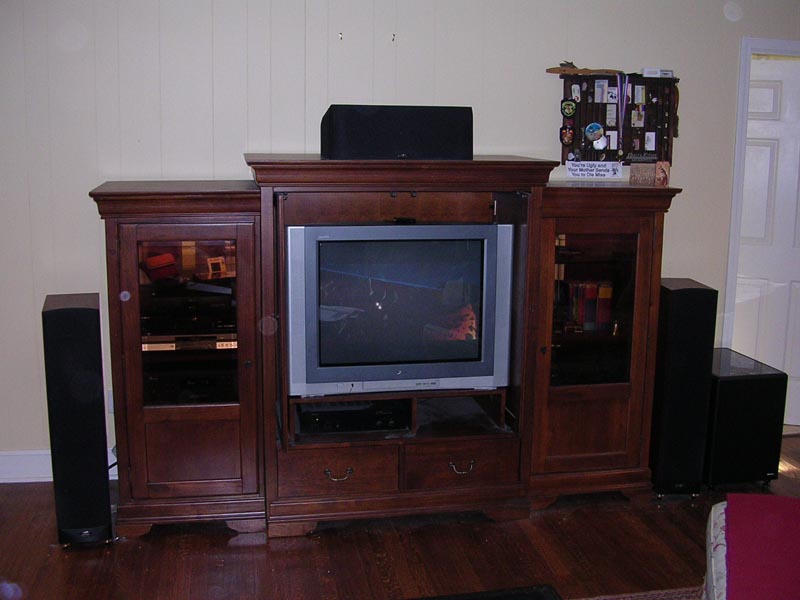 The disasterous process of actually getting the TV aside, I was still excited to have the V37 in my den and hooked up to my system. The delivery guys showed up about half an hour after the estimated delivery window and wheeled in the very large box – a sight that made me glad that I had it delivered – and got it unboxed. They seemed relieved to find out that I knew how to hook it up. The rear connections have a nice, solid feel, suggesting good build quality. In fact, the s-video inputs were so tight that I initially didn't get either connector pushed in all the way. A 32" TV is far from large in the world of HD sets (a world dominated by 42" to 65" rear projection sets), but it is still a very large TV as far as I'm concerned.
---
SETUP AND CALIBRATION: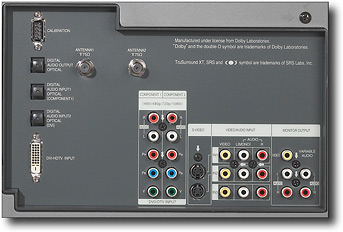 The C32V37 offers significantly more inputs than my previous TV, which means more options and more potential for user confusion. With three rear composite inputs (two with s-video), a front composite/s-video input, two component inputs, a DVI input, and two tuners, it would be easy to lose all track of how to get to the video signal you are trying to watch. The V37 includes three separate input buttons on the remote: TV/video (which scrolls through the different standard definition rear inputs), front (which selects the front input), and comp/DVI (which scrolls through the component and DVI inputs). This convenient breakdown still offers plenty of opportunity for confusion for the casual user, but fortunately there is an additional option: discrete remote commands for each input. Resourceful users have delved into the depths of the widely-used One-For-All/Radio Shack family of universal remotes and identified advanced codes that provide discrete commands for each input, which can be programmed into any OFA/RS remote. I used a spare Radio Shack universal remote (the small and inexpensive 15-1993), and with very little effort I was able to use it to jump directly to any input on the V37 with a single command. Once I had that ability in hand, I began working out how to connect my various sources to the set. The Model 950 pre/pro's s-video monitor output was connected to Video1 on the V37, providing a "fallback" video input that will work for any source. The DVD player and DVD recorder both were connected via component video to the Model 950 pre/pro, and from there they went to the component 2 input on the TV; both retained their s-video connections to the 950. Component 1 was left open with the idea of reserving it for a game console or similar device, which could use the component video input and pass its digital audio signal through the TV using the set's optical input and output (component 1 has an associated optical input, whereas component 2 does not). The digital cable box was replaced by an HD box, which retained the analog audio, s-video, and coaxial digital connections to the Model 950 but added a DVI connection to the TV. The V37 needs a DVI-D single link or dual link male-to-male cable for the DVI input, which I got for about $25 from Pacific Cable. The VCR remained connected to the DVD recorder (albeit with new nine foot long cables due to the larger entertainment center); it was also connected to one coaxial antenna input on the TV, with a Silver Sensor UHF HDTV indoor antenna connected to it to allow both over-the-air HD and playback of rented video tapes (just in case). The Dreamcast, banished to the far side of the entertainment center, could not reach the Model 950, so it was connected to Video2 on the TV. The TV's stereo analog outputs were connected to the Model 950 along with an optical digital cable, and I connected the cable TV feed to the V37 so I could experiment with the TV's digital cable tuner. This arrangement was geared to allow maximum flexibility in my initial experimenting with the set, but I figured that there might be some subtle adjustments later; in the event that the cable TV input to the TV was of no benefit, I planned to eliminate it. The MX-500 remote would be programmed to select the correct inputs on the 950 and TV for each device (DVD player, DVD recorder, digital/HD cable box, TV, VCR, and Dreamcast). It was a more complex arrangement than was previously in place, but the results would be worth it.
As previously mentioned, it is possible to program a number of "extra" remote commands into a OFA/RS family universal remote, including discrete commands for the inputs. The device code used in this case is 0178, which gets the basics covered, but the advanced codes allow for additional programming. I used this to program an old Radio Shack 15-1993 universal remote with the advanced code commands for each video input and the discrete 4:3 mode and 16:9 mode commands, then taught those commands to my MX-500 remote. The process of entering a code into the OFA/RS remote is a little tedious, but I'll outline it below to save you the hassle of hunting it down if you are interested (for more information on the OFA/RS family of remotes, you may want to check out Hi-Fi Remote):

Press the device key (TV, in this case).
Press and hold SETUP until the LED has blinked twice (this button may be labeled something other than SETUP, depending on the remote being used).
Enter 9-9-4; the LED should blink twice.
Press SETUP (don't hold it down).
Enter the three digit code.
Press the button that the code is to be assigned to.
The process for entering the device code is similar (follow steps one and two, followed by the four-digit device code), and should be done before programming any advanced codes. Below is a complete list of advanced codes for the C32V37, including a number of discrete codes that are not available on the factory remote.
Anybody getting an HDTV should plan on spending some time getting it set up, especially if it is part of a home theater system. The V37 has seven inputs plus built-in tuners, each with independently-adjustable video settings. I used component 2 (with the RA60 DVD player) and my old Video Essentials DVD to calibrate the set. The V37's ideal settings seem to be very consistent from unit to unit, which is not always the case; several AVS Forum members have posted their settings in this thread, and my experience was similar. I set EZ Picture to off, contrast to 30, brightness to 55, color to 38, sharpness to 30, tint to R3, color temperature to cool, and VM (on the Options menu) to off. These settings were based on Video Essentials and then tweaked somewhat (no more than about 5 units either way, if any at all) for personal taste. I set aspect ratio to "Set by Program" to start with. I also changed my DVD player setup to use a 16:9 display, so it will output unaltered anamorphic material when possible.
There was a moment of concern that the s-video inputs were shot, since both video1 and video2 were connected but neither had a signal. An anxious check of the connections revealed that the s-video inputs on the V37 were stiff enough that neither plug had fully seated when I first hooked everything up. They take a pretty solid push to get them in, but once they were there they worked fine.
I had a couple false starts with the tuner detecting available channels. Initially, I used the cable and antenna connections, which earned me a fair assortment of cable channels (including a number of scrambled channels) but no worthwhile over-the-air content. Eventually, I figured out that in order to use the V37's built-in HD tuner, you must connect your antenna to the "antenna 1" input and choose to not use the "antenna 2" input at all. By the time I made that discovery, I'd already come to the conclusion that I didn't have any significant need for the onboard cable tuner – the program guide information that we're used to getting from the cable box is not available and the channel selection is somewhat disjointed and difficult to navigate. I left the cable tuning tasts for the cable box and set the onboard tuner to work acquiring the channels. The Zenith Silver Sensor antenna pulled in the local channels very nicely despite being tucked away in the right equipment rack of the entertainment center; our position at the top of a hill may be helping it out in that regard.
VIDEO PERFORMANCE:
Unlike my previous TV, there is a lot to consider here regarding video performance. The possible source material to evaluate includes standard definition (480i) video from sources like basic cable or VHS, interlaced and progressive scan DVD playback (480i and 480p), and HD performance (480p, 720p, or 1080i). I started with DVD's, since that was the most convenient. Standard definition followed, with HD being the last thing I tried.
DVD playback was the first thing I tested, using my Panasonic RA60 player primarily. My first stop was Attack of the Clones, which looked very nice. Also showing some good results was a home video transferred from S-VHS (circa 1990 or 1991) to DVD-R using my Panasonic DMR-E80 DVD recorder; the S-VHS source clearly lacks the resolution of a native HD source, but the Zenith does a very good job of displaying lower-res sources such as S-VHS. I have more DVD material to cycle through (some "demo" discs like The Two Towers Extended Edition and Pirates of the Caribbean, Finding Nemo for digital animation, probably Princess Mononoke and Akira for traditional animation, and some TV shows on DVD, such as CSI), so I'll be expanding this later – especially after I get a good progressive scan player some time this summer – but for now I have definitely been pleased with the results.
Watching the digital cable box via s-video and the DVD recorder's cable tuner and recordings via s-video and component video quickly revealed that the Zenith can handle lower-res sources such as these without penalizing the viewer – an ability that many HDTV's, especially older ones, lack. There is no sense of losing image quality with these sources, but instead there is a slight improvement over what came before. As I mentioned earlier, I also tried out the V37's internal cable tuner and found it to be respectable, but the inability to use the digital cable tuner and the OTA HD tuner simultaneously (without stopping in between to spend a few minutes watching the V37 search for channels) made it useless for me. Anybody using a DVD recorder like the DMR-E80 should be aware that the V37 can begin to show some of the compression used at the "SP" recording speed under certain circumstances; I am still using "SP" for time-shifting, but I would strongly recommend against stepping down to "LP" or "EP" – the larger screen and high resolution would make the artifacts produced with those modes far too prominent. I'll have to give standard VHS a try soon to see how it works out.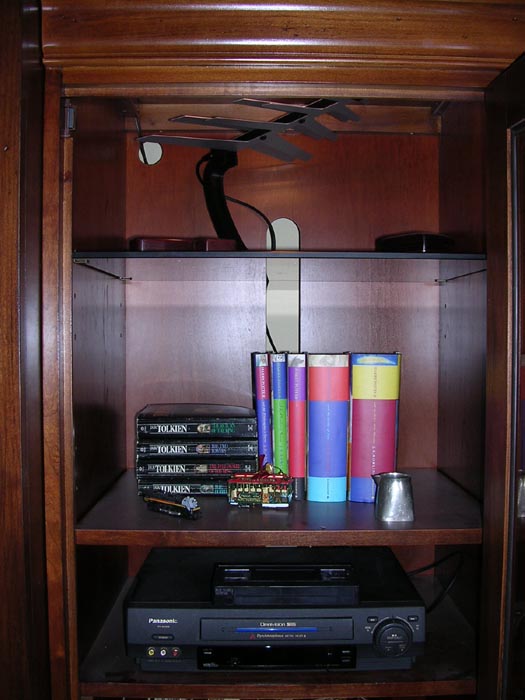 The V37's built-in tuner was unable to pull down any of Time Warner's HD channels, but the Silver Sensor UHF OTA antenna (pictured above) did an excellent job of finding the local HD channels. It may be a surprise to some people just how much material is being broadcast by those channels in 4:3 still. The Today Show was the only morning program broadcast in 16:9, and it appeared to be in a sort of pillarboxed 1.66:1 ratio, which was a bit strange. Primetime shows appear in 16:9 more consistently, but there's still a good bit going out 4:3. During certain times of day, even the OTA HD channels are broadcasting in 480i, so don't expect those stations to always provide you with really startling video quality. My first real taste of 1080i video came from Time Warner when the swapped out my Pace DC-510 digital cable box for a Pace DC-550 HD box with DVI output (which I recommend over the Scientific Atlanta Explorer 3250 if your cable company is using the Scientific Atlanta head end gear and you have the choice). The DiscoveryHD channel has long been the reference standard for introducing people to HDTV, and it is very good at that role. The assortment of primetime HD shows I've seen have also been excellent – it makes it very difficult to go back to watching standard definition content. The Pace 550's DVI connection to the V37 works very nicely, and I have a beautiful picture for HD and a very respectable picture for SD. With the proper settings, the Pace will output video via the DVI output on all channels (upconverting 480i material from standard and digital cable channels to 480p, 720p, or 1080i); I have the box set to upconvert to 1080i and have found the image quality on SD material to be indistinguishable from 480i over s-video. Some people have noted a slightly better picture via component or s-video than DVI on the standard channels, but I have not seen that yet and currently expect to stay with the DVI for all video from the Pace 550.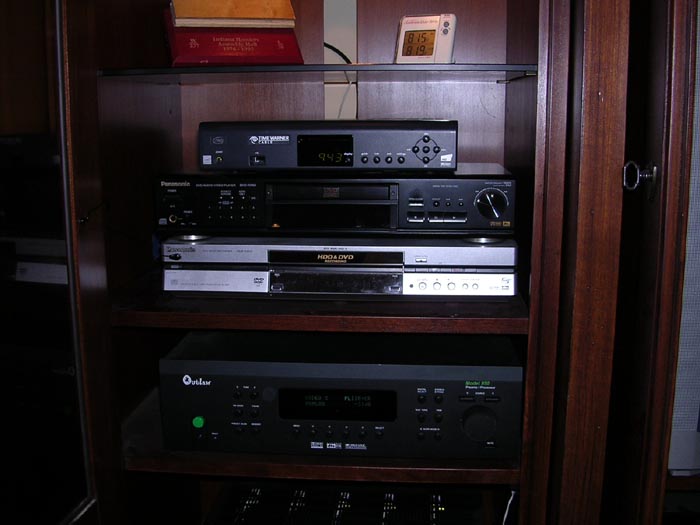 It took perhaps a day or so of intermittent watching to start to get a feel for the V37. At first, the sheer process of calibration and setup made it impossible to get any real feel for the set. Only after getting the TV situated enough to watch some recordings off the DVD recorder's hard drive and surf through the OTA and cable HD channel offerings did I begin to be able to tell if the $810 I spent on the upgrade to HDTV had been worth it. For me, the V37 is a very good fit – convenient viewing of 4:3 material without any sacrifices, excellent picture quality on DVD's, and access to HD content with great video quality.
---
CLOSING THOUGHTS:
HDTV has been growing more and more rapidly for a number of years now. Most people getting into HD have been going with rear projection LCD or DLP sets in a 16:9 aspect ratio that range in size anywhere from 42" up to 65", but as the adoption of HDTV spreads beyond the early adopter market there is increased interest in smaller displays and the older 4:3 aspect ratio. People who will largely watch HD and DVD material will inevitably be drawn to the 16:9 display, as that is the most effective way to enjoy those formats. Those of us who are likely to continue to watch a significant amount of standard definition content will be watching predominantly 4:3 programming for years to come. The interest in smaller displays is responsible for the existance of 26", 30", 34", and even one or two 38" 16:9 direct view HDTV's from a number of manufacturers, but there has also been growth in the availability and interest in 27", 32", and 36" 4:3 direct view HDTV's. Our viewing habits and furniture led us to the 32" 4:3 set, and in that bracket the new Zenith C32V37 is a very respectable value. It is worth noting that the V37 will not be for everyone – many people will want to go with a 16:9 set (which would be better for people primarily watching HD content and widescreen DVD's), and there are a lot of people who are looking for larger displays than the V37's 32" screen. If you are looking in the size range of the V37 but want 16:9, the C34W37 (a 34" widescreen version of the V37) might be a good choice. If you want something bigger than 40", you will be effectively locked in to 16:9 and will need to decide whether you want a CRT-based, LCD, or DLP rear-projection set (a debate that can be very, very painful, as each has inherent strengths and weaknesses and both LCD and DLP are still growing, changing, and dropping in price). For the corner of the market like myself, the V37 is an excellent choice for a 32" 4:3 HDTV. The comparable Toshiba and Panasonic sets are appealing and can offer equally good HD video performance, but the built-in HD tuner is a major factor in recommending the V37.
---