Dolby Digital/DTS Home Theater System
Last updated 12/21/2006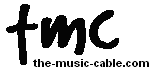 Starting in mid-2000, I began thinking about making a change or two to the home theater. I was interested in finding out what all the fuss was about with Dolby Digital, but there was no upgrade route to Dolby Digital with my Yamaha receiver. The result was the beginning of the current upgrade cycle -- the purchase of an Outlaw Audio Model 1050 receiver. A lot has changed since that upgrade. If you want to see some pictures of the system, check out this page. For some idea of what led me to this system, you can check out this equipment list showing what I have owned in the past.


---
Equipment:
Zenith C32V37 32" 4:3 direct-view HDTV
Panasonic PV-S4566 S-VHS VCR
Panasonic DMR-E80H DVD recorder
OPPO Digital DV-981HD 1080i DVD player
Pace Micro DC-550 HD digital cable
Outlaw Audio Model 990 surround sound processor
Outlaw Audio Model 7500 amplifier
(2) Outlaw Audio Model 200 monoblock amplifiers
Roku Labs SoundBridge M500 media client
Paradigm Reference Studio/60 v2 speakers (mains)
Paradigm Reference Studio/CC v2 speaker (center)
Axiom Audio M3ti bookshelf speakers (surrounds)
Paradigm Reference Studio/ADP v2 speakers (surround backs)
Outlaw Audio LFM-1 subwoofer
Velodyne SMS-1 subwoofer equalizer
Mixture of Outlaw and BetterCables interconnects
Mixture of TMC and Monster XP speaker cables
Panamax MAX 5100 power conditioner
Home Theater Master MX-700 universal remote
Xantech IR remote control signal distribution system
Zenith Silver Sensor indoor UHF HDTV antenna
Advent AW810 indoor/outdoor wireless speaker
---
Equipment Notes: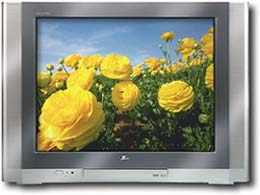 Display: Zenith C32V37 32" 4:3 direct-view HDTV, four A/V inputs (three with S-Video), two component inputs, one DVI-HDCP input, two optical digital audio inputs, internal QAM ATSC digital cable/HDTV tuner, optical digital audio output. This 32" HD set replaced my Mitsubishi CS-27309 27" stereo TV in May 2004. The Mitsubishi was (and still is) a great TV, but it didn't provide component video inputs. Mitsubishi abandoned the direct-view TV market a year or two after I bought my 27" set, and for a number of years the direct-view market was dominated by Sony (with Toshiba and Panasonic offering comparable products for less money). Zenith's re-appearance as a contender has been a recent development that is at least partly due to changes imposed by LG since it bought Zenith. The C32V37 will be connected to digital cable using an HD-capable box with DVI output and to both DVD players via component video. Click here for my review of the C32V37.
VCR: Panasonic PV-S4566 Super-VHS HiFi VCR. The DVD player reduced the amount of use the VCR gets, but this old VCR still does a good job when I need it. It's been tucked out of the way under the TV for a while, but the S-VHS deck has stayed in the system even with the arrival of a DVD recorder in July 2003. It was used heavily while archiving a large chunk of family home videos in the fall of 2003, but has otherwise been ignored.

DVD Recorder: Panasonic DMR-E80H, 80GB hard drive, DVD-R and DVD-RAM recordable, DVD-Video, DVD-Audio (two-channel only), Video-CD, Audio CD, CD-R, CD-RW, two composite/S-video/stereo analog outputs, three composite/S-video/stereo analog inputs, optical digital audio output, progressive/interlaced component video output. I added the DVD recorder to archive old home videos and to time-shift and archive TV programs. Click here for my review of the DMR-E80.

Upsampling DVD Player: OPPO Digital DV-981HD. Back in late 2004, the OPPO Digital OPDV971H appeared, and quickly established itself as a strong contender among the new crop of players capable of upconverting the 480i video stored on DVD's to HD resolutions – similar to the progressive scan output offered by most players today, except on a larger scale. These upconverting players offer outputs at 720p, 1080i, and often other resolutions that offer the opportunity to gain greater benefit from our HDTV's. I bought a 971H in May 2005 and reviewed it here. My 971H is still a great player, but it moved to my parents' house and dad's 26" LCD HDTV after I had the opportunity to beta test the 971H's sibling: the DV-981HD. THe 981HD adds support for SACD in addition to the 971H's DVD-Audio, adds 1080p output, replaces the DVI with HDMI (v1.1, with support for both DVD-Audio and SACD digital output by decoding SACD to PCM internally), and eliminates the component video output entirely. The inclusion of SACD support allowed me to replace both the 971H and my Yamaha DVD-S1500 with this single player. You can find my review of the 981HD here.
High-Definition Digital Cable: Pace Micro DC-550, service from Time Warner. The DC-550 was added along with the Zenith C32V37 to gain HD cable. From all accounts, the DC-550 is a better box than the Scientific Atlanta Explorer 3250HD that is often also used when a DVI-equipped box is required. If it's available, I recommend using it. For digital cable users, Pace has a similar box that is digital only called the DC-510. Unlike the comparable Scientific Atlanta boxes (the Explorer 2000, 2100, and 2200), the DC-510 includes analog-to-digital audio conversion that provides a PCM digital audio output for stations that do not include a digital audio signal. This allows you to leave your receiver or pre/pro set to the coax digital input and get sound on all stations.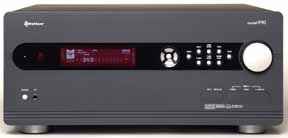 Preamp/Processor: Outlaw Audio Model 990 surround sound processor. This is the third Outlaw product to serve as the front end for my system. The Model 950 that it replaced was itself a repalcement for the Model 1050 receiver (which served as dedicated pre/pro for about eight or nine months before the 950 arrived). The Model 990 offers a great array of capabilities: the full suite of Dolby processing modes (Dolby Digital, Dolby Digital EX, Dolby Pro Logic IIx, and Dolby Headphone), all of the DTS modes (DTS, DTS ES, DTS NEO:6, and DTS 96/24), a quadruple digital crossover, upsampling of stereo sources, a phono input, a headphone jack, three component video inputs with crossconversion of all composite and s-video inputs to component, 7.1 analog input, balanced pre-amp outputs, and even DVI video switching. Click here for my review of the Model 990, or check out my older review of the Model 950.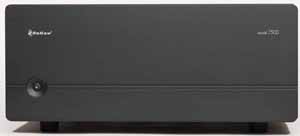 Amplifier: Outlaw Audio Model 7500 five-channel balanced amplifier (200Wx5). I used an Outlaw Model 750 as my main amp from mid-2001 until roughly five years later, when I upgraded to a Model 7500 with the intention if selling my Model 750 to a relative. The Model 7500 is a remarkable amp, with 200W per channel from all five channels and balanced inputs. I've posted a review for the 7500 here.
Amplifier: Two Outlaw Audio Model 200 monoblock amplifiers (200W each at 8ohms). These two amps drove my Studio/60 main speakers until the Model 7500 arrived, at which point they were moved to the side surround channels. They replaced an ailing Parasound HCA-800 Mk II stereo amp (found used on AudiogoN in late 2001) that had been serving the surround back speakers using only one channel (the other having developed a habit of cutting out intermittently). I have a review of the Model 200's here.

CD Player: None. For several years, I used a Yamaha CDC-775 five-disc carousel CD changer connected using the optical digital output. The Yamaha (which replaced a Harman/Kardon FL-8300 changer in the summer of 2001 after the 8300 developed carousel problems) performed very nicely, but it was removed to make room for the DMR-E80 DVD recorder in 2003. In its absence, the DVD player has served very well as CD transport. The new entertainment center has room for it but I have decided to let the DVD player remain the main CD transport, so the CDC-775 went on Audiogon in November 2004. The FL-8300 has been on permanent loan to my sister-in-law for some time now, and when removed from the heat load of my equipment rack it has behaved much better.

Media Client: Roku Labs SoundBridge M500. I added the Roku SoundBridge in mid-2006 as an easy way to have background music playing. MP3 files are inevitably not going to sound good as the original, uncompressed audio on a CD, but for having some tunes playing while the baby runs around the den it's really handy. I've got a review of it here.
Speakers: Paradigm Reference speakers. These were Paradigm's top product line prior to the addition of the Signature line in late 2003, described as "cost no object" (although they are still extremely affordable compared to other high-end speakers available). Paradigm's reputation is for very neutral speakers, without any particular tendency toward sharp high end or boomy low end, and it's a well-earned reputation. I've found them to be a real joy to listen to.
Main Speakers: Paradigm Reference Studio/60 v2
Center Channel Speaker: Paradigm Reference Studio/CC v2
Surround Speakers: Axiom Audio M3ti: The M3ti's were purchased to take the place of the Studio/ADP's as surrounds in the new house due to space problems on the side walls.
Surround Back Speakers: Paradigm Reference Studio/ADP v2: These are "Adaptive DiPolar speakers," which means that the tweeters (the same 1" aluminum tweeters used throughout the Reference line) are wired in a dipolar arrangement, but the mid-range speakers are in a bipolar arrangement, which provides the spacious dipolar performance without the bass cancellation that dipolar is known for. At the moment, I'm using a pair of them as surround back speakers.
Subwoofer: Outlaw Audio LFM-1: My first sub was the SVS 25-31PCi, SV Subwoofer's "littlest" powered cylinder subwoofer. After almost two years of quite good service, the 25-31PCi was replaced with a more furnishing-friendly LFM-1 from Outlaw Audio, which I heartily recommend. Click here for my review of the Outlaw LFM-1, or check out my review of the SVS 25-31PCi.

Subwoofer Equalization: Velodyne SMS-1. This is a very interesting product that will automatically analyze the frequency response of your subwoofer and adjust eight channels of equalization to smooth out the sub's response curve. Even better, it will allow you to manually adjust each EQ channel manually, changing not only the EQ's level (-13dB to +6dB) but also the frequency around which each channel is centered (15Hz to 199Hz) and the Q of each channel. All of it is done through a concise on-screen display that includes a frequency response curve generated using the unit's own test tones and the very nice included microphone. I've got a review of the SMS-1 if you are interested in knowing more about it.

Game Console: Nothing currently. I disconnected my old Sega Dreamcast, which was purchased in December 2001 when Sega was clearing out the last few inputs from their warehouses after the PS2, XBox, and GameCube brought about its premature demise ($50 for a Dreamcast – half the price of a PS1, about the same price as a game for a new console – was a sweet enough price to make me give it a shot). The Sega is still sitting around, but only because I'm not sure what I want to do with it. I may pick up a Playstation 3 around mid-2007 in order to dabble with Blu-ray, but we'll have to wait and see on that.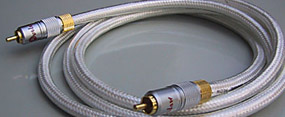 Cabling:
The cabling on this system is finally done. I've phased out the Monster Cable, replacing it with a combination of TMC, Outlaw Audio, Blue Jeans Cables, and BetterCables. I have added some notes on my experience with these cables to the end of the Cables section of my home theater guide.
Audio Interconnects:
Digital Cable to pre/pro: Blue Jeans Cables coaxial digital audio
VCR to DVD recorder: Blue Jeans Cables stereo audio
DVD recorder to pre/pro: Outlaw Audio PDO (optical digital audio)
Pre/pro to DVD recorder: Outlaw Audio PCA
DVD to pre/pro: (6) Outlaw Audio PCA (5.1 analog audio); (2) Outlaw Audio PCA (stereo CD audio); Outlaw Audio PDO (optical digital audio); Blue Jeans Cables coaxial digital audio
TV to pre/pro: Outlaw Audio PDO (optical digital audio)
Media Client to pre/pro: MonoPrice optical digital audio
Pre/pro to amplifiers: (7) TMC Yellow Label
Pre/pro to subwoofer: BetterCables Silver Serpent Audio
Video Interconnects:
Digital Cable to pre/pro: Blue Jeans Cables component video; Pacific Cable DVI; Outlaw Audio PSSV S-video
VCR to DVD recorder: Blue Jeans Cables S-video
DVD recorder to pre/pro: Blue Jeans Cables component video
Pre/pro to DVD recorder: Outlaw Audio PSSV S-video
DVD to pre/pro: Outlaw Audio PDH HDMI-to-DVI cable, Outlaw Audio PSSV S-video, generic composite video
Pre/pro to TV: Blue Jeans Cables composite video; Blue Jeans Cables s-video; Blue Jeans Cables component video; Pacific Cable DVI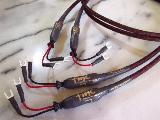 Speaker Cables:
Studio/60 main speakers: TMC Gold Label Reference, bi-wired
Studio/CC center channel: TMC Gold Label Reference, bi-wired
Axiom Audio M3ti surround speakers: Monster XP speaker cable.
Studio/ADP surround back speakers: Radio Shack 16ga speaker cable.

Click here for my review of a set of DIY speaker cables.


Power Protection / Conditioning: Panamax MAX 5100. I added this when I also added a dedicated circuit for the home theater (in the old house). Less expensive than the power conditioners sold by BPT and others, the 5100 is designed to filter the power but to also provide equipment protection and some equipment switching capability. Another excellent source for equipment like this is Brick Wall.

Remote Control: Home Theater Master MX-700 universal remote. This is the latest in a long line of universal remotes that have lived on my coffee table. First there was the learning remote that came with my Yamaha RX-V690 receiver back in early 1997, which was followed in 2000 by the Catalyst48 OEM universal remote that shipped with the Outlaw Audio Model 1050 receiver. The first third-party universal remote that I used was the Sony RM-AV2100, which was a birthday gift in 2001. The AV2100 had a few weaknesses (very poor manual, large size, limited touch screen button labels, and the cats' tendency to change the channel by walking across the remote), so when the Outlaw Model 950 processor arrived in 2002 I switched to the re-badged Home Theater Master SL-9000 that came with it. The SL-9000 was a good remote, but it had some limitations – including transport functions share buttons with the navigation keys, which is a problem for DVD player operation. The solution to that was the SL-9000's descendent, the Home Theater Master MX-500, which I picked up in 2003 to help deal with a DVD recorder that we were planning to get. I became a huge fan of the MX-500 (you can find my review of it here), and it was based on my experience with it that I updated to the MX-700 in 2005. The MX-700 looks nearly identical to the MX-500 except for the white faceplate, but it has some significant improvements tucked away inside (twice as many devices, 20 extra commands per device, more robust macro support, and a computer interface). I've posted a review of the MX-700. The MX-500 is an ideal remote for most users, but for the folks who really want some extra control and customization options, the MX-700 is hard to beat.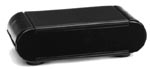 IR remote control signal distribution system: Xantech system (29-910 IR receiver, CB60 six-port connecting block, 781RG AC adapter for the connecting block, two 282M single emitters, and one 284M double emitter). The IR receiver located on top of the TV, with a connecting block on the back of the entertainment center distributing the IR signals to input jacks on the rear panels of the pre/pro and cable box as well as to four emitters mounted on the sensor windows of the TV, VCR, DVD player, and DVD recorder. This arrangement eliminates the sightline problems created by portions of the entertainment center. Click here for a review of the system I have set up.
Indoor UHF HDTV Antenna: Zenith Silver Sensor. The Silver Sensor has become a favorite among HDTV owners due to its small size and excellent directional performance. I have been able to tuck mine inside the entertainment center (where is is effectively invisible) and get excellent reception. For $25 or $30 online, it is highly recommended.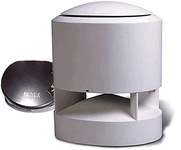 Wireless Speaker: Advent AW810 indoor/outdoor wireless speaker. This was a Christmas gift to my wife after we finished building a deck on our old house. I have it connected to the "zone 2" output of my Model 950, so that we can listen to any source outside (radio, CD player, whatever) while listening to a different source inside (TV, DVD, ...). The transmitter is somewhat location sensitive, and picks up a lot of signal hum if it is too close to the TV set, but aside from that it works very well. Great for an afternoon of yard work or entertaining guests on the deck.
---
---
[an error occurred while processing this directive] hits since August 12, 2002