As part of the move from our old house (which I bought in 1999 before we were married) to our new, larger home in January 2004, I took some time to straighten out some of the random assortment of pictures floating around the site. As it turns out, there were a bunch of them. When I moved into the old house, I had a pretty simple home theater setup, and the process of packing and moving everything reminded me of how much I changed in just a few years. I decided to consolidate the assortment of home theater pictures and notes that had accumulated on the web site over the previous couple years along with some other out-of-date notes that were sitting around.
Everybody's move into home theater varies. In some cases, people who get into home theater start out with little more than a VCR hooked up to their TV and a "boom box" CD player. Other people grow into it in stages, starting with perhaps a stereo system (receiver, CD player, maybe a tape deck) that often isn't even associated with a TV. I fall into the latter category. After my freshman year of college, I decided to replace the Panasonic shelf system (tuner, dual tape deck, and turntable with a separate Pioneer 6-disc CD changer hooked up to it) that I'd used for five years with something more. The result was the beginning of my home theater hobby, especially when I added a small TV and a Super-VHS VCR two years later. Listed below are snapshots of the two systems that led me to where I am now, along with a record of some of the changes that my home theater system went through while set up in our old house.
Dolby Digital/DTS System Upgrades
When I moved into the house in April 1999, I still had my Dolby Pro-Logic setup (Yamaha receiver, Bose speakers, Mitsubishi 27" TV, Panasonic A310 DVD player). Starting in mid-2000, I began thinking about making a change or two to the home theater. I was interested in finding out what all the fuss was about with Dolby Digital, but there was no upgrade route to Dolby Digital with my Yamaha receiver. The result was the purchase of an Outlaw Audio Model 1050 receiver (now retired, with a successor expected in late 2004). That upgrade generated a strong desire to replace my Bose speakers (Acoustimass 7 and Model 100 surrounds; see my comments about Bose at the end of this page before actually thinking about buying any of your own), which resulted in the arrival of a set of Paradigm Reference speakers (Studio/60 v2 mains, Studio/CC v2 center, and a trio of Studio/ADP v2's for surrounds and a single surround back channel) in the spring of 2001. At around the same time, I upgraded to digital cable and replaced my Harmon/Kardon FL-8300 CD changer with a Yamaha CDC-775 changer. My research during these upgrades (particularly the Model 1050) led me to write down some basic notes as an introduction to home theater and post them on my site; those notes have since evolved into the Basics of Home Theater section of the site. The pictures below are from spring 2001, except for the first picture which actually shows the system as it was almost immediately after the Model 1050 was installed (Model 1050, Harman Kardon FL-8300 CD changer, tape deck, SmarkLink cable box, DVD-A310, VCR, Mitsubishi TV, and Bose speakers).
In the new house, the upgrades continued slowly but steadily throughout 2004. During the move, the third Studio/ADP rear surround speaker was retired and a pair of Axiom Audio M3ti bookshelf speakers added as surrounds (the pair of Studio/ADP's moved from side surround to rear surround duty due to some installation restrictions in the new house). A few months later, we replaced the old entertainment center with a much nicer unit, which afforded us room for a larger TV. Over the course of the spring, the SVS 25-31PCi was replaced with an Outlaw Audio LFM-1 sub and the 27" Mitsubishi TV was replaced by a 32" Zenith HDTV. At the same time, the Pace DC-510 digital cable box was traded in for a Pace DD-550 HD digital cable box.
Dolby Pro-Logic System:
After college, I replaced the receiver with a Yamaha RX-V690 Dolby Pro-Logic receiver. I also replaced the speakers with Bose Acoustimass 7 for the mains and center channel and Bose Model 100 for the surrounds. The CD player was upgraded a few months after the receiver and speaker upgrades. The 19" TV from the basic system above stayed around for about a year before being replaced with a Mitsubishi CS-27309 27" television (picture-in-picture, and most importantly an S-video input). The DVD player was actually not added until almost two years after the Yamaha was bought (November 1998, to be exact), but is included below because it was the component that really made the system into a serious and regularly-used home theater.


---
Equipment:
Mitsubishi CS-27309 27" television
Panasonic PV-S4566 S-VHS VCR
Yamaha RX-V690 Dolby Pro-Logic receiver
Panasonic DVD-A310 DVD player
Harman/Kardon FL-8300 CD changer
Pioneer CTW-301 cassette deck
Bose Acoustimass 7 speaker system (mains, center)
Bose Model 100 speakers (surrounds)
mixture of generic interconnects, Radio Shack interconnects, and Monster Cable interconnects
Monster Cable speaker cable
---
Equipment Notes:
Display: Mitsubishi CS-27309 27" stereo TV, one rear S-Video/composite audio-video input, one front composite audio-video, picture-in-picture. This is a TV that you won't find at Best Buy or Circuit City -- Mitsubishi doesn't sell through the large chains. It's worth tracking down, however, because the picture quality with a good signal is excellent. It's worth noting, however, that Mitsubishi seems to have shifted their focus away from small televisions (small in this case being under 40") and now only make rear-projection sets.
VCR: Panasonic PV-S4566 Super-VHS HiFi VCR. My first (and so far only) VCR.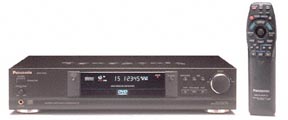 DVD Player: Panasonic DVD-A310, internal Dolby Digital decoder, Dolby Digital and DTS digital outputs (coaxial and optical), two composite video outputs, one S-video output, one component video output, two analog stereo outputs. A product of the second generation of DVD players, the A310 was a great piece of equipment in its day. The current generation of Panasonic players are even better, though.
Receiver: Yamaha RX-V690, 80Wx3, 25Wx2 to surrounds, Dolby Pro-Logic decoding. When this receiver was new, Dolby Digital was expensive and the need for it was limited -- DVD was about to debut, and LaserDisc had a limited user base. For a Pro-Logic and two-channel receiver, it does a great job. Five-way binding posts on the main speaker connections and spring clips for the center and surround speakers.
CD Player: Harman/Kardon FL-8300 five-disc carousel CD changer, analog stereo and coaxial digital outputs. When I pulled out the old Pioneer changer and installed this player, the effect it had on my CD's was immediate and impressive. A very good upgrade, although I have since had some intermittent problems with the player resetting discs slightly "off" in the carousel. It seems to be largely due to overheating, since the resetting problem stopped when it was moved to the guest room with the Yamaha RX-V690 where there was less equipment and more ventilation. Based on this and on reviews I've seen on the Internet, I'd be a little wary of Harman/Kardon products, mainly due to reliability concerns.
Tape Deck: Pioneer CTW-301 dual-deck, no auto-reverse (still around, but rarely used).
Stereo System:
This is what I had in college. It is a bare-bones two-channel system. For the first few years, it was purely a music system. The TV and VCR arrived later in college to provide limited television and movie watching.


---
Equipment:
Panasonic 19" television
Panasonic PV-S4566 S-VHS VCR
Pioneer VSX-401 receiver
Pioneer six-disc CD changer
Pioneer CTW-301 cassette deck
Garrard bookshelf two-way speakers
---
Equipment Notes:
Display: Panasonic 19" mono TV, RF coaxial connection only. Cheap, but effective for cable TV and VCR viewing and small enough to easily take with you when you move (a plus for a college student). My parents have been using it since 1998 as a replacement for a TV that died. Still works fine, and it even has a DVD player connected to it now.
VCR: Panasonic PV-S4566 Super-VHS HiFi VCR. This is a very nice VCR, with support for Super-VHS tapes and S-video input and output.
Receiver: Pioneer VSX-401 receiver, two-channel with no video inputs. Like the TV, it was cheap but effective. After three or four years, it began having problems with the tuner and with accepting input from the remote control. It spent a few years in storage, served as a surround back channel amp for a month or so until I found a used Parasound amp for that, and finally ended up in a yard sale back around 2002.
CD Player: Pioneer six-disc CD changer, magazine-type. I passed this changer along to my mom, who still uses it (along with a really old Panasonic tuner/tape deck/turntable shelf system that I bought in 1988). It was actually the second Pioneer CD changer that I owned; the first (purchased in 1989) was almost identical, but the magazine feed mechanism and some other parts gave out around 1994.
Tape Deck: Pioneer CTW-301 dual-deck, no auto-reverse. Useful for copying CD's to tape so I could listen to them in the '87 Ford Escort (which I chose not to put a CD player in because it would have doubled the car's value). These days, it is hooked up to the computer for copying tapes to CD. It doesn't see much use.
Speakers: Garrard bookshelf two-way speakers. They were cheap, and they were small. Unfortunately, after listening to other equipment, I came to realize that they sounded just like what they are: cheap, small speakers. They joined the VSX-401 in the yard sale.
---
---
[an error occurred while processing this directive] hits since December 29, 2003