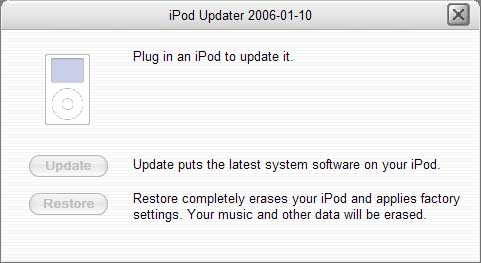 Update 1/13/2006: On January 10, 2006 (around the time that the new Intel-powered Macs were announced), Apple released a firmware update that covered nearly all iPods. This included an update from 1.0 to 1.1 for the iPod Nano as well as updates for the iPod Shuffle, the various incarnations of the iPod (including the iPod with video), and the discontinued iPod Mini. I downloaded the Windows version of the updater yesterday and installed it on my XP Home PC. Once the updater is installed, it is a simple process to run the updater, connect your iPod, let the updater scan your iPod, and then hit the "Update" button if your iPod is found to be running older firmware. The whole process took just a few minutes, and I didn't have to re-load any of my files. There is also a button in the updater to restore the iPod to the factory defaults, which includes clearing all data of the unit. I left that button alone.
---
IN USE: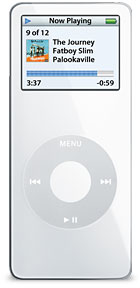 The obvious place to start when listening to the iPod Nano is the included earbud headphones. As earbuds go, these are quite comfortable and sound pretty darn good. At the moment, I'm not planning to upgrade, and if I do upgrade at all it will be to some really nice cans. That's a hard sell, though, since the iPod with earbuds yield sound quality as good as I've ever gotten from headphones using any source – certainly as good as or better than I've ever heard from any portable music player. About the only upgrade I am considering is an FM transmitter to let it play through the car radio easily: road trips to out-of-town jobsites would be a bit less annoying with a couple gig of music to sift through. Some early experimenting with a cassette adapter has been serviceable but not overwhelming – there is clearly some loss of clarity introduced, which doesn't help matters any when you are starting out with an MP3 file, but with the iPod's volume turned up to about three-quarters of maximum the background noise is minimized.
Listening with headphones will tend to give you a good chance to get familiar with the iPod's display as well as its Click Wheel. It's a simple display (as you can see to the right), but it is quite effective. The "Now Playing" view is basically home base for normal use. You've got a pause/play indicator at the top left and a battery indicator at the top right, both bookending the screen's title bar. A lock symbol will appear alongside the play indicator when the "Hold" switch is engaged. Below the title bar you have the track indicator (120 of 182, for example) and any repeat or shuffle indicators. Next is the track information: title, artist, and album. The bottom has a progress indicator showing the elapsed and remaining time in the track using either a bar or a diamond marker (the button at the center of the Click Wheel toggles between these two and a blank indicator, but it will revert to the default choice after a few seconds). This is also the area where the volume setting appears while the volume level is being changed. When the unit's backlight is on, the screen is very easy to read. When it's off (it shuts off after a user-adjustable time to save battery) the display is still easily read, although you may need to get a little closer.
One big question I had about the iPod (and MP3, AIFF, or other lossy compression audio file formats) was just how well it or a similar media client device could work as a substitute for regular CD's played back through a good transport and my processor. To test the iPod, I connected it to the front analog input of my Model 990 processor. Several different surround modes presented themselves as candidates for this arrangement: Pro Logic II, bypass, stereo, and upsample. Pro Logic II was not a good choice because it isn't an apples-to-apples comparison, since I always keep my CD playback in two-channel only. Bypass would leave the iPod's DAC as the sole DAC in the chain; the 990 would simply provide analog pre-amp duties. Stereo and upsample both involve an analog-digital-analog conversion cycle and bass management. I tried all four, focusing in particular on upsample (the mode that I use with CD's played back from my Yamaha DVD-S1500) and bypass. It did not take long to find that my CD collection was safe: with my ears and my system, the iPod yielded a thinner and less enveloping playback. That's not to say that the iPod disappointed (reasonable expectations would predict this result) or that piping an iPod through a home theater system is always a bad thing (I plan to tuck a cable in to the tape input of the 990 so I can use the iPod for things such as background music during parties or holidays). It just means that a lossy compression format that makes best use of disc space is not yet something that I want to use as my main source for music listening. For cases where I'm away from the big home theater system, the iPod is a very good sounding solution.
---
CLOSING THOUGHTS:
Apple really has a knack for developing products with well-designed interfaces. The iPod caught on quickly and has reached such a level of recognition now that it is often used as a generic term for portable media players (sort of like "coke" referring to any soft drink in the southeast). Having spent a little time with one, it is clear to me why this has come to pass. The iPod Nano offers puny storage capacity compared to its larger siblings (which have reached 60GB), but with 4GB of space it can pack a very healthy serving of music and even pictures (if you don't mind looking at them on the tiny screen) into a package that offers tremendous ease of use, negligable weight, and almost unbelievably small size. It also offers very good audio quality for the source material available (typically lossy compression formats, although lossless is supported at a hefty file size penalty). For listening in the car, at work, or at the gym, it is an excellent solution. I don't consider it a replacement for the CD in a good stereo or home theater system, but a docking station could let it fit into a simple music system at work or by a favorite reading chair and be both good sounding and convenient. If you want to put your whole CD collection onto an iPod, you may want to get one of the bigger models (the iPod comes in 30GB or 60GB offerings, a far cry from the Nano's 2GB and 4GB capacities and the screen-less Shuffle's 512MB and 1GB options), but if you think having several hundred songs (up to 1,000 depending on how much compression is used and how long the files are) on hand at any given time is sufficient then the 4GB iPod Nano is a really handy product.
---