Universal Remote Control: Since we've just added several more devices to your system that probably came with their own remote controls, you now have a pile of remotes large enough to make actually operating anything in the system almost impossible. The solution? Look into a good universal remote. Universal remotes can be programmed to operate as many as seven or eight different devices; this is done by telling the remote which device you want to control before using the controls. So the same numeric keypad would be for channels on the TV, VCR, and cable box, track numbers on the CD player, and chapters on the DVD player. Many of these remotes can be programmed to "punch through" certain buttons, allowing you to tell the remote that the volume controls should always control the receiver, no matter what device is currently active. Also available on some universal remotes is support for macros. A macro is basically a series of commands assigned to a single button, such as a "watch DVD" button that would turn on the receiver, DVD player, and TV, set the receiver input to "DVD," make sure the TV is on the correct input if necessary, and set the remote to control the DVD player.

For a while, I used the remote that came with my Outlaw Model 1050 receiver; it lacks support for macros but is otherwise a very flexible and easy-to-use universal remote. This remote is related to several other remotes on the market, including the popular Radio Shack 15-1994 remote (discontinued now and replaced with the 15-2104). It you are looking for a good, flexible remote at a nice price, this may be the way to go. It supports most equipment on the market, has a large user base with plenty of online documentation, offers some limited macro support, and offers the capability to program in "punch-through" modes for the volume and channel buttons. These remotes (all manufactured by UEI) offer an undocumented feature called the JP1 interface, and with a $15 cable and some research online you can make one of these remotes to a great deal. More exotic universal remotes include the Philips Pronto touch-screen remote and a number of similar devices (including the Sony RM-AV2100 that I used prior to getting my Outlaw Audio Model 950 pre/pro). These often offer an LCD touch screen for some or all of the controls, a computer interface for programming the equipment codes and button assignments, and advanced macro functions. Expect to spend several hundred dollars on a Pronto or similar remote. A company called Home Theater Master offers a line of universal remotes priced below the Pronto that are widely regarded as very good. The MX-500 offers 10 buttons with LCD display labels that can be set to say anything the user wants, as well as the standard assortment of buttons. The MX-700 uses a similar design but offers twice as much memory and a computer interface for programming. A brand that is often offered as being comparable to HTM is Harmony, which was bought by Logitech a few years ago. Harmony's remotes all use a computer interface and are structured around the concept of "tasks" rather than "devices." They aren't as customizable as the HTM's MX-series, but they are just as user-friendly once set up. For information on the 15-1994, Pronto, and other universal remotes, Remote Central is a valuable resource. The site offers reviews of most of the universal remotes currently on the market, as well as reference material and forums. HiFi Remote is another source of information that looks specifically at the Radio Shack 15-1994 and remotes similar to it. I started using a Home Theater Master MX-500 in the summer of 2003, and have been extremely satisfied with it. Its big brother the MX-700 (which I moved to in 2005 and have a review of here) offers more flexibility and a built-in PC interface for those interested in serious customization, but it is more expensive. I also maintain a page of users' universal remote control setup files (both Pronto and Home Theater Master) for Outlaw Audio products.

Multichannel Bass Management: DVD-Audio and SACD players are required to output an analog 5.1 channel signal. Unlike receivers that decode a digital signal into those analog channels, most of these players do not provide bass management -- in other words, the user has no control over what crossover point is used between the subwoofer and speakers. In an effort to address this problem, Outlaw Audio came out with a product they call the ICBM-1, which stands for Integrated Controlled Bass Manager. Here is the full run-down on the ICBM-1. Connected in-line between a DVD-Audio or SACD player and a receiver, it allows extensive control and management of the bass signal (it can also be used between a pre-amp and amp if the pre-amp does not provide satisfactory bass management). The ICBM-1 was discontinued in early 2006, but they can still be found on the used market.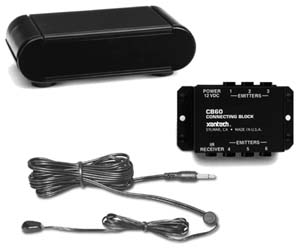 IR Remote Control Distribution: This is something that I had contemplated for several years prior to installing in April 2004, mainly because of the finicky nature of my Mitsubishi TV's IR sensor window. Several companies produce equipment to allow you to build a distribution network for IR remote control signals, with a single conveniently located receiver and a combination of small IR emitters and signal wires at the components being controlled. When is this useful? Any time the equipment is located some distance away from the display (such as on a side or back wall, or in an equipment closet in another room) or when cabinet doors or other obstacles make it difficult to get a signal from your remote to your equipment. My installation is closely related to the one described in this Secrets article from August 2003, and I've summarized what I did and how it worked in a brief review. It is possible to go far beyond what I've done, however, including small receivers that can be installed in furniture, wired remote controls that can be mounted in wall boxes just like a light switch for control of multi-room systems, integration with lighting control, and much larger distribution systems.
---
---
[an error occurred while processing this directive] hits since August 12, 2002