INTRODUCTION:
Ever since their first player (the OPDV971H) started getting attention in early 2005, OPPO Digital has built a reputation for quality, performance, customer support, and value in disc players. The BDP-105 is twelfth player (and seventh Blu-ray Disc player) to bear the OPPO Digital name in the US market. Continuing the pattern established by the previous generation of players (BDP-95 and BDP-93), the BDP-105 shares a basic hardware platform with its less expensive sibling, the BDP-103. That platform covers the digital side of the house - audio and video decoding, audio and video processing, network support, media file support, firmware updating, etc. - which is a big deal for a BD player. Both players have dual HDMI outputs (useful for sending 3D video straight to a display and multichannel audio to a surround processor or receiver), USB inputs, and front and back HDMI inputs. In both cases, the front HDMI input is MHL compatible, for use with smartphones and devices like the Roku Streaming Stick. Both support a wealth of media playback options, from optical discs (CD, DVD, Blu-ray Disc, DVD-Audio, SACD, and CD-R or DVD-R discs containing media files) to USB mass storage devices to streaming services (local network via DLNA or SMB file sharing as well as numerous Internet services like Netflix, Pandora, and VUDU). Both can scale video up to 1080p and beyond, as the players share a Marvell video processor that can output 4K resolution.
There is a significant deviation between BDP-103 and BDP-105 once you move beyond that core functionality, though, most visibly in the construction of the two players. The BDP-105 adds a few inputs on the back. There are coaxial and optical inputs that allow the player to serve as an audio DAC for other sources, plus a USB input to let it serve as an audio DAC for a computer. The BDP-105 also drops the BDP-103's already excellent 7.1 analog audio section and replaces it with a world-class substitute that offers 7.1 analog, stereo analog, XLR stereo analog outputs, and a front headphone jack. The power supply gets traded out for a larger supply, including a custom-built toroidal transformer. All of this gets a little bulky, so the BDP-105 chassis gets a bit taller than the BDP-103. It also gets a different front panel design - there will be no mistaking the BDP-105 for its little brother. With a price tag of $1,199 ($700 more than the BDP-103's price), that feels very appropriate.
---
FIRST IMPRESSIONS:
Folks who have used previous OPPO players will have an idea of what to expect from the first impression involved in setting up one of their players. Others may be pleasantly surprised. The packaging is solid enough to keep a heavy player safe during transit. Opening that packaging involves several layers. After you open the box and set aside the full-color poster tucked in on top, you will find a fabric bag tucked in between dense foam end caps, protective foam blocking, and a heavy black cardboard box of accessories. The accessory box provides a heavy three-prong IEC power cord, a good 6' HDMI cable, a USB wireless adapter, an extension cord for the wifi adapter, and a backlit remote control. The fabric bag contains the player itself.

BDP-105 Front Panel
Player build quality is excellent, and the ventilation slots in the top (a first for OPPO) give a glimpse of the beefy internals hiding within while also allowing the player to avoid having a ventilation fan. The styling is a direct descendent from the BDP-95, including the curved aluminum design and capacitive touch transport controls, but with a little extra height and a few tweaks. These tweaks include the elimination of the port cover for the front USB port, the addition of two new front ports (HDMI and headphones), and a backlight for the eject button.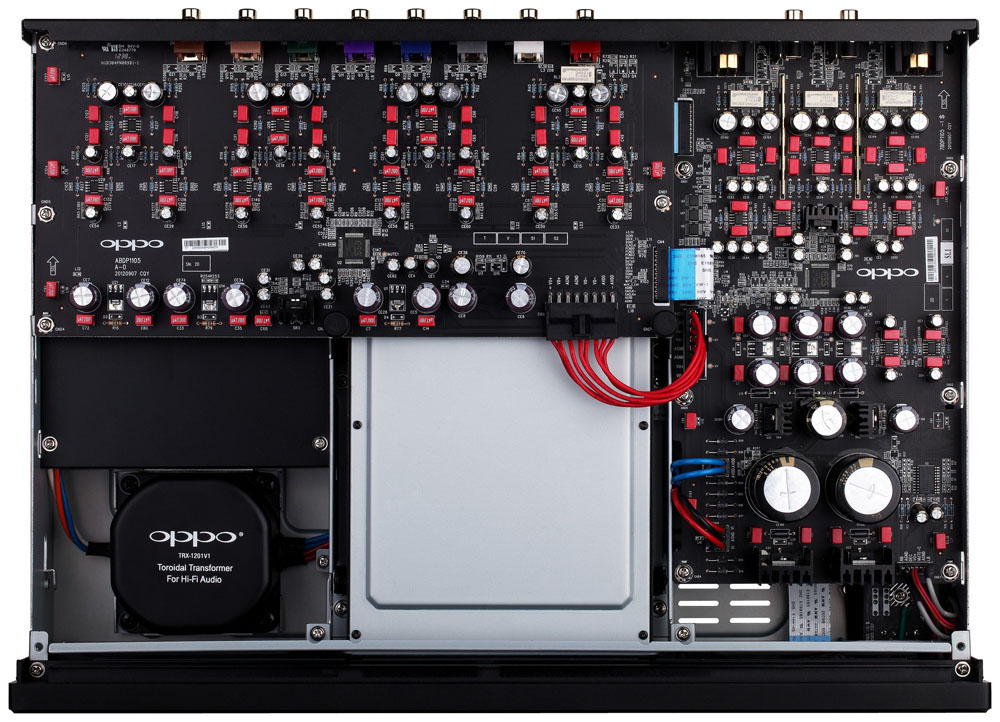 BDP-105 Interior
Under the hood, there is a whole lot of hardware, but it is more difficult to see than in past OPPO players. The BDP-95's large analog audio board has been replaced by a pair of boards, one for the 7.1 analog output and a separate board for the stereo analog section. The stereo board houses the RCA and XLR analog output circuits and the headphone amp. On the opposite side of the chassis from the stereo board, there is a power supply that is shielded inside a metal enclosure. Only the transformer, an enclosed toroidal unit developed by OPPO, is visible outside of this enclosure. The disc loader is partially covered by the multichannel analog board, and the main digital board is completely blocked from view by the analog board.

BDP-105 Rear Panel
On the back, you can get some idea of what that main board is doing. The row of inputs and outputs along the bottom of the rear panel is as extensive as you will find on a disc player. Ethernet, two HDMI outputs, two USB inputs (either of which can be used with the provided USB wireless adapter), an IR input for remote control, an HDMI input, a serial port for control, and a trio of audio inputs (coaxial, optical, and USB).
---
VIDEO PERFORMANCE:
I haven't used the BDP-103, but past experience with the BDP-93 and BDP-95 is enough for me to say that the comments below can be applied equally well to both the BDP-103 and the BDP-105. In many ways, video performance is a category in which OPPO has focused simply on maintaining their own "status quo" from player generation to player generation ever since the BDP-83 or even the DV-983H, although they do come up with refinements along the way. The BDP-105 continues this pattern. These two players (BDP-103 and BDP-105) also offer a new trick, as the front and read HDMI ports can be used to apply the players' QDEO video processing to external sources that lack good video processing. To make full use of this, such sources should be configured to output video at the source material's native resolution, without any processing upstream of the BDP-105.
At a fundamental level, the player and its little brother retain the performance of the BDP-93 and BDP-95 (both of which also used a Marvell QDEO video processor). The change from ABT to Marvell on the BDP-9x generation was driven in part by the demands of scaling streaming video, a source medium that was more focused on compression than either DVD or Blu-ray. The BDP-10x players offer an updated version of the QDEO processing that is paired with a more powerful main decoder chip. The two share video processing duties in a way that previous players could not, and the combination of the two chips introduces some new capabilities while retaining the performance offered by the previous OPPO players. One such feature is 24p output for DVD video, something that was added to the BDP-9x generation of players via firmware update but that was included on the new players from day one. One feature that never showed up previously is the ability to convert 2D video sources to 3D, something that I never tested since none of my HDTVs support 3D. Another feature that I wasn't able to test was 4k scaling, which should make the BDP-10x family of players forward compatible with the UHDTV displays that dominated CES 2013. Granted, it isn't native 4k content, but history suggests that TV makers are more likely to skimp on the video processing they put in their displays than a company like OPPO, making this ability (driven by the very capable QDEO processing) a potentially valuable inclusion in light of the large existing libraries of SD and HD content already in consumers' homes.
I don't plan to spend a lot of time talking about the performance with DVD and Blu-ray, largely because it is so good. The BDP-105 and BDP-103 had to at least match their predecessors, and they have delivered on that. Following behind two generations of players that have served as "reference" players for a who's who of industry experts and meeting the expectations that come with that lead to performance that is simply great. It feels odd to leave it at that, but it really is that simple.
As I mentioned, QDEO processing is included in part because it handles streaming media sources like Netflix better than some other video processing options out there. We have run through a good bit of Netflix content, particularly TV shows released over the last 15 years. HD video feeds (even those that have gotten squeezed a bit lately) can consistently compare well with average to good DVD transfers, while SD feeds will in many cases show the limitations of the source material - even with the QDEO processing lending a hand. It has been interesting to compare the player's native Netflix app and QDEO processing to other Netflix apps and playback platforms (including a Roku HD). Not only does the BDP-105's native app offer an interface that I prefer to the Roku HD's (including a feature that automatically starts the next episode - great when your daughter is watching an impromptu Mythbusters marathon), but the video output clearly benefits from the video processing. This was confirmed when using the Roku Streaming Stick. The Streaming Stick would prefer to scale the video itself, and that gives the player's internal Netflix app an advantage in video processing. It shows mostly on SD sources, of course, since those require more processing.
---
AUDIO PLAYBACK:
With the shift to HDMI and evolution of complex room correction algorithms, we have seen most of our analog audio efforts focus on receivers and surround processors. HDMI lets us feed high-quality multichannel digital audio or compressed bitstream audio from sources into the receiver with relative ease (assuming that HDCP handshakes and cable length don't interfere), and the receiver can then decode bitstreams if necessary, apply additional surround processing algorithms if desired, apply room correction, and do bass management. With that in mind, the BDP-105 supports a number of audio options that lie in the digital domain. These include the ability to decode all major audio formats (including Dolby Digital, DTS, Dolby Digital Plus, DTS-HD High Resolution, Dolby TrueHD, DTS-HD Master Audio, DVD-Audio MLP, and SACD DSD) for output as multichannel LPCM, and the ability to add in secondary audio even when decoding a lossless format such as TrueHD or DTS-HD Master Audio. Many players are unable to add in secondary audio without relying on the lossy core audio tracks, which is why many people (myself included) got in the habit years ago of leaving secondary audio disabled in player menus to insure that odd disc mastering didn't force players to use lossy audio when lossless audio was available. The player can also output these formats as raw bitstreams, if that is preferred. For cases where a surround receiver isn't current enough to support 3D video pass-through or other video formats (1080p, etc.) that the system's display does support, the HDMI2 output can be used to deliver audio to a receiver while HDMI1 delivers video directly to the TV. And for the rare case where the player is paired with an older system, coaxial and optical digital outputs are available that can output Dolby Digital, DTS, and stereo LPCM.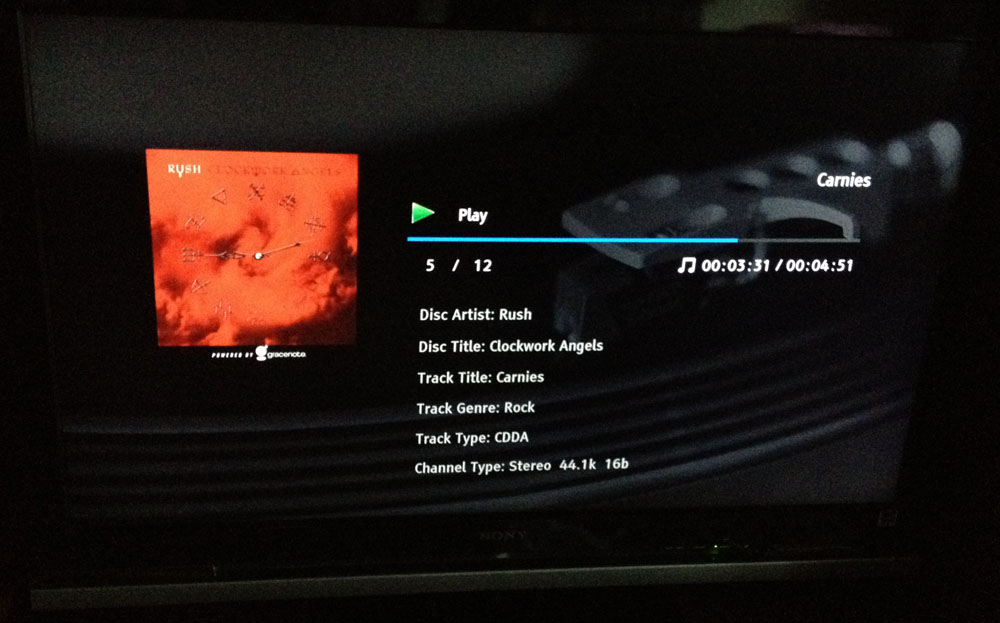 CD Playback with Gracenote
Aside from audio outputs, the BDP-105 offers some nice audio playback features. CD playback supports Gracenote look-up (including cover art) in addition to support for CD Text. Audio media files such as MP3 and FLAC are supported, as I will discuss later in the review, and there's even a Pandora app. The BDP-105 also retains support for DVD-Audio and SACD.
BDP-105 Multichannel Analog Audio Board
All of the above features are borrowed directly from the BDP-103, but the BDP-105 also respects that some users are interested in something more than that (pretty darn thorough) set of tools. The BDP-103 includes a first-rate multichannel analog audio output, which the BDP-105 discards entirely and replaces with a truly massive analog audio section. This section offers a 7.1 analog output, a stereo analog output, an XLR stereo analog output, and a headphone jack. The 7.1 output is driven by an ES9018 eight-channel DAC chip, which is integrated into a remarkably robust analog section. The trio of stereo analog outputs (RCA stereo, XLR stereo, and headphones) share a second ESS9018 DAC chip. The result is a pair of analog sections (multichannel and stereo) that are outright amazing, especially for the price point, and those two sections are augmented by the addition of three digital audio inputs: coaxial, optical, and USB (for use with a computer, allowing the player to act as a giant external sound card). Rounding out the aggressive analog audio section design, the BDP-105's power supply is beefier than the BDP-103's.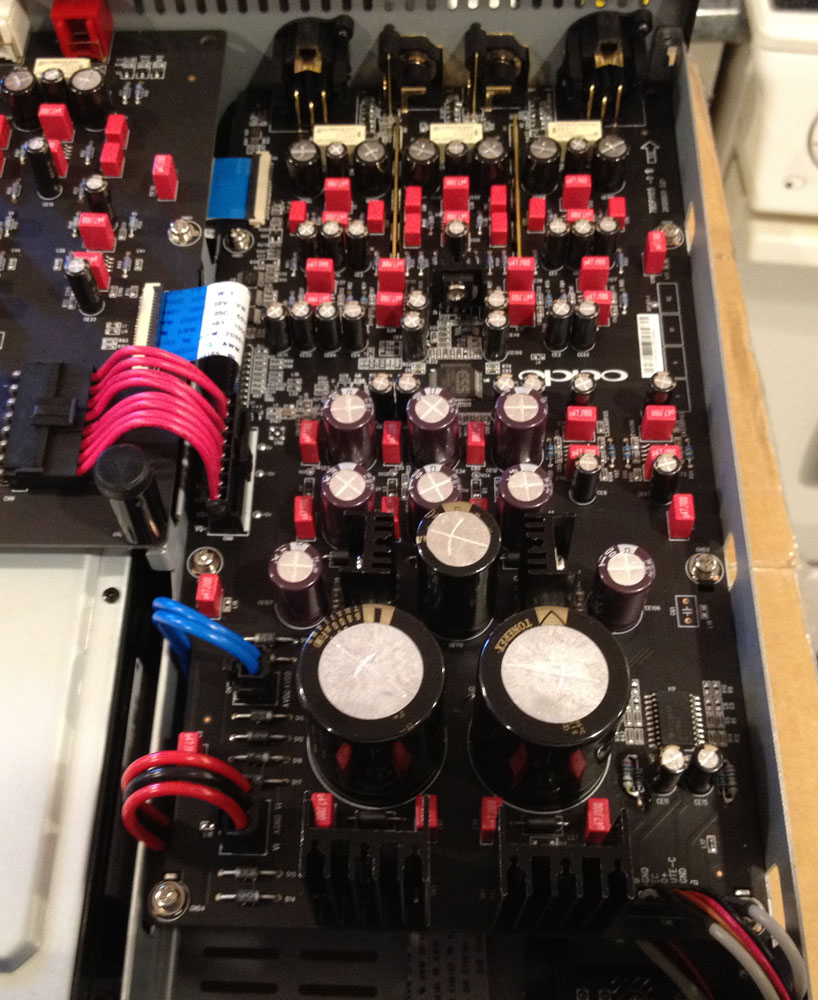 BDP-105 Stereo Analog Audio Board
I've listened to OPPO's players as their analog audio designs have evolved from the early days. Their DVD players were respectable performers, but the BDP-83 was the first to solidly exceed expectations for what a disc player could offer. The ESS-based BDP-83SE variant established OPPO's flagship BD players as true contenders with high-dollar players. The BDP-105 continues this tradition, and I continue to be impressed that a player with no fancy room correction technology can match or beat the performance (to my ears) of very good surround sound processors such as the Onkyo Professional PR-SC885 and Marantz AV7005. There are plenty of standalone stereo DACs in the $500 to $1,000+ price range that offer comparable feature sets (although many lack the headphone output) that can't offer the analog audio performance offered by the BDP-105. There are none that happen to also include 7.1 analog output and a reference-quality disc player. You can refer back to my comments for the BDP-95 (successor to the BDP-83SE and predecessor to the BDP-105) for more observations on the capabilities of these players. To my ear, the BDP-105 can claim some slight but real improvements over the BDP-95 in this department, although once we get into this territory we are inherently dealing with subtleties. As with my BDP-95 review, I want to point out that the functional differences between the BDP-105 and the BDP-103 are almost entirely tied up in the analog audio section. The revisions to the power supply might benefit other functions, but it will be a minimal benefit at best because the BDP-103's power supply is already sufficient for the player's needs. The digital audio inputs are only of benefit if you are planning to use the player's analog section. Even then, the level of performance involved in a player of this type is impacted by the rest of the signal path - from source material to receiver/processor to amplifier(s) to speakers. In my review of the BDP-95, near the end of the Audio Playback section, I shared an anecdote about source material involving an audio CD made from streaming audio pulled from YouTube videos compared to an original CD. The disc that contained YouTube audio was shockingly flat and lifeless on a BDP-83SE, Outlaw Model RR2150, and Outlaw Bookshelf speakers. When played on a more modest system in a local showroom later that day, the disc was still obviously a poor quality recording, but the magnitude of the quality degradation was much less pronounced. This works in reverse, as well, and pairing a great recording with a BDP-105 and an otherwise modest system will not sound noticeably better than a less expensive player with the same recording and system. If you have a system that can give the BDP-105 a chance to demonstrate its potential, however, it will be wonderful - detailed, clear, and sonically neutral.
---
MEDIA AND STREAMING SUPPORT:
One of OPPO's trademarks has been support for a range of disc formats. As with their other Blu-ray Disc players , the BDP-105 supports DVD, BD, DVD-Audio, SACD, CD, and Video CD. It also supports playback of a wide range of audio, video, and image file formats. These files can be played back from USB devices, CD-R discs, DVD-R discs, or via DLNA or SMB network shares. There are many options here, and I've only had reason to use a handful of them. There may be a few features that are not offered (DVD image file support was ruled out because the chipset vendor blocked the ability, a decision driven by pressure from the movie industry), but overall it is a robust set of options for getting access to media files.
The BDP-105 also retains support for several streaming services. The Netflix app is popular in our house, and I think we all like the BDP-105's Netflix implementation over what we have on the BDP-93/95, the Roku Streaming Stick, and the Roku HD. There's also Vudu HD, Pandora, Rhapsody, YouTube, Picasa, and a number of others. The front HDMI input also supports MHL, allowing devices like the Roku Streaming Stick (currently available) and the Dune HD Connect (announced in 2012 but not released yet) to connect and be controlled by the player. This opens the door to any number of options, including Roku apps like the Amazon Cloud Player, Amazon VOD, Hulu, and many others. We have used the Roku Streaming Stick with our BDP-105 using three different HDMI adapters that allowed the stick to turn up, down, or to the side to stay out of the way of the equipment cabinet's glass door. My personal favorite is an adjustable adapter from MonoPrice that allows the stick to swing up or down through 180°. With it rotated down, the stick clears the front of the shelf below, leaves the front of the player (including headphone and USB ports) clear, and still allows the cabinet door to close.
---
CLOSING THOUGHTS:
I've tested a lot of players for OPPO Digital over the last few years. More than once, I've wondered what they will do to top themselves. I had that question after getting acquainted with the BDP-95, which took everything I liked about the BDP-93 and kicked it up a notch. The BDP-105 had a lot to live up to, considering the lineage that came before it. Would it just be a subtle tweak? Or would it be more?
In many ways, the BDP-105 is a "tweak" of the BDP-95. In at least as many ways, the BDP-105 finds ways to do things that the BDP-95 never thought about. Some are shared with the BDP-103, but several remain exclusively the domain of the BDP-105. HDMI inputs, coaxial and optical audio inputs, USB audio input, headphone output, 4k video scaling, and 2D-to-3D conversion are just some of the hardware changes. Little things like Gracenote support quickly become so second-nature that you miss them when they aren't there (using the still-beloved BDP-95 in a different room or running across an odd disc that Gracenote doesn't have in the database). And through it all, there's the familiar video performance and the excellent analog audio performance. All of it adds up to make the BDP-105 stand out even alongside its older siblings. That's high praise, indeed.
---

If you have any questions about this review,